Exclusive OT: Luxoft surged 40% in 2015, follows top sophistication expansion

If you're a Swiss private bank client, or a premium car phone and PC system user, most likely your account is managed through Luxoft's Romanian team of expert's designed applications.

UBS, Deutsche Bank and Credit Suisse, as well as a lot of premium car manufacturers are just a few of the plethora of clients Luxoft's Bucharest center serves in Europe and US, tells Outsourcing Today the company's managing director, Bogdan Pelinescu.

Luxoft Romania has ended 2015 with an employee figure of about 1,650 people, 40% up against the previous year, says Pelinescu, and is one of the few local outsourced IT services providers that offers only highest degree of service sophistication, of level three and above it.

(Where first level is help desk & call center, and second and third increase knowledge pool to various degrees of sophistication).

Luxoft Romania was born in 2008, when it acquired a local telecom-services oriented company which had 600 employees locally, ITC Networks.

"After a year and a half, after consolidating the business, the main business lines now present appeared. Telecom, finance and automotive are the largest business lines developed here," says Pelinescu.

Telecom is the traditional local service line since the ITC was created in 2000, while finance followed in 2010 and automotive in 2011. The company has invested up to now tens of millions of euros into Romanian operations.

"The company exceeded 1,650 employees during the current year, a 40% increase. We will continue diversifying the project portfolios and bringing in complex, local and global projects so as to ensure further growth," he says.

The majority of projects are large ones, including two, three or four locations team presence.
"Telecom is our longest business line, timewise. It gave way to other divisions during time, but it remains our main line."

While telecom covers 45% of the revenue mix, the rest is split evenly between the other two divisions, financial and automotive. And if a decision to move outside Bucharest will be considered feasible, Luxoft will expand to new cities as well.

"The clients served from Europe are mostly automotive and finance clients, while the telecom ones come mostly from US. In Europe, we have large financial institutions such as UBS, Deutsche Bank or Credit Suisse among are customers."

---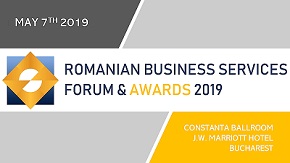 » Huawei opens a centre on cyber securit...
» Romania ranks above EU average in gend...
» ROMANIAN OUTSOURCING AWARDS FOR EXCELL...
» Bucharest, in the top of cities in Eur...
» Meet the experts who will decide the w...
» Bogdan Pelinescu, president of ABSL: A...
» Berg Software Romania: Reasons to outs...
» KPMG launches an application enabling ...
» ABSL GALA AWARDS celebrated its winner...
» George Rotariu, CEO Bitcoin Romania: B...

Meet the speakers at Romanian Business Services Forum 2019 CEO LEADERS DEBATE, on May 7th - Matthieu Pasquier

Matthieu Pasquier is CEO of Societe Generale European Business Services since August 2018 bringing more than 27 years experience in Societe Generale group. During 2014-2018, Matthieu was Head of SG GSC Chennai
Read Full article »
Sorin Mindrutescu among the speakers at Romanian Business Services Forum 2019 CEO LEADERS DEBATE, on May 7th

Sorin Mindrutescu is the Country Leader for Oracle Romania, as of February 2003. In this role, he is responsible for local sales and project delivery. In Romania, Oracle has two major business directions: the l
Read Full article »
Meet the speakers at Romanian Business Services Forum 2019 CEO LEADERS DEBATE, on May 7th - Vivek Bakshi

Vivek Bakshi is the General Manager of Wipro Technologies. He has spent 12 years heading the International Locations / Delivery Centers Europe from the Bucharest office.
Read Full article »
Meet the finalists of the fifth edition of Romanian Business Services Awards 2019

ROMANIAN BUSINESS SERVICES FORUM & AWARDS 2019, in its fifth year, brings on May 7, in Bucharest, a new concept event with engaging keynote sessions by industry leaders, interactive panel discussions, networkin
Read Full article »
Meet the experts who will decide the winners of 2019 at Romanian Business Services Forum & Awards

Each year, Outsourcing Today brings a landmark edition of the Romanian Outsourcing and Shared Services Summit and this year, we are hosting the Fifth of the annual Romanian Outsourcing and Shared Services Award
Read Full article »