Exclusive OT: SCC team to grow 20% this year, expands to new city
SCC Services Romania started activity in 2006, with a team of just 24 people. Now it has about 1,000 and by 2018 about 30% more will join its team.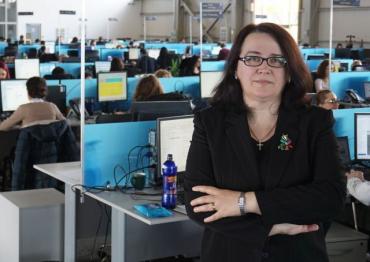 "By the end of 2015 we've reached close to 1,000 employees and we plan to increase our headcount to over 1,200 by the end of 2016," tells Outsourcing Today the company's general manager for Romania, Adina Tapalaga.

"For the moment we have two service centers, in Iasi and Bacau, which we will continue to expand further, but we are also taking into consideration opening an office in another city. We have multiple options offers to choose from, but we haven't yet decided on a location," Tapalaga says.

"In Romania, the business has grown significantly in recent years and we'll continue to increase headcount to more than 1,200 in the coming fiscal year."

During FY15, the turnover output from Romania increased by 40% to 11 million euro. EBITDA grew 90% to 1.5 million euro. "We plan to increase the headcount by 30% year on year by the financial year 2018".

Romania represents a key function in the group strategy by providing IT support for nearly all of SCC's customers.

"We have started by delivering Service Desk and basic IT Support, and over the years we have continued to add specialized functions such as: Server & Network Infrastructure Support services, Database and Application Support…The plan for the following years is to move further into services with high added value, such as Software Development and Cloud Delivered Managed Services," she added.

SCC is present in UK, France, Spain & Romania – serving European customers across the globe.

"We provide services for more than 2,500 customers in 75 countries, in English, French and Spanish, and during business hours in six other languages: German, Italian, Portuguese, Dutch, Russian and Romanian. The predominant languages in use are English and French."

She explains that the main IT&C hubs such as Bucharest, Cluj and Timisoara will continue to be the premier destinations for new BPS services, by continuing to attract resources from smaller cities and even from abroad, and because of their developed educational systems. "Other cities becoming attractive for foreign companies could be: Galati, Targu Mures, Brasov, Craiova or Pitesti."

In the financial year 2015, SCC's Europe, Middle East and Africa (EMEA) core grew 16%, excluding the effects of currency, with 97% of total EBITDA generated in the UK and France. Substantial growth across all territories enabled a consolidated EBITDA of GBP 32 million, while turnover for the year was unchanged at 2 billion euro, though the sterling equivalent declined by 11% to GBP 1.5m due to currency movements.