iQuest expands Brasov offices in Coresi BP Brasov

Global IT services and solutions provider iQuest leased 1,650 sqm in L1, the first building of the second development phase of Coresi Business Park.

Coresi Business Park is one of the most important business centers outside Bucharest, currently counting over 30,000 sqm of A class office space and targeting to reach 100,000 sqm in the following years.

L1 Building is part of the second phase of Coresi Business Park project development, consisting of three new modern A class, low-rise office buildings (GF+3F/5F), totalling 21,500 sq m. With a gross built area of 6,500 sq m, L1 Building is planned for delivery in April 2016. Alongside iQuest, the building will also host the offices of Tata Technologies, who leased 3,300 sq m.

"We have seen a growing interest in quality A class workspace, from both local and international companies, reflected in the 100% occupancy rate of our offices in Brasov, including the first building of our new development phase, which will be delivered within two months. It is remarkable that a great number of companies who choose to relocate today are targeting A class office spaces, which, besides providing space efficiency and employees' comfort, also meet all the fire safety standards," said Silviu Savin, partner, Ascenta Management, developer of Coresi Business Park Brasov (photo).

For iQuest, the lease of 1,650 sqm in Coresi Business Park represents the relocation of their Brasov offices, scheduled for August 2016.

The company has been active in Brasov since 2003. iQuest has software development centers in Cluj-Napoca, Brasov, Sibiu and Craiova and currently employs a team of over 700 employees.

Founded in 1998, the group is headquartered in Frankfurt am Main and has local offices in Europe, Asia and the US.

"Our highly skilled team is the key ingredient to our competitive advantage on the global market. The relocation of our offices to Coresi Business Park ensures the best working conditions for our staff, and grants us the flexibility to grow & expand our operation on the same premises, every time it is required by the demand from our key-clients. Brasov is an excellent destination for the IT business. We see the industry expanding rapidly and the workforce becoming more and more specialized," said Cornelius Brody, CEO iQuest.

Coresi Business Park is a modern office project, developed on the former Tractorul industrial platform from Brasov. The scheme is one of the major urban regeneration projects in Romania, transforming 12 hectares of the old manufacturing plant into a contemporary business environment. The initial phase of Coresi Business Park consists of approximately 25,000 sqm GLA of unconventional office areas with industrial architectural elements.

The restored former industrial buildings provide all the A class office space facilities and host international and local companies such as Raiffeisen Bank, IBM, Fresenius, Freudenberg, CGS, Waters etc. Coresi Business Park has zero vacancy for the existing offices and 100% retention rate, most of the tenants already passing through at least one extension process.

Coresi Business Park master plan features a well-balanced mix of industrial halls to office conversions and new built offices, envisioning 100,000 sqm of office GBA within 10 years (2015-2025). In addition to the existing, converted office space, the project features 10 new, modern, low-rise office buildings (GF+3F/4F).


---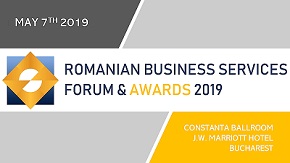 » Romania ranks above EU average in gend...
» The voting procedure for the BRAND OF ...
» Berg Software Romania: Reasons to outs...
» Deloitte's Tech Trends 2019 report: B...
» Steven Hunt, SAP SuccessFactors: Tecto...
» Molson Coors started to grow its busin...
» Societe Generale-European Business Ser...
» Capgemini: Investing in people is the ...
» Countries in CEE region, including Rom...
» Oracle reaches 4,200 employees and pla...

The voting procedure for the BRAND OF THE YEAR 2019 IN ROMANIAN BUSINESS SERVICES is open!

This is the fifth edition of the event and the second year to select the public's favorite brand in the business services BPO, ITO and SSC in Romania.
Read Full article »
Romania ranks above EU average in gender employment gap

In Romania, the employment rate measures the number of people who have a job as a percentage of the working age population. This page provides - Romania Employment Rate- actual values, historical data, forecast
Read Full article »
Steven Hunt, SAP SuccessFactors: Tectonic movements in the world of work

The world of work will be shaped by five tectonic movements – or global megatrends – over the next few years. As you may guess from the geological analogy, the effects could be dramatic.
Read Full article »
EY: European companies are divesting to future-proof growth

According to the EY Global Corporate Divestment Study, 84 per cent of European companies surveyed intending to divest within the next two years (the majority planning to do so in the coming 12 months), executiv
Read Full article »
Knowledge-sharing presentation on latest trends the industry deals, in the program of Romanian Business Services Forum and Awards

Part of the upcoming joint half-day event, Romanian Business Services Forum and Awards to be held at JW Marriott Hotel on May 7th, the discussion agenda comprises a complex Knowledge-sharing presentation on lat
Read Full article »