Romanian cities of Iasi and Timisoara office rental at record highs in 2015

In 2015, the volume of office rental transactions except the Capital rose to a total area of 49,661 sqm, 32% more than in 2014, an Esop release reveals.

The stars were Iasi and Timisoara cities, where ESOP Consulting brokered two major transactions last year: a space of about 4,000 sqm for Hella company, in Timisoara and an office space of about 1,000 sqm for Cegeka, in Iasi.

"There is a happy tandem that enables the development of office market in large cities in Romania - the demand for labor of IT&C and outsourcing companies and the increasing demand of quality office spaces, in new buildings, at international standards.

Romania holds the second position among the top CE Fast Technology 50 top Deloitte, after Poland and this is materialized in an increasing interest of investors for the labor market in Romania and implicitly for accommodating it, not only in the Capital, but in all the major university centers.

ESOP has closely monitored this trend and meets the demand for spaces in the country, resulting in two major office transactions in 2015 - renting an area of 4,000 sqm, in City Business Center complex in Timisoara and an area of 1,000 sqm by Cegeka in Palas in Iasi", says Alexandru Petrescu Managing Partner at ESOP Consulting, CORFAC International.

Among the tenants in T4 2015 who chose Iasi were Cegeka and Centric IT Solutions.
Cegeka rented a space of about 1,000 sqm in Iasi, through Esop, and Centric IT Solutions rented 1,700 sqm, also in Iasi. During the same period, WeLocalize rented an office space of 600 sqm and OSF an office area of 550 sqm in Cluj Napoca.

They are joined by other large companies that rented offices during the first nine months of 2015, like Xerox (in Iasi), Accenture Services (in Iasi, and Timisoara), Hella (Timisoara), Amazon (in Iasi) Bitdefender (Iasi), Unicredit (Iasi) and Ness (in Timişoara).

The office buildings where large spaces were traded in 2015 in the country were Palas and Unites Business Center 3 in Iași, City Business Center and UBC Open Ville in Timișoara, Cluj Business Center and The Office in Cluj-Napoca.


"In 2016, the trend will be maintained, the interest in labor outside the Capital will be as high, and this wave of large multinational and Romanian companies that will choose secondary cities will lead to greater confidence of real estate investors in the office market in these localities. As a result, we estimate that this year the quality of new buildings in Timisoara, Cluj Napoca, Iasi and the stability of this local business will attract more international real estate investors like NEPI (that already has investments in Timisoara and Cluj, and in the long term they will be followed by the following positions in the top cities with office transactions - secondary markets such as Craiova and Brasov," also says Petrescu.


---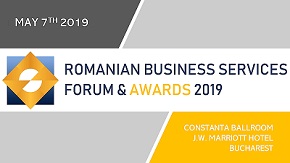 » Raiffeisen Bank Romania outsources onl...
» Horváth & Partners launches Steering ...
» JLL: Total office space in Bucharest t...
» Genpact, Luxoft and Oracle, top lessee...
» SSC in Romania. Who takes the lion's s...
» Oracle results pushed down by a strong...
» World-class HR organizations now spend...
» Romanian employers report the stronges...
» ROMANIAN OUTSOURCING AWARDS FOR EXCELL...
» Eucom: Nine out of ten corporate Roman...

My HR Lab: Research of suitable candidates and giving feedback to rejected ones, the biggest challenge in HR

During June 2019, My HR Lab company run an online (social media platforms) survey "Challenges of the recruitment process" which enrolled over 100 professionals working in HR and recruitment in Romania.
Read Full article »
The local market needs more added-value and complex projects to be developed by the companies

The statement has been uttered within this year's Romanian Outsourcing and Shared Services Summit by Catalina Dodu, Country Manager at Atos, pointing to the local enablers that could enhance the innovation and
Read Full article »
The office market at a glance: The round for tenants is on

Data provided by CBRE show that the office spaces segment will continue to grow rapidly in 2019, and 15 new projects covering 304.000 sqm will be delivered. According to the real estate consultancy agency, curr
Read Full article »
People Empowering Business Forum 2019 to take place on October, 30 at Bucharest

Latest trends like demographic upheaval, globalization, digital technology, and changing social values and worker expectations, are disrupting business models and radically changing the workplace. These are req
Read Full article »
Addressing the mantra of cyber-security: Confidentiality, integrity and availability

The fast advancement of technology in all the aspects of everyday life, either personal or professional, and the emerging of AI (Artificial Intelligence) and ML (Machine Learning), not to mention cloud technolo
Read Full article »