Romanian cities of Iasi and Timisoara office rental at record highs in 2015

In 2015, the volume of office rental transactions except the Capital rose to a total area of 49,661 sqm, 32% more than in 2014, an Esop release reveals.

The stars were Iasi and Timisoara cities, where ESOP Consulting brokered two major transactions last year: a space of about 4,000 sqm for Hella company, in Timisoara and an office space of about 1,000 sqm for Cegeka, in Iasi.

"There is a happy tandem that enables the development of office market in large cities in Romania - the demand for labor of IT&C and outsourcing companies and the increasing demand of quality office spaces, in new buildings, at international standards.

Romania holds the second position among the top CE Fast Technology 50 top Deloitte, after Poland and this is materialized in an increasing interest of investors for the labor market in Romania and implicitly for accommodating it, not only in the Capital, but in all the major university centers.

ESOP has closely monitored this trend and meets the demand for spaces in the country, resulting in two major office transactions in 2015 - renting an area of 4,000 sqm, in City Business Center complex in Timisoara and an area of 1,000 sqm by Cegeka in Palas in Iasi", says Alexandru Petrescu Managing Partner at ESOP Consulting, CORFAC International.

Among the tenants in T4 2015 who chose Iasi were Cegeka and Centric IT Solutions.
Cegeka rented a space of about 1,000 sqm in Iasi, through Esop, and Centric IT Solutions rented 1,700 sqm, also in Iasi. During the same period, WeLocalize rented an office space of 600 sqm and OSF an office area of 550 sqm in Cluj Napoca.

They are joined by other large companies that rented offices during the first nine months of 2015, like Xerox (in Iasi), Accenture Services (in Iasi, and Timisoara), Hella (Timisoara), Amazon (in Iasi) Bitdefender (Iasi), Unicredit (Iasi) and Ness (in Timişoara).

The office buildings where large spaces were traded in 2015 in the country were Palas and Unites Business Center 3 in Iași, City Business Center and UBC Open Ville in Timișoara, Cluj Business Center and The Office in Cluj-Napoca.


"In 2016, the trend will be maintained, the interest in labor outside the Capital will be as high, and this wave of large multinational and Romanian companies that will choose secondary cities will lead to greater confidence of real estate investors in the office market in these localities. As a result, we estimate that this year the quality of new buildings in Timisoara, Cluj Napoca, Iasi and the stability of this local business will attract more international real estate investors like NEPI (that already has investments in Timisoara and Cluj, and in the long term they will be followed by the following positions in the top cities with office transactions - secondary markets such as Craiova and Brasov," also says Petrescu.


---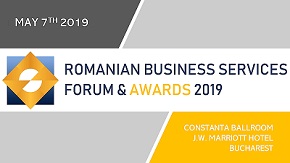 » The most appreciated companies from th...
» Webhelp Romania aiming for EUR 10 mill...
» Tremend joins Mellanox in powering the...
» The Outsourcing industry announces its...
» Manpower: Romania's labor market, more...
» Deloitte's Tech Trends 2019 report: B...
» Bucharest, in the top of cities in Eur...
» Oracle reaches 4,200 employees and pla...
» Genpact's COO: Staying ahead of the cu...
» Ascentis: The top ten HR trends for 20...

Nomination are now open for Romanian Business Services Forum and Awards

Nominations have opened for the prestigious Romanian Business Services Forum & Awards. The 2019 awards will continue to recognize and reinforce the important contribution made by business services professionals
Read Full article »
Study: 89 per cent of finance teams yet to embrace Artificial Intelligence

Report by Association of International Certified Professional Accountants and Oracle shows that almost 90 per cent of finance teams do not have the skills to support digital transformation.
Read Full article »
Bucharest, in the top of cities in Europe with the largest number of experts in high-tech industry

Bucharest is among the top cities boasting the most experts in the high-tech innovative industry, with over 70,000 current employees, next to London, Dublin, Madrid or Budapest, reads a study conducted by CBRE
Read Full article »
CBRE study: Post-millennials, the happiest about their offices
During 2018, real estate consultancy company CBRE conducted the first study dedicated to work environment in office buildings in Bucharest. The respondents have been structured in four age segments, such as Z g
Read Full article »
Deloitte's Tech Trends 2019 report: Beyond the digital frontier

The recently released Deloitte's Tech Trends 2019: Beyond the digital frontier, as each Tech Trends report in the series conducted by the consultancy company, lobbies for embracing the increasing, often mind-b
Read Full article »