CBRE: CEE real estate investments up 25%, Bucharest and Warsaw at record levels

Investment into Central and Eastern European (CEE) countries (excluding Russia) for 2015 increased by 25% compared to 2014, reaching 9.9 billion euro, says a CBRE report.

While outlook for 2016 is positive, a potential deterrent to the substantial growth in investment volume might be the scarcity of attractive products available for transactions. As a consequence, office development in Warsaw and Bucharest is at record levels, making use of investors' and occupiers' interest in the markets.

"The strong investment volumes within the region are a result of US and German investors looking to take advantage of relatively high yields and strength of available stock on the market. In 2016 we expect this to continue as the stage is set for strong economic growth in the CEE, with relatively high yields compared to Western Europe and increasing interest from banks to finance in the region.

"In addition, the strong expansion seen in the retailers' reported sales across the region will continue to keep retail investors interested. We also expect to see an increasingly diverse investor profile as Asian investors begin to increase their presence within the area," says Gijs Klomp, head of CEE Investment Properties.

While year on year increases were expected, the overall performance exceeds forecasts and paints a picture of a solid rebound within all CEE countries.

Foreign investors continued to dominate the region, with US funds making large portfolio aquisitions, with an average volume size of 160 million euro.

The US accounted for 30% of investment into the region in 2015, compared to 23% in 2014, with US funds making investments in all core-CEE countries, as well as Latvia.

The re-entry of core funds like Morgan Stanley and Goldman Sachs indicate increasing investor confidence in CEE. Germany was the second largest investor, accounting for 23% of all investment into the region last year, an increase from 12% in 2014. Germany's presence can be attributed in part to the activity of Union Investment, who were the largest investor in the region in 2015.

The high levels of investment in 2015 did impact yields pushing them down. Cross-regional disparities in terms of pricing need to be assesed – while certain markets and sectors have almost reached the yields from the previous peak economic cycle (most notably Czech Republic and Poland), other countries have yet to reach their potential. As investment transactions for prime properties do not show any signs of slowing down, CBRE believes some markets may even see yields moving into a new territory, beyond those from 2007.


---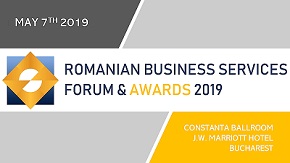 » Romania ranks above EU average in gend...
» The voting procedure for the BRAND OF ...
» Berg Software Romania: Reasons to outs...
» Deloitte's Tech Trends 2019 report: B...
» Steven Hunt, SAP SuccessFactors: Tecto...
» Molson Coors started to grow its busin...
» Societe Generale-European Business Ser...
» Capgemini: Investing in people is the ...
» Countries in CEE region, including Rom...
» Oracle reaches 4,200 employees and pla...

The voting procedure for the BRAND OF THE YEAR 2019 IN ROMANIAN BUSINESS SERVICES is open!

This is the fifth edition of the event and the second year to select the public's favorite brand in the business services BPO, ITO and SSC in Romania.
Read Full article »
Romania ranks above EU average in gender employment gap

In Romania, the employment rate measures the number of people who have a job as a percentage of the working age population. This page provides - Romania Employment Rate- actual values, historical data, forecast
Read Full article »
Steven Hunt, SAP SuccessFactors: Tectonic movements in the world of work

The world of work will be shaped by five tectonic movements – or global megatrends – over the next few years. As you may guess from the geological analogy, the effects could be dramatic.
Read Full article »
EY: European companies are divesting to future-proof growth

According to the EY Global Corporate Divestment Study, 84 per cent of European companies surveyed intending to divest within the next two years (the majority planning to do so in the coming 12 months), executiv
Read Full article »
Knowledge-sharing presentation on latest trends the industry deals, in the program of Romanian Business Services Forum and Awards

Part of the upcoming joint half-day event, Romanian Business Services Forum and Awards to be held at JW Marriott Hotel on May 7th, the discussion agenda comprises a complex Knowledge-sharing presentation on lat
Read Full article »