Exclusive OT: Atos hires 600 IT professionals nationwide, will reach 2,000 by year-end

Atos will expand its Romanian operations and intends to reach about 2,000 employees nationwide by the end of 2016, tells Outsourcing Today the Atos country manager, Catalina Dodu.

"In 2014 we have doubled personnel from 660 to 1,200 employees year on year, and in 2015 we have continued growing to 1,450 people in four locations, including Iasi, also following the Xerox IT division acquisition by Atos," says Catalina Dodu.

"We hope we'll end this year with 2,000 people, and we work on recruiting people in all locations. We have now about 5-600 position opened."

Atos started Romanian operations in 2011, after it acquired globally Siemens' IT solutions division. Siemens was already present in Timisoara, Brasov and Bucharest, with the Timisoara center being the largest at the time of the takeover, having 300 employees in 2011. Atos focused even more on Timisoara operations growth.

Placing itself among top five employees in IT complex solution outsourcing in Romania, Atos delivers sophisticated ITO services to clients in various industries, 10% of which have local presence. "We are talking about complex services, of level two to three, all of our people are technical specialists. We start with complex services, we don't have call centers."

Retention is important, and while salaries grew up to 10% last year, employees are more and more attracted by new compensations and benefits packages that include remote and flexible hours, medical packages and so on. An important aspect in employee satisfaction is the Atos training program, which provides not only international training programs but also online classes.

"The Atos University delivers all materials needed for employees to learn themselves, we also have international trainers, and we are an important training market consumers."

---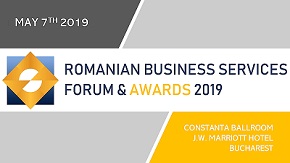 » Huawei opens a centre on cyber securit...
» ROMANIAN OUTSOURCING AWARDS FOR EXCELL...
» Romania ranks above EU average in gend...
» Bucharest, in the top of cities in Eur...
» Berg Software Romania: Reasons to outs...
» Meet the experts who will decide the w...
» Bogdan Pelinescu, president of ABSL: A...
» KPMG launches an application enabling ...
» ABSL GALA AWARDS celebrated its winner...
» Oracle reaches 4,200 employees and pla...

Colin C. Lovering: Meet the speakers at Romanian Business Services Forum & Awards 2019, on May 7

Colin C. Lovering has been living and working in Romania since 2009 when he arrived to offer consultancy and advice to organisations looking for growth and profitability and founded Achieve International.
Read Full article »
Antoniu Panait: Meet the speakers at Romanian Business Services Forum & Awards 2019, on May 7

Managing Director for VASTINT Romania since 2009, Antoniu Panait has an executive experience of more than 10 years, mainly in real estate.
Read Full article »
Andrei Voica: Meet the speakers at Romanian Business Services Forum & Awards 2019, on May 7

Andrei Voica, Director Project Management and Workplace Consultancy, Colliers International. Truly passionate about his work and always eager to add value to each project.
Read Full article »
Romulus Caralicea: Meet the speakers at Romanian Business Services Forum & Awards 2019, on May 7

Romulus is Wipro's Information Security, Risk & Compliance Lead for Europe. In his role he is managing internal audits and compliance activities for all clients and internal functions based on the corporate ISO
Read Full article »
George Didoiu: Meet the moderator of Romanian Business Services Forum 2019 CEO LEADERS DEBATE, on May 7

In his 15 years of real estate, George Didoiu advised on the relocation of top IT&C, finance-banking and consultancy companies, which total over 10,000 employees.
Read Full article »