Exclusive OT: Atos hires 600 IT professionals nationwide, will reach 2,000 by year-end

Atos will expand its Romanian operations and intends to reach about 2,000 employees nationwide by the end of 2016, tells Outsourcing Today the Atos country manager, Catalina Dodu.

"In 2014 we have doubled personnel from 660 to 1,200 employees year on year, and in 2015 we have continued growing to 1,450 people in four locations, including Iasi, also following the Xerox IT division acquisition by Atos," says Catalina Dodu.

"We hope we'll end this year with 2,000 people, and we work on recruiting people in all locations. We have now about 5-600 position opened."

Atos started Romanian operations in 2011, after it acquired globally Siemens' IT solutions division. Siemens was already present in Timisoara, Brasov and Bucharest, with the Timisoara center being the largest at the time of the takeover, having 300 employees in 2011. Atos focused even more on Timisoara operations growth.

Placing itself among top five employees in IT complex solution outsourcing in Romania, Atos delivers sophisticated ITO services to clients in various industries, 10% of which have local presence. "We are talking about complex services, of level two to three, all of our people are technical specialists. We start with complex services, we don't have call centers."

Retention is important, and while salaries grew up to 10% last year, employees are more and more attracted by new compensations and benefits packages that include remote and flexible hours, medical packages and so on. An important aspect in employee satisfaction is the Atos training program, which provides not only international training programs but also online classes.

"The Atos University delivers all materials needed for employees to learn themselves, we also have international trainers, and we are an important training market consumers."

---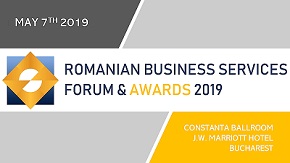 » Raiffeisen Bank Romania outsources onl...
» Horváth & Partners launches Steering ...
» JLL: Total office space in Bucharest t...
» Colliers International takes over the ...
» SSC in Romania. Who takes the lion's s...
» Oracle results pushed down by a strong...
» Survey: Romanians switch to a lower-pa...
» Genpact, Luxoft and Oracle, top lessee...
» Romanian employers report the stronges...
» Eucom: Nine out of ten corporate Roman...

My HR Lab: Research of suitable candidates and giving feedback to rejected ones, the biggest challenge in HR

During June 2019, My HR Lab company run an online (social media platforms) survey "Challenges of the recruitment process" which enrolled over 100 professionals working in HR and recruitment in Romania.
Read Full article »
The local market needs more added-value and complex projects to be developed by the companies

The statement has been uttered within this year's Romanian Outsourcing and Shared Services Summit by Catalina Dodu, Country Manager at Atos, pointing to the local enablers that could enhance the innovation and
Read Full article »
The office market at a glance: The round for tenants is on

Data provided by CBRE show that the office spaces segment will continue to grow rapidly in 2019, and 15 new projects covering 304.000 sqm will be delivered. According to the real estate consultancy agency, curr
Read Full article »
People Empowering Business Forum 2019 to take place on October, 30 at Bucharest

Latest trends like demographic upheaval, globalization, digital technology, and changing social values and worker expectations, are disrupting business models and radically changing the workplace. These are req
Read Full article »
Addressing the mantra of cyber-security: Confidentiality, integrity and availability

The fast advancement of technology in all the aspects of everyday life, either personal or professional, and the emerging of AI (Artificial Intelligence) and ML (Machine Learning), not to mention cloud technolo
Read Full article »