Exclusive OT: Java and .net technicians most sought after - Brainspotting

If Java and .Net specialists are most sought after in the IT industry, iOS and Android coming strongly from behind, tells Outsourcing Today the managing partner of Brainspotting, Ana Giurca.

While the IT segment suffered the least during crisis, facing a small decline in 2010, it recovered fast to become the star of Romanian employment by foreign and local investors.

"Romania is favored because of its talent and investments, enjoying either new investments or expansions into the market. While at the beginning of boom years we were concentrated more on maintenance and support, now there are more sophisticated services offered by our local specialists", says Ana Giurca.

"Now there are more complex requirements for specialists of Java and .Net, and we are also going fast towards iOS, Android and mobile technologies. Obviously, with the fast growth pace, the market starts feeling the scarcity of talent. However, we have about 100,000 IT specialists countrywide, and though we had to pace up with expansions and new investment, we are not yet confronted with a talent scarcity," she says.

While salaries are growing, IT specialists are mostly looking into size of the projects and teams when moving to another company. They also look for medical packages for them and another member of the family, training and career advancement opportunities, rather than just financial compensation.

Also, the new compensation and benefits packages include more flexible time schedule and remote work, two factors that grew a lot during the past years. Also, as a general trend, the need for a company vehicle decreased as compared to a few years ago, according to Brainspotting surveys.


---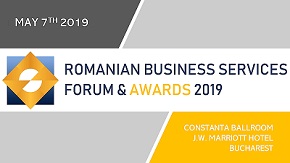 » Romania ranks above EU average in gend...
» The voting procedure for the BRAND OF ...
» Berg Software Romania: Reasons to outs...
» Deloitte's Tech Trends 2019 report: B...
» Steven Hunt, SAP SuccessFactors: Tecto...
» Molson Coors started to grow its busin...
» Societe Generale-European Business Ser...
» Capgemini: Investing in people is the ...
» Countries in CEE region, including Rom...
» Oracle reaches 4,200 employees and pla...

The voting procedure for the BRAND OF THE YEAR 2019 IN ROMANIAN BUSINESS SERVICES is open!

This is the fifth edition of the event and the second year to select the public's favorite brand in the business services BPO, ITO and SSC in Romania.
Read Full article »
Romania ranks above EU average in gender employment gap

In Romania, the employment rate measures the number of people who have a job as a percentage of the working age population. This page provides - Romania Employment Rate- actual values, historical data, forecast
Read Full article »
Steven Hunt, SAP SuccessFactors: Tectonic movements in the world of work

The world of work will be shaped by five tectonic movements – or global megatrends – over the next few years. As you may guess from the geological analogy, the effects could be dramatic.
Read Full article »
EY: European companies are divesting to future-proof growth

According to the EY Global Corporate Divestment Study, 84 per cent of European companies surveyed intending to divest within the next two years (the majority planning to do so in the coming 12 months), executiv
Read Full article »
Knowledge-sharing presentation on latest trends the industry deals, in the program of Romanian Business Services Forum and Awards

Part of the upcoming joint half-day event, Romanian Business Services Forum and Awards to be held at JW Marriott Hotel on May 7th, the discussion agenda comprises a complex Knowledge-sharing presentation on lat
Read Full article »