Excusive OT - Paun, Colliers: Outsourcing took about 40% of the 2015 office market

Business processes and IT outsourcing and shared services centers have taken about 40% of the overall offices demand from the overall market in 2015, tells Outsourcing Today the associate director of Colliers International (Romania), Andreea Paun.

"There is an overall trend from Europe and US to offshore services towards the CEE and this resulted in many new investors coming to Romania as well.

It is hard to estimate how this year will evolve, but there are at least three large banking and financing entities that will either bring in new lines of business or expand their local activities, mainly in Bucharest. There are also many investors pledging in more for Timisoara and Cluj as well, with the 2018 horizon," she says.

"While Cluj is a real magnet for investors, benefiting from trained personnel especially into IT field, Timisoara, Iasi and Brasov are quickly developing their own outsourcing and automotive centers."
While local authorities are sluggishly keeping up pace with the investors' momentum, Cluj municipality found a way to incentivize new businesses.

As Cluj grows more into IT&C, Brasov and Timisoara saw more automotive investors, but also outsourcing companies pouring in.

"Cluj is the best option after Bucharest, having the largest number of new buildings and also technical universities that satisfy the labor demand. Cluj delivers 200,000 sqm of quality offices stock and 30-60,000 will follow in the next two years. Next in line as stock volume will be Timisoara, and though the stock is smaller, it attracts automotive, BPO and software investors. One of the larget projects there, the Openville project built by Julius group, brings in 100,000 of new sqm, besides CBC (built by Nepi) and Optica office buildings," she concluded.

---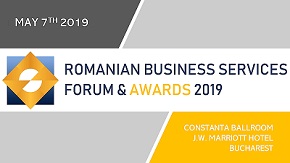 » Raiffeisen Bank Romania outsources onl...
» Oracle results pushed down by a strong...
» World-class HR organizations now spend...
» Microsoft and Oracle to interconnect M...
» Apostoleanu, Oracle: Human talent, mos...
» ANIS: Romanian IT market annual revenu...
» Healthcare IT outsourcing market is ex...
» Bosch Service Solutions to grow 20% Ti...
» Omnichannel: 4 pillars of a purposeful...
» The digitalization of the customer rel...

My HR Lab: Research of suitable candidates and giving feedback to rejected ones, the biggest challenge in HR

During June 2019, My HR Lab company run an online (social media platforms) survey "Challenges of the recruitment process" which enrolled over 100 professionals working in HR and recruitment in Romania.
Read Full article »
The local market needs more added-value and complex projects to be developed by the companies

The statement has been uttered within this year's Romanian Outsourcing and Shared Services Summit by Catalina Dodu, Country Manager at Atos, pointing to the local enablers that could enhance the innovation and
Read Full article »
The office market at a glance: The round for tenants is on

Data provided by CBRE show that the office spaces segment will continue to grow rapidly in 2019, and 15 new projects covering 304.000 sqm will be delivered. According to the real estate consultancy agency, curr
Read Full article »
People Empowering Business Forum 2019 to take place on October, 30 at Bucharest

Latest trends like demographic upheaval, globalization, digital technology, and changing social values and worker expectations, are disrupting business models and radically changing the workplace. These are req
Read Full article »
Addressing the mantra of cyber-security: Confidentiality, integrity and availability

The fast advancement of technology in all the aspects of everyday life, either personal or professional, and the emerging of AI (Artificial Intelligence) and ML (Machine Learning), not to mention cloud technolo
Read Full article »