Excusive OT - Paun, Colliers: Outsourcing took about 40% of the 2015 office market

Business processes and IT outsourcing and shared services centers have taken about 40% of the overall offices demand from the overall market in 2015, tells Outsourcing Today the associate director of Colliers International (Romania), Andreea Paun.

"There is an overall trend from Europe and US to offshore services towards the CEE and this resulted in many new investors coming to Romania as well.

It is hard to estimate how this year will evolve, but there are at least three large banking and financing entities that will either bring in new lines of business or expand their local activities, mainly in Bucharest. There are also many investors pledging in more for Timisoara and Cluj as well, with the 2018 horizon," she says.

"While Cluj is a real magnet for investors, benefiting from trained personnel especially into IT field, Timisoara, Iasi and Brasov are quickly developing their own outsourcing and automotive centers."
While local authorities are sluggishly keeping up pace with the investors' momentum, Cluj municipality found a way to incentivize new businesses.

As Cluj grows more into IT&C, Brasov and Timisoara saw more automotive investors, but also outsourcing companies pouring in.

"Cluj is the best option after Bucharest, having the largest number of new buildings and also technical universities that satisfy the labor demand. Cluj delivers 200,000 sqm of quality offices stock and 30-60,000 will follow in the next two years. Next in line as stock volume will be Timisoara, and though the stock is smaller, it attracts automotive, BPO and software investors. One of the larget projects there, the Openville project built by Julius group, brings in 100,000 of new sqm, besides CBC (built by Nepi) and Optica office buildings," she concluded.

---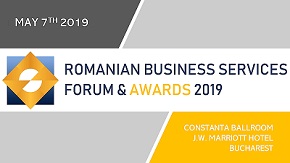 » Romania ranks above EU average in gend...
» The voting procedure for the BRAND OF ...
» Berg Software Romania: Reasons to outs...
» Deloitte's Tech Trends 2019 report: B...
» Steven Hunt, SAP SuccessFactors: Tecto...
» Molson Coors started to grow its busin...
» Societe Generale-European Business Ser...
» Capgemini: Investing in people is the ...
» Countries in CEE region, including Rom...
» Oracle reaches 4,200 employees and pla...

The voting procedure for the BRAND OF THE YEAR 2019 IN ROMANIAN BUSINESS SERVICES is open!

This is the fifth edition of the event and the second year to select the public's favorite brand in the business services BPO, ITO and SSC in Romania.
Read Full article »
Romania ranks above EU average in gender employment gap

In Romania, the employment rate measures the number of people who have a job as a percentage of the working age population. This page provides - Romania Employment Rate- actual values, historical data, forecast
Read Full article »
Steven Hunt, SAP SuccessFactors: Tectonic movements in the world of work

The world of work will be shaped by five tectonic movements – or global megatrends – over the next few years. As you may guess from the geological analogy, the effects could be dramatic.
Read Full article »
EY: European companies are divesting to future-proof growth

According to the EY Global Corporate Divestment Study, 84 per cent of European companies surveyed intending to divest within the next two years (the majority planning to do so in the coming 12 months), executiv
Read Full article »
Knowledge-sharing presentation on latest trends the industry deals, in the program of Romanian Business Services Forum and Awards

Part of the upcoming joint half-day event, Romanian Business Services Forum and Awards to be held at JW Marriott Hotel on May 7th, the discussion agenda comprises a complex Knowledge-sharing presentation on lat
Read Full article »