JLL: Large investors dominate the Romanian estate market, lower yields


Real estate large investors such as CTP, JLL, P3, NEPI and Globalworth bought Romanian real estate assets worth over half a billion euros during the past year, according to JLL.

While financing conditions, although improved, are still less attractive compared to other markets, Romania will attract mainly investors who have adequate capital or funding capacity at regional level, and new names are awaited.

Last year's headlines were written by five investors that have realized about 80% of the total volume of transactions recorded in 2015 in Romania. CTP, GLL, P3, NEPI and Globalworth bought properties in Romania last year worth over 500 million euro, out of the 650 million euros recorded in the entire market.

"Companies such as CTP, GLL and P3 have achieved the largest volumes of investments last year, given that in 2013 and 2014, NEPI and Globalworth were the most active. Local market's investment diversification will continue this year, so we will see new buyers in all market segments. JLL negotiated a series of transactions that could be concluded in the coming months and have a good chance to attract new name investors," says Silviana Badea, head of Capital Markets, associate director, JLL Romania.

Most active buyer in 2015 was CTP, registered in the Netherlands, which acquired six industrial properties in Romania, with transactions totaling more than 130 million euro.

In the office market, after an absence of six years of German institutional funds, GLL bought Floreasca Park and Victoria Center for a total of nearly 130 million euro.

Last year, acquisitions of properties in Bucharest accounted for 80% of total investments registered in the Romanian estate market.

Volumes traded were dominated by purchases of industrial space (41%), an historic high for this market, followed by offices (38%).

The largest transactions in the industrial market in 2015 was the takeover by Europolis Park by P3 from CA Immo and that of the Bucharest West by CTP from Portland Trust.

In the office market, the most notable transactions were the takeover from Portland Trust of Floreasca Park by the German investment fund GLL and the Globalworth acquisition of the Green Court Building B from Skanska.

The only large retail market transaction was done by NEPI, which acquired Iris Titan from Aberdeen, a Scottish company.

JLL was involved in 57% of the total volume of commercial real estate properties registered in Romania in 2015 and in over 70% of transactions in which consultants were involved.

Yield compression

Last year yields in the office and retail market stood at 7.5%, while the industrial segment they are of 9.00%.

"Yields have compressed by 25-75 basis points (0.25-0.75 percentage points) in 2015, but for the first half of 2016 we expect the decline to continue at the same pace considering that, although financing conditions have improved in Romania compared to previous years, interest rates are 2 percentage points higher than in The Czech Republic or Poland.

"This is why investors looking at the local market are mainly those who have their own funds or those who have the capacity to fund themselves at regional level," says Andrei Vacaru, Capital Markets representative, JLL Romania.


---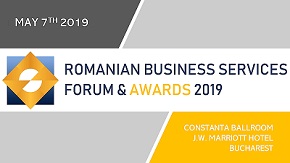 » Raiffeisen Bank Romania outsources onl...
» World-class HR organizations now spend...
» Oracle results pushed down by a strong...
» Sergiu Negut, on the stage of People i...
» Apostoleanu, Oracle: Human talent, mos...
» DTZ: Office demand outside Bucharest t...
» TELUS International: Chatbots - The pr...
» Microsoft and Oracle to interconnect M...
» The importance of training in developi...
» ANIS: Romanian IT market annual revenu...

My HR Lab: Research of suitable candidates and giving feedback to rejected ones, the biggest challenge in HR

During June 2019, My HR Lab company run an online (social media platforms) survey "Challenges of the recruitment process" which enrolled over 100 professionals working in HR and recruitment in Romania.
Read Full article »
The local market needs more added-value and complex projects to be developed by the companies

The statement has been uttered within this year's Romanian Outsourcing and Shared Services Summit by Catalina Dodu, Country Manager at Atos, pointing to the local enablers that could enhance the innovation and
Read Full article »
The office market at a glance: The round for tenants is on

Data provided by CBRE show that the office spaces segment will continue to grow rapidly in 2019, and 15 new projects covering 304.000 sqm will be delivered. According to the real estate consultancy agency, curr
Read Full article »
People Empowering Business Forum 2019 to take place on October, 30 at Bucharest

Latest trends like demographic upheaval, globalization, digital technology, and changing social values and worker expectations, are disrupting business models and radically changing the workplace. These are req
Read Full article »
Addressing the mantra of cyber-security: Confidentiality, integrity and availability

The fast advancement of technology in all the aspects of everyday life, either personal or professional, and the emerging of AI (Artificial Intelligence) and ML (Machine Learning), not to mention cloud technolo
Read Full article »