Romanian employees received 20% more extra-benefits in 2015, IT – largest growth

Perks for local employees in Romania grew about 19% last year over 2014's values, while IT&C and pharma employees topped the other domains in the fringe benefits' rankings, according to Smartree.
The gross bonuses for Christmas amounted to about 175 euro on average, says the HRO consultancy.

Whilst food vouchers and the medical subscriptions to gyms were among the most common benefits.
The biggest benefits besides earnings were granted by IT&C and the pharmaceutical industries, while retail trade and employees received the least valuable benefits beyond the monthly salary.
The main fringe benefits offered by companies range from private health, sports, courses, travel, insurance and gifts. They fall into two types: monthly and incidental benefits.

They include meal vouchers, monthly subscriptions to private medical clinics, providing mobile phone or laptop, reimbursement of transport, subscriptions to gyms, relaxation rooms or game rooms.

Occasional benefits were gift vouchers for various holidays and occasions and even a 13th annual salary.

"Generally, fringe benefits may depend on the size and profile of the organization. For example, IT companies and advertising agencies often offer relaxation and dedicated game rooms, to encourage creativity," says Raluca Penes, HR Coordinator Smartree.

Bonuses get even closer to the western habitual list, with nearby kindergarten services and restaurant bonuses to "getting out for lunch" days.

"Some employers also offer new fringe benefits such as flexible working hours, additional days of leave, dental insurance, restaurant vouchers and other bonuses 'out of the box', as well as special day themes. For example, on each 13th the month, there are companies that offer pizza or restaurant team buildings to their staff. Also, employers also offer cooking classes or opportunity to drive luxury cars for the weekend," says she.

She explained that an important factor that companies are beginning to offer increasingly in the fringe benefits area is the taxation regime, that the better it gets, the better the fringe benefits.
About 150 HR managers from multinational and local companies were interviewed for the current survey.

.


---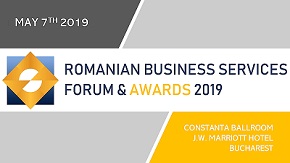 » Raiffeisen Bank Romania outsources onl...
» Oracle results pushed down by a strong...
» World-class HR organizations now spend...
» Apostoleanu, Oracle: Human talent, mos...
» Microsoft and Oracle to interconnect M...
» The importance of training in developi...
» ANIS: Romanian IT market annual revenu...
» Healthcare IT outsourcing market is ex...
» Bosch Service Solutions to grow 20% Ti...
» Omnichannel: 4 pillars of a purposeful...

My HR Lab: Research of suitable candidates and giving feedback to rejected ones, the biggest challenge in HR

During June 2019, My HR Lab company run an online (social media platforms) survey "Challenges of the recruitment process" which enrolled over 100 professionals working in HR and recruitment in Romania.
Read Full article »
The local market needs more added-value and complex projects to be developed by the companies

The statement has been uttered within this year's Romanian Outsourcing and Shared Services Summit by Catalina Dodu, Country Manager at Atos, pointing to the local enablers that could enhance the innovation and
Read Full article »
The office market at a glance: The round for tenants is on

Data provided by CBRE show that the office spaces segment will continue to grow rapidly in 2019, and 15 new projects covering 304.000 sqm will be delivered. According to the real estate consultancy agency, curr
Read Full article »
People Empowering Business Forum 2019 to take place on October, 30 at Bucharest

Latest trends like demographic upheaval, globalization, digital technology, and changing social values and worker expectations, are disrupting business models and radically changing the workplace. These are req
Read Full article »
Addressing the mantra of cyber-security: Confidentiality, integrity and availability

The fast advancement of technology in all the aspects of everyday life, either personal or professional, and the emerging of AI (Artificial Intelligence) and ML (Machine Learning), not to mention cloud technolo
Read Full article »