Romania learns TiVo with Ness upping to 140 programmers the Iasi center by year-end

TiVo Inc., the US TV programs management service company, announces the first year anniversary of the establishment of TiVo Romania software development center in Iasi with plans to double its size by year-end, Outsourcing Today has learned.

"The project started a year ago in partnership with Ness Inc. in Iasi had a tremendous growth and has reached to more than 70 programmers with various specializations, covering the main areas of development of the TiVo services: Set Top Box, the application for mobile, tablet and PC," reads a Ness release.

Due to the success of 2015, TiVo decided to expand the original plan with two groups, one for Java services, the second on technical support for European customers.

TiVo Romania Engineering Center has developed exponentially during the last year, the main challenges being to find professionals with experience and integrating them into the ongoing projects.

The Iasi Center, the second largest after the headquarters in San Jose, California, is a very crucial component for TiVo Inc. as it provides both the necessary specialists to develop projects for clients in the US and projects for international distribution for television companies.

TiVo Romania Engineering Center is designed as the gateway to the European market, developing products able to complete it.

"Plans for 2016 are as ambitious as those of last year: doubling staff and delivery of the first complete project. The Iasi School of IT and the IT community's experience will make all of this possible," Ness Romania officials say.

"For this reason, TiVo will involve further into the development of this community through support groups working around technologies such as Java and C ++."

This is demonstrated by the support offered in launching two weeks ago, of for a new community of C ++. In 2016, TiVo Romania Engineering Center will provide students from specialized faculties summer internships and the opportunity to do their graduate diplomas in partnership with company's experts.


---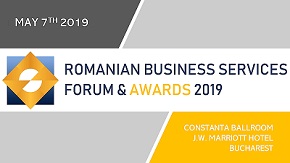 » Huawei opens a centre on cyber securit...
» ROMANIAN OUTSOURCING AWARDS FOR EXCELL...
» Romania ranks above EU average in gend...
» Bucharest, in the top of cities in Eur...
» Berg Software Romania: Reasons to outs...
» Meet the experts who will decide the w...
» Bogdan Pelinescu, president of ABSL: A...
» KPMG launches an application enabling ...
» ABSL GALA AWARDS celebrated its winner...
» Oracle reaches 4,200 employees and pla...

Colin C. Lovering: Meet the speakers at Romanian Business Services Forum & Awards 2019, on May 7

Colin C. Lovering has been living and working in Romania since 2009 when he arrived to offer consultancy and advice to organisations looking for growth and profitability and founded Achieve International.
Read Full article »
Antoniu Panait: Meet the speakers at Romanian Business Services Forum & Awards 2019, on May 7

Managing Director for VASTINT Romania since 2009, Antoniu Panait has an executive experience of more than 10 years, mainly in real estate.
Read Full article »
Andrei Voica: Meet the speakers at Romanian Business Services Forum & Awards 2019, on May 7

Andrei Voica, Director Project Management and Workplace Consultancy, Colliers International. Truly passionate about his work and always eager to add value to each project.
Read Full article »
Romulus Caralicea: Meet the speakers at Romanian Business Services Forum & Awards 2019, on May 7

Romulus is Wipro's Information Security, Risk & Compliance Lead for Europe. In his role he is managing internal audits and compliance activities for all clients and internal functions based on the corporate ISO
Read Full article »
George Didoiu: Meet the moderator of Romanian Business Services Forum 2019 CEO LEADERS DEBATE, on May 7

In his 15 years of real estate, George Didoiu advised on the relocation of top IT&C, finance-banking and consultancy companies, which total over 10,000 employees.
Read Full article »