Deloitte: Two-thirds of Millennials express a desire to leave their organizations by 2020

Millennials' loyalty to their organizations is connected to leadership development opportunities, workplace flexibility, and a sense of purpose beyond profit, according to a new Deloitte survey.

Personal values guide Millennials' career choices; 56 percent won't consider certain employers based on an organization's values or conduct, while 49 percent have rejected assignments that conflict with their values or ethics.

Businesses must adjust how they nurture loyalty among Millennials or risk losing a large percentage of their workforces, according to Deloitte's fifth annual Millennial Survey. Forty-four percent of Millennials say, if given the choice, they expect to leave their current employers in the next two years.

That figure increases to 66 percent when the time frame is extended to 2020. The findings were revealed through a survey of nearly 7,700 Millennials from 29 countries during September and October 2015.

Concerns regarding a lack of development of leadership skills and feelings of being overlooked were often voiced by those considering near-term career changes.

But, larger issues around work/life balance, the desire for flexibility, and differences around business values are influencing their opinions and behaviors.

Millennials appear to be guided by strong values at all stages of their careers; it's apparent in the employers they choose, the assignments they're willing to accept, and the decisions they make as they take on more senior-level roles. While they continue to express a positive view of business' role in society and have softened their negative perceptions of business' motivation and ethics compared to prior surveys, Millennials still want businesses to focus more on people (employees, customers, and society), products, and purpose—and less on profits.

"Millennials place great importance on their organization's purpose beyond financial success, remaining true to their values and opportunities for professional development. Leaders need to demonstrate they appreciate these priorities, or their organizations will continue to be at risk of losing a large percentage of their workforce," said Punit Renjen, Deloitte Global CEO. "Fortunately, Millennials have provided business with a roadmap of how employers can meet their needs for career satisfaction and professional development."



---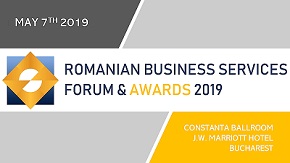 » Romania ranks above EU average in gend...
» The voting procedure for the BRAND OF ...
» Berg Software Romania: Reasons to outs...
» Deloitte's Tech Trends 2019 report: B...
» Steven Hunt, SAP SuccessFactors: Tecto...
» Molson Coors started to grow its busin...
» Societe Generale-European Business Ser...
» Capgemini: Investing in people is the ...
» Countries in CEE region, including Rom...
» Oracle reaches 4,200 employees and pla...

The voting procedure for the BRAND OF THE YEAR 2019 IN ROMANIAN BUSINESS SERVICES is open!

This is the fifth edition of the event and the second year to select the public's favorite brand in the business services BPO, ITO and SSC in Romania.
Read Full article »
Romania ranks above EU average in gender employment gap

In Romania, the employment rate measures the number of people who have a job as a percentage of the working age population. This page provides - Romania Employment Rate- actual values, historical data, forecast
Read Full article »
Steven Hunt, SAP SuccessFactors: Tectonic movements in the world of work

The world of work will be shaped by five tectonic movements – or global megatrends – over the next few years. As you may guess from the geological analogy, the effects could be dramatic.
Read Full article »
EY: European companies are divesting to future-proof growth

According to the EY Global Corporate Divestment Study, 84 per cent of European companies surveyed intending to divest within the next two years (the majority planning to do so in the coming 12 months), executiv
Read Full article »
Knowledge-sharing presentation on latest trends the industry deals, in the program of Romanian Business Services Forum and Awards

Part of the upcoming joint half-day event, Romanian Business Services Forum and Awards to be held at JW Marriott Hotel on May 7th, the discussion agenda comprises a complex Knowledge-sharing presentation on lat
Read Full article »