Deloitte: Two-thirds of Millennials express a desire to leave their organizations by 2020

Millennials' loyalty to their organizations is connected to leadership development opportunities, workplace flexibility, and a sense of purpose beyond profit, according to a new Deloitte survey.

Personal values guide Millennials' career choices; 56 percent won't consider certain employers based on an organization's values or conduct, while 49 percent have rejected assignments that conflict with their values or ethics.

Businesses must adjust how they nurture loyalty among Millennials or risk losing a large percentage of their workforces, according to Deloitte's fifth annual Millennial Survey. Forty-four percent of Millennials say, if given the choice, they expect to leave their current employers in the next two years.

That figure increases to 66 percent when the time frame is extended to 2020. The findings were revealed through a survey of nearly 7,700 Millennials from 29 countries during September and October 2015.

Concerns regarding a lack of development of leadership skills and feelings of being overlooked were often voiced by those considering near-term career changes.

But, larger issues around work/life balance, the desire for flexibility, and differences around business values are influencing their opinions and behaviors.

Millennials appear to be guided by strong values at all stages of their careers; it's apparent in the employers they choose, the assignments they're willing to accept, and the decisions they make as they take on more senior-level roles. While they continue to express a positive view of business' role in society and have softened their negative perceptions of business' motivation and ethics compared to prior surveys, Millennials still want businesses to focus more on people (employees, customers, and society), products, and purpose—and less on profits.

"Millennials place great importance on their organization's purpose beyond financial success, remaining true to their values and opportunities for professional development. Leaders need to demonstrate they appreciate these priorities, or their organizations will continue to be at risk of losing a large percentage of their workforce," said Punit Renjen, Deloitte Global CEO. "Fortunately, Millennials have provided business with a roadmap of how employers can meet their needs for career satisfaction and professional development."



---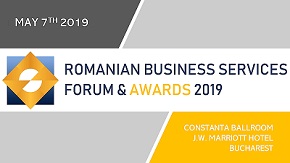 » Raiffeisen Bank Romania outsources onl...
» Oracle results pushed down by a strong...
» World-class HR organizations now spend...
» Apostoleanu, Oracle: Human talent, mos...
» Sergiu Negut, on the stage of People i...
» Microsoft and Oracle to interconnect M...
» The importance of training in developi...
» ANIS: Romanian IT market annual revenu...
» Healthcare IT outsourcing market is ex...
» Bosch Service Solutions to grow 20% Ti...

My HR Lab: Research of suitable candidates and giving feedback to rejected ones, the biggest challenge in HR

During June 2019, My HR Lab company run an online (social media platforms) survey "Challenges of the recruitment process" which enrolled over 100 professionals working in HR and recruitment in Romania.
Read Full article »
The local market needs more added-value and complex projects to be developed by the companies

The statement has been uttered within this year's Romanian Outsourcing and Shared Services Summit by Catalina Dodu, Country Manager at Atos, pointing to the local enablers that could enhance the innovation and
Read Full article »
The office market at a glance: The round for tenants is on

Data provided by CBRE show that the office spaces segment will continue to grow rapidly in 2019, and 15 new projects covering 304.000 sqm will be delivered. According to the real estate consultancy agency, curr
Read Full article »
People Empowering Business Forum 2019 to take place on October, 30 at Bucharest

Latest trends like demographic upheaval, globalization, digital technology, and changing social values and worker expectations, are disrupting business models and radically changing the workplace. These are req
Read Full article »
Addressing the mantra of cyber-security: Confidentiality, integrity and availability

The fast advancement of technology in all the aspects of everyday life, either personal or professional, and the emerging of AI (Artificial Intelligence) and ML (Machine Learning), not to mention cloud technolo
Read Full article »