Colliers: Romania saw 45% of 800 mln. euro RE investments going into offices


While 34% of the real estate investments in Romania were directed towards industrial spaces, and 21% towards retail, it was the office market that witnessed the largest investment flow during 2015, with 45% on the balance, according to a Colliers study.

"In 2015, the investment market in Romania were concluded transactions totaling Euro 800 million, similar to the previous year's record volume," says Laurentiu Lazar, Investment and Valuation director, Colliers International.

"While 2014 saw a series of unusual transactions, such as the acquisition by Auchan of the Real shopping galleries, in 2015, we saw a balanced and diversified market, able to attract more interest from international investors. Further, the office market has generated almost half of the total investment volume in 2015," he adds.

"However, the industrial sector had the highest growth in 2015 compared to 2014, while transactions on retail projects remained relatively constant. We expect a positive development in terms of investor interest in the real estate market in Romania, especially since there is a significant stock of premium products under construction or planned on the office segment," said Laurentiu Lazar.

At the same time, the volume of real estate investments will increase in 2016 in the EMEA region, driven by emerging markets upswing and favorable lending options, and the general positive sentiment from international investors.

In the first three quarters of 2015, the EMEA region reported a total investment of $ 200 billion, 30% higher than in the previous year, while in Central and Eastern Europe, investments are higher by 9% than 2014, and the region attracts more capital to risk appetite and looking for good returns.


---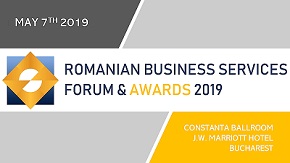 » Huawei opens a centre on cyber securit...
» Romania ranks above EU average in gend...
» ROMANIAN OUTSOURCING AWARDS FOR EXCELL...
» Bucharest, in the top of cities in Eur...
» Meet the experts who will decide the w...
» Bogdan Pelinescu, president of ABSL: A...
» Berg Software Romania: Reasons to outs...
» KPMG launches an application enabling ...
» ABSL GALA AWARDS celebrated its winner...
» George Rotariu, CEO Bitcoin Romania: B...

Meet the speakers at Romanian Business Services Forum 2019 CEO LEADERS DEBATE, on May 7th - Matthieu Pasquier

Matthieu Pasquier is CEO of Societe Generale European Business Services since August 2018 bringing more than 27 years experience in Societe Generale group. During 2014-2018, Matthieu was Head of SG GSC Chennai
Read Full article »
Sorin Mindrutescu among the speakers at Romanian Business Services Forum 2019 CEO LEADERS DEBATE, on May 7th

Sorin Mindrutescu is the Country Leader for Oracle Romania, as of February 2003. In this role, he is responsible for local sales and project delivery. In Romania, Oracle has two major business directions: the l
Read Full article »
Meet the speakers at Romanian Business Services Forum 2019 CEO LEADERS DEBATE, on May 7th - Vivek Bakshi

Vivek Bakshi is the General Manager of Wipro Technologies. He has spent 12 years heading the International Locations / Delivery Centers Europe from the Bucharest office.
Read Full article »
Meet the finalists of the fifth edition of Romanian Business Services Awards 2019

ROMANIAN BUSINESS SERVICES FORUM & AWARDS 2019, in its fifth year, brings on May 7, in Bucharest, a new concept event with engaging keynote sessions by industry leaders, interactive panel discussions, networkin
Read Full article »
Meet the experts who will decide the winners of 2019 at Romanian Business Services Forum & Awards

Each year, Outsourcing Today brings a landmark edition of the Romanian Outsourcing and Shared Services Summit and this year, we are hosting the Fifth of the annual Romanian Outsourcing and Shared Services Award
Read Full article »