Colliers: Romania saw 45% of 800 mln. euro RE investments going into offices


While 34% of the real estate investments in Romania were directed towards industrial spaces, and 21% towards retail, it was the office market that witnessed the largest investment flow during 2015, with 45% on the balance, according to a Colliers study.

"In 2015, the investment market in Romania were concluded transactions totaling Euro 800 million, similar to the previous year's record volume," says Laurentiu Lazar, Investment and Valuation director, Colliers International.

"While 2014 saw a series of unusual transactions, such as the acquisition by Auchan of the Real shopping galleries, in 2015, we saw a balanced and diversified market, able to attract more interest from international investors. Further, the office market has generated almost half of the total investment volume in 2015," he adds.

"However, the industrial sector had the highest growth in 2015 compared to 2014, while transactions on retail projects remained relatively constant. We expect a positive development in terms of investor interest in the real estate market in Romania, especially since there is a significant stock of premium products under construction or planned on the office segment," said Laurentiu Lazar.

At the same time, the volume of real estate investments will increase in 2016 in the EMEA region, driven by emerging markets upswing and favorable lending options, and the general positive sentiment from international investors.

In the first three quarters of 2015, the EMEA region reported a total investment of $ 200 billion, 30% higher than in the previous year, while in Central and Eastern Europe, investments are higher by 9% than 2014, and the region attracts more capital to risk appetite and looking for good returns.


---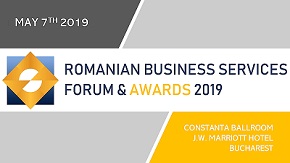 » The most appreciated companies from th...
» Webhelp Romania aiming for EUR 10 mill...
» Tremend joins Mellanox in powering the...
» The Outsourcing industry announces its...
» Manpower: Romania's labor market, more...
» Deloitte's Tech Trends 2019 report: B...
» Bucharest, in the top of cities in Eur...
» Oracle reaches 4,200 employees and pla...
» Genpact's COO: Staying ahead of the cu...
» Ascentis: The top ten HR trends for 20...

Nomination are now open for Romanian Business Services Forum and Awards

Nominations have opened for the prestigious Romanian Business Services Forum & Awards. The 2019 awards will continue to recognize and reinforce the important contribution made by business services professionals
Read Full article »
Study: 89 per cent of finance teams yet to embrace Artificial Intelligence

Report by Association of International Certified Professional Accountants and Oracle shows that almost 90 per cent of finance teams do not have the skills to support digital transformation.
Read Full article »
Bucharest, in the top of cities in Europe with the largest number of experts in high-tech industry

Bucharest is among the top cities boasting the most experts in the high-tech innovative industry, with over 70,000 current employees, next to London, Dublin, Madrid or Budapest, reads a study conducted by CBRE
Read Full article »
CBRE study: Post-millennials, the happiest about their offices
During 2018, real estate consultancy company CBRE conducted the first study dedicated to work environment in office buildings in Bucharest. The respondents have been structured in four age segments, such as Z g
Read Full article »
Deloitte's Tech Trends 2019 report: Beyond the digital frontier

The recently released Deloitte's Tech Trends 2019: Beyond the digital frontier, as each Tech Trends report in the series conducted by the consultancy company, lobbies for embracing the increasing, often mind-b
Read Full article »