Raiffeisen Bank Romania outsources online storage and comms to Google and Android

Raiffeisen Bank has initiated its digital transformation in improving the way the bank's employees collaborate and communicate.

The first step on this mission was to move the bank's e-mail, its document storage and sharing to Google Apps for Work, introduce new social network and improve mobile access using Android for Work. Raiffeisen is the very first Romanian bank "going Google", states a bank's release.

Clients' demands have changed over the past few years: a significant percentage of them now using their laptops and mobile devices to access their accounts from anywhere, at any time. At the same time, they expect their banks to be flexible in their communication methods, their reactions to requests, as well as their product offers.

"Google Apps for Work enables Raiffeisen employees to collaborate on documents in real time, share best practices, and communicate more effectively. Android for Work helps them to be fully productive using their mobile devices.

Google Apps for Work is a suite of cloud collaboration tools, including Gmail, Google Drive, Google Hangouts, Google Calendar, Google Docs, and the enterprise social network Google+. All e-mails, calendar events, documents, and more created in Google Apps are easily accessible using any trusted computer or mobile device.

"Moving to Google Apps is a step we've taken to further digital transformation. Our aim is to change the way Raiffeisen employees work together and support our clients," said Carl Rossey, COO, Raiffeisen Bank (photo). "We believe that the introduction of new collaborative tools will help us access information faster, share our knowledge, and move from cooperation to collaboration and co-creation."

The deployment of Google Apps for Work to all 5,400 Raiffeisen employees took just 90 days, with the help of Google for Work Premier Partner Netmail. "It has been a pleasure to cooperate with such a dedicated client as Raiffeisen Bank, Romania," also said Bohuslav Dohnal, CEO, Netmail. "Raiffeisen leaders were very clear about why the company needs to transform. Their strong support and consistent communication to its employees helped to make the Google Apps implementation extremely successful."

"An important characteristic of Google Apps for Work is its ability to connect people and technology," said Boris Georgiev, Head of Google for Work - CEE, Russia & CIS. "Technology that helps change company culture through collaboration and smooth digital experience for people and employees. Because Google is all about people."

"Raiffeisen Bank is a great brand on the Romanian financial market and we are happy to have the opportunity to work with them," said Dan Bulucea, Country Manager, Google Romania. "The fact that Raiffeisen went Google proves that Google Apps for Work and Android for Work are perfect tools for large corporations."


---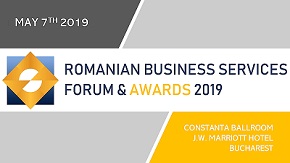 » Huawei opens a centre on cyber securit...
» ROMANIAN OUTSOURCING AWARDS FOR EXCELL...
» Romania ranks above EU average in gend...
» Bucharest, in the top of cities in Eur...
» Berg Software Romania: Reasons to outs...
» Meet the experts who will decide the w...
» Bogdan Pelinescu, president of ABSL: A...
» KPMG launches an application enabling ...
» ABSL GALA AWARDS celebrated its winner...
» Oracle reaches 4,200 employees and pla...

Colin C. Lovering: Meet the speakers at Romanian Business Services Forum & Awards 2019, on May 7

Colin C. Lovering has been living and working in Romania since 2009 when he arrived to offer consultancy and advice to organisations looking for growth and profitability and founded Achieve International.
Read Full article »
Antoniu Panait: Meet the speakers at Romanian Business Services Forum & Awards 2019, on May 7

Managing Director for VASTINT Romania since 2009, Antoniu Panait has an executive experience of more than 10 years, mainly in real estate.
Read Full article »
Andrei Voica: Meet the speakers at Romanian Business Services Forum & Awards 2019, on May 7

Andrei Voica, Director Project Management and Workplace Consultancy, Colliers International. Truly passionate about his work and always eager to add value to each project.
Read Full article »
Romulus Caralicea: Meet the speakers at Romanian Business Services Forum & Awards 2019, on May 7

Romulus is Wipro's Information Security, Risk & Compliance Lead for Europe. In his role he is managing internal audits and compliance activities for all clients and internal functions based on the corporate ISO
Read Full article »
George Didoiu: Meet the moderator of Romanian Business Services Forum 2019 CEO LEADERS DEBATE, on May 7

In his 15 years of real estate, George Didoiu advised on the relocation of top IT&C, finance-banking and consultancy companies, which total over 10,000 employees.
Read Full article »