Raiffeisen Bank Romania outsources online storage and comms to Google and Android

Raiffeisen Bank has initiated its digital transformation in improving the way the bank's employees collaborate and communicate.

The first step on this mission was to move the bank's e-mail, its document storage and sharing to Google Apps for Work, introduce new social network and improve mobile access using Android for Work. Raiffeisen is the very first Romanian bank "going Google", states a bank's release.

Clients' demands have changed over the past few years: a significant percentage of them now using their laptops and mobile devices to access their accounts from anywhere, at any time. At the same time, they expect their banks to be flexible in their communication methods, their reactions to requests, as well as their product offers.

"Google Apps for Work enables Raiffeisen employees to collaborate on documents in real time, share best practices, and communicate more effectively. Android for Work helps them to be fully productive using their mobile devices.

Google Apps for Work is a suite of cloud collaboration tools, including Gmail, Google Drive, Google Hangouts, Google Calendar, Google Docs, and the enterprise social network Google+. All e-mails, calendar events, documents, and more created in Google Apps are easily accessible using any trusted computer or mobile device.

"Moving to Google Apps is a step we've taken to further digital transformation. Our aim is to change the way Raiffeisen employees work together and support our clients," said Carl Rossey, COO, Raiffeisen Bank (photo). "We believe that the introduction of new collaborative tools will help us access information faster, share our knowledge, and move from cooperation to collaboration and co-creation."

The deployment of Google Apps for Work to all 5,400 Raiffeisen employees took just 90 days, with the help of Google for Work Premier Partner Netmail. "It has been a pleasure to cooperate with such a dedicated client as Raiffeisen Bank, Romania," also said Bohuslav Dohnal, CEO, Netmail. "Raiffeisen leaders were very clear about why the company needs to transform. Their strong support and consistent communication to its employees helped to make the Google Apps implementation extremely successful."

"An important characteristic of Google Apps for Work is its ability to connect people and technology," said Boris Georgiev, Head of Google for Work - CEE, Russia & CIS. "Technology that helps change company culture through collaboration and smooth digital experience for people and employees. Because Google is all about people."

"Raiffeisen Bank is a great brand on the Romanian financial market and we are happy to have the opportunity to work with them," said Dan Bulucea, Country Manager, Google Romania. "The fact that Raiffeisen went Google proves that Google Apps for Work and Android for Work are perfect tools for large corporations."


---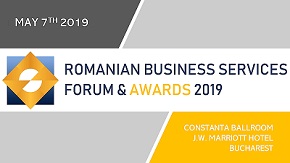 » Evolving from consumers of resources t...
» Preparing for the new future
» ROMANIAN OUTSOURCING AWARDS FOR EXCELL...
» Pepper Escu, the first humanoid robot ...
» Volvo Cars and Uber present production...
» Berg Software Romania: Reasons to outs...
» Marian V. Popa: Meet the speakers at R...
» Deloitte 2019 Global Human Capital Tre...
» Andrei Voica: Meet the speakers at Rom...
» How giving back pays dividends for com...

Digital Transformation Conference to take place on June 19 at Bucharest

The Diplomat – Bucharest organizes Digital Transformation Conference to be held on 14 of June in Bucharest, at Hilton Hotel - Regina Maria Hall, starting 8:30 AM.
Read Full article »
L&D Conference by The Diplomat Bucharest took place on June 4th at Bucharest

The Diplomat-Bucharest organizes the Third Edition of its Learning & Development CONFERENCE on 4 June, 2019 at InterContinental Hotel Bucharest starting 09:00 am.
Read Full article »
Meet the winners of ROMANIAN BUSINESS SERVICES AWARDS, 2019 edition

ROMANIAN BUSINESS SERVICES FORUM & AWARDS 2019, in its fifth year, brrought on May 7, in Bucharest, a new concept event with engaging keynote sessions by industry leaders, interactive panel discussions, network
Read Full article »
Few hours away from to the long awaited CEO Leaders Debate, a premiere of Romanian Business Services Forum and Awards
We are a few hours away to the long awaited CEO Leaders Debate, a premiere of Romanian Business Services Forum and Awards on May 7.
Read Full article »
Colin C. Lovering: Meet the speakers at Romanian Business Services Forum & Awards 2019, on May 7

Colin C. Lovering has been living and working in Romania since 2009 when he arrived to offer consultancy and advice to organisations looking for growth and profitability and founded Achieve International.
Read Full article »