TMF: Biggest hurdle, legal instability, drives up tax & compliance outsourcing

While legal instability is a major burden, it drives up outsourcing for tax, legal and accounting services, a recent TMF survey reveals.

The three major challenges faced by foreign companies present on the Romanian market are the frequent changes in legislation (54%), obtaining the appropriate level of support from the authorities (51%), and the implementation of legislative requirements (49%), shows a study conducted on behalf of TMF Group România, a company that has been active for 17 years on the Romanian outsourcing market.

Because of the context, companies are willing to outsource tax compliance and accounting (67%), HR & payroll (40%), and corporate secretarial services (17%), in order to be able to focus on their core business.

The survey included tens of foreign companies present on the local market – most of them having their headquarters in Romania.

These companies constitute a representative sample. Out of those who filled in the questionnaire, 34% are CFOs, 21% CEOs, and 16%, HR managers operating in industries such as retail, real estate, media, pharmaceutical, software, hardware, oil and gas, finance, and network and communications.

Apart from these three major challenges, the most difficult aspects of doing business in Romania are considered the adaptability of the corporate policies to local legislative requirements (41%), the sourcing of skilled labour resources and the implementation of standardised processes across jurisdictions (36%), and the efficient transposing of local financial reports and of other reports to management (26%).

"In 2015 we have noticed an increase in the outsourcing activity of the foreign companies present in Romania. The managers appreciate the competitivity of the local market and believe that its bar will be raised, especially given the context of economic growth. That is why they'd rather rely on professionals and delegate accounting, HR & payroll to them, while choosing to gain more time and put more effort into their core business, which is crucial to the evolution of any company," said Camelia Nita, managing director, TMF Group Romania.


As far as improvements are concerned, the foreign companies that are active in Romania appreciate how easy it is to find the right premises and local suppliers (29%) and the adherence to labour law and the payment of employees at market rate (26%). Insofar as the Romanian business environment is concerned, the foreign companies present on the local market perceive in a negative way the tax level and legislation (62%), the collaboration with authorities (38%) and finding the adequate workforce (33%). The aspect that has worsened the most compared to last year is finding the right talent, 33% of the participants having said they face difficulties in this respect.

Despite these obstacles, approximately 85% of the participants to this study stated that their revenues have grown in 2015. 31% of the managers reported a growth between 5% and 10%, 26%, a growth up to 5%, while 14% said the growth of their revenues was between 10 and 15% and the same percentile mentioned a growth of over 20%. Furthermore, the foreign companies present on the local market have a good opinion regarding employee protection (36%), regarding competition (28%), and regarding the protection provided to the employer by legislation (15%).

In 2014, a third of the managers that took part to the TMF Group study said that finding the right talent was a challenge for them. The fact that their number has increased significantly in 2015 could be construed as a wake-up call regarding the difficulties the companies face when trying to reach suitable potential employees. That is why many companies solve this problem by outsourcing the services for which they initially intended to bring in personnel.

Most of the managers that took part in the study feel that the companies they run need specialised assistance regarding tax compliance (40%), HR & payroll (37%), and accounting and financial reporting (30%).

The reason why foreign companies would outsource these services is the desire to gain access to the expertise and experience of professionals (36%), followed by the need for increased adaptability to legislative changes (28%), and by the desire to obtain a better cost structure for high quality financial or management reporting (19%).

Thus, the managers that took part in the study would benefit from outsourcing services such as accounting, HR % payroll by gaining more time to focus on their core business (64%), by reducing the cost of non-compliance (31%), and by enjoying an increased comfort induced by the diminishing of the administrative burden (22%).



---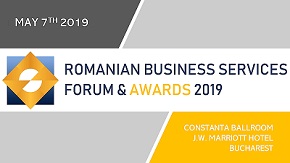 » Huawei opens a centre on cyber securit...
» ROMANIAN OUTSOURCING AWARDS FOR EXCELL...
» Romania ranks above EU average in gend...
» Bucharest, in the top of cities in Eur...
» Berg Software Romania: Reasons to outs...
» Meet the experts who will decide the w...
» Bogdan Pelinescu, president of ABSL: A...
» KPMG launches an application enabling ...
» ABSL GALA AWARDS celebrated its winner...
» Oracle reaches 4,200 employees and pla...

Colin C. Lovering: Meet the speakers at Romanian Business Services Forum & Awards 2019, on May 7

Colin C. Lovering has been living and working in Romania since 2009 when he arrived to offer consultancy and advice to organisations looking for growth and profitability and founded Achieve International.
Read Full article »
Antoniu Panait: Meet the speakers at Romanian Business Services Forum & Awards 2019, on May 7

Managing Director for VASTINT Romania since 2009, Antoniu Panait has an executive experience of more than 10 years, mainly in real estate.
Read Full article »
Andrei Voica: Meet the speakers at Romanian Business Services Forum & Awards 2019, on May 7

Andrei Voica, Director Project Management and Workplace Consultancy, Colliers International. Truly passionate about his work and always eager to add value to each project.
Read Full article »
Romulus Caralicea: Meet the speakers at Romanian Business Services Forum & Awards 2019, on May 7

Romulus is Wipro's Information Security, Risk & Compliance Lead for Europe. In his role he is managing internal audits and compliance activities for all clients and internal functions based on the corporate ISO
Read Full article »
George Didoiu: Meet the moderator of Romanian Business Services Forum 2019 CEO LEADERS DEBATE, on May 7

In his 15 years of real estate, George Didoiu advised on the relocation of top IT&C, finance-banking and consultancy companies, which total over 10,000 employees.
Read Full article »