Migration towards "third IT platform" and move into the cloud will dominate 2016

IDC, one of the biggest such research firms, was early in identifying the shift to what it calls the "third platform". The first platform for IT was the mainframe computer—a big, centralised processor with lots of dumb terminals connected to it.

The second platform, which became dominant in the early 1990s, was the client-server model, in which processing power was divided between more slimline central "servers" and the PCs on workers' desktops. The third platform is based on the online computing "cloud" and its interaction with all manner of devices, including wirelessly connected ones such as smartphones, machinery and sensors (known collectively as the "internet of things"). These devices will suck up unprecedented amounts of "big data", which will need artificial-intelligence, or "machine learning" software, to pluck the useful insights out of it, writes The Economist.

All these buzz-phrases are becoming increasingly familiar even among non-tech types. IDC's main prediction for 2016 and 2017 is that in this period, the move into the cloud will become mainstream among businesses. By the end of it, IDC reckons that two-thirds of firms' software applications will be hosted somewhere else, along with most of their data. Increasing numbers of businesses will rent their processing power and data storage from a cloud-computing provider—in the jargon, they will migrate to the "public cloud". Some will keep things in-house, but build their own "private cloud" in which much processing and storage is once again centralised, as in the mainframe era, but with lots of data transmitted through wireless-internet connections.

By the end of 2017, says Frank Gens, IDC's chief analyst, the majority of the world's 2,000 largest companies will be moving towards a business model in which data collection and processing is no longer a peripheral activity but the thing that their competitive edge is built on: think of power utilities earning revenues from helping clients manage their buildings' energy use, or banks retaining customers by helping them to ward off online fraudsters. Forrester, another big tech-research firm, makes a similar prediction for the coming year: that as online-security breaches and identity-theft scams intensify, the protection of personal data will become an important selling-point for many services.

This intensifying focus on data usage and analysis means, first of all, that there should be jobs galore for software coders: IDC says that as big firms leap on to the third platform, they more than double their programming staff. Firms that provide streams of online data, on everything from weather to traffic to pork-belly prices, will also do well: IDC says that firms making the third-platform leap in the coming two years will typically treble, at least, the number of such data providers they use.


---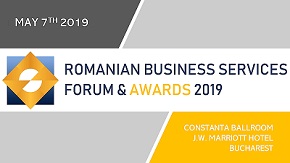 » Raiffeisen Bank Romania outsources onl...
» Horváth & Partners launches Steering ...
» JLL: Total office space in Bucharest t...
» Genpact, Luxoft and Oracle, top lessee...
» SSC in Romania. Who takes the lion's s...
» Oracle results pushed down by a strong...
» World-class HR organizations now spend...
» Romanian employers report the stronges...
» ROMANIAN OUTSOURCING AWARDS FOR EXCELL...
» Eucom: Nine out of ten corporate Roman...

My HR Lab: Research of suitable candidates and giving feedback to rejected ones, the biggest challenge in HR

During June 2019, My HR Lab company run an online (social media platforms) survey "Challenges of the recruitment process" which enrolled over 100 professionals working in HR and recruitment in Romania.
Read Full article »
The local market needs more added-value and complex projects to be developed by the companies

The statement has been uttered within this year's Romanian Outsourcing and Shared Services Summit by Catalina Dodu, Country Manager at Atos, pointing to the local enablers that could enhance the innovation and
Read Full article »
The office market at a glance: The round for tenants is on

Data provided by CBRE show that the office spaces segment will continue to grow rapidly in 2019, and 15 new projects covering 304.000 sqm will be delivered. According to the real estate consultancy agency, curr
Read Full article »
People Empowering Business Forum 2019 to take place on October, 30 at Bucharest

Latest trends like demographic upheaval, globalization, digital technology, and changing social values and worker expectations, are disrupting business models and radically changing the workplace. These are req
Read Full article »
Addressing the mantra of cyber-security: Confidentiality, integrity and availability

The fast advancement of technology in all the aspects of everyday life, either personal or professional, and the emerging of AI (Artificial Intelligence) and ML (Machine Learning), not to mention cloud technolo
Read Full article »