JLL: Romania will finish this year projects worth 800 mln. euro


Developers are expected to deliver over 700,000 sqm of new real estate projects in 2016, with a combined investment value of over EUR 800 million. Office buildings will remain in the top of developers' preferences, followed by retail and logistic.

Record deliveries planned for 2016 across all market sectors is proof that the investors' confidence in the Romanian market is picking-up.

Among the largest office projects planned to be delivered in 2016 are Bucharest One (a 50,000 sqm GLA, EUR 95 million investment by Globalworth), HBC 2&3 (a 45,700 sqm GLA, by Atenor) and Oregon Park (a 45,000 sqm GLA, EUR 90 million investment by Portland Trust).

However, as a downside, a larger offer could translate into a higher vacancy rates and pressure on the rental levels, while the market could shift in favor of the tenants.

"After the vacancy rate declined to about 13 percent in 2015 and rents remained relatively stable, the high level of new deliveries will result in an increase in vacancy rate and consequently in a slightly decreasing trend for rents, given a constant demand in recent years," said Marius Scuta, national director, head of office department and tenant representation JLL.

The retail sector will see the delivery of over 237,000 sqm, increasing the current stock, which is estimated at 2.8 million sqm, by about 10 percent. The majority of the deliveries are new projects and over half of them will be in Bucharest (125,000 sqm).

"It is expected that Romania's consumption will increase by 5 percent during next two years. This combined with the fact that the future projects are located in cities where economic indicators sustain development, rents will not be influenced by this space increase", according Adelina Oprita, consultant Retail Agency JLL.

Important retail projects to be delivered in 2016 include Park Lake Plaza Bucharest (a 67,000 sqm GLA, EUR 180 million investment by Sonae Sierra) and Shopping City Timisoara (55,700 sqm GLA, EUR 81 million investment by NEPI).

The industrial stock, which is expected to reach 2 million by the end of the year, following a 15,000 sqm addition, will increase by some 195,000 sqm in 2016. The largest investments in this sector will come from P3, with its 81,000 sqm GLA, P3 Logistic Park Bucharest (EUR 35 million), preleased by Carrefour and from Immofinanz with Log Center Mogosoaia (40,000 sqm GLA, EUR 32 million) and Tetarom with Tetarom 3 Cluj (36,000 sqm GLA).

"Even if we see an increase in business development and logistics industrial projects, investors still remain cautious on the logistics market so most of the new premises will be built after the signing of a pre-lease contract; most projects are extensions of existing major parks, which also show the developers' reserved approach, who prefer construction in phases. Regarding industrial production spaces, developers are choosing investment destinations according to the availability and costs of labor", said Cristina Pop, Head of Industrial Agency JLL.


---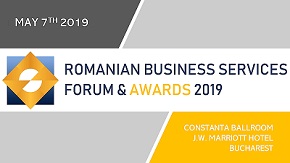 » Romania ranks above EU average in gend...
» The voting procedure for the BRAND OF ...
» Berg Software Romania: Reasons to outs...
» Deloitte's Tech Trends 2019 report: B...
» Steven Hunt, SAP SuccessFactors: Tecto...
» Molson Coors started to grow its busin...
» Societe Generale-European Business Ser...
» Capgemini: Investing in people is the ...
» Countries in CEE region, including Rom...
» Oracle reaches 4,200 employees and pla...

The voting procedure for the BRAND OF THE YEAR 2019 IN ROMANIAN BUSINESS SERVICES is open!

This is the fifth edition of the event and the second year to select the public's favorite brand in the business services BPO, ITO and SSC in Romania.
Read Full article »
Romania ranks above EU average in gender employment gap

In Romania, the employment rate measures the number of people who have a job as a percentage of the working age population. This page provides - Romania Employment Rate- actual values, historical data, forecast
Read Full article »
Steven Hunt, SAP SuccessFactors: Tectonic movements in the world of work

The world of work will be shaped by five tectonic movements – or global megatrends – over the next few years. As you may guess from the geological analogy, the effects could be dramatic.
Read Full article »
EY: European companies are divesting to future-proof growth

According to the EY Global Corporate Divestment Study, 84 per cent of European companies surveyed intending to divest within the next two years (the majority planning to do so in the coming 12 months), executiv
Read Full article »
Knowledge-sharing presentation on latest trends the industry deals, in the program of Romanian Business Services Forum and Awards

Part of the upcoming joint half-day event, Romanian Business Services Forum and Awards to be held at JW Marriott Hotel on May 7th, the discussion agenda comprises a complex Knowledge-sharing presentation on lat
Read Full article »