Xerox expands its customer care center in Oradea and will employ 40 more people

Xerox is relocating its current customer care center to a larger a facility and will recruit about 40 agents by the end of 2016.

To accommodate its growth and to meet client demands, The Oradea-based center has grown from 35 agents at the beginning of 2015 to more than 110 employees today. Moreover, Xerox will further employ 40 agents by the end of 2016.

"Xerox will be able to accommodate its ever-growing number of employees and will allow for further expansion to meet our client demands", said Robert van Diem, senior vice president for Xerox customer care operations in Europe, Middle East and Africa. "Our goal is to continually raise the work environment globally, as our employees are our most important assets."

The new center is located on the third floor of Oradea Trade Center and benefits from an easily accessible location in one of the busiest office buildings in the city.

Currently, the center provides inbound & outbound customer care services for clients in the telecom, travel and pharmaceuticals industries. Staff support a growing list of local and global clients in Romanian, English, French, German and Italian.

Apart from strong language skills, potential candidates must also have sales and negotiating abilities and be proficient in using clients' operating systems and share a desire to develop their career with a global services provider.

Xerox has operated for more than 45 years in Romania and is the first company in the country that started offering complete solutions for optimizing document workflow in offices of all sizes. Xerox now is one of the top players, in the local market, for printing, document management services and business processes and offers solutions and equipment to companies and individual clients. Xerox has two offices in Bucharest, two facilities in Iasi, one center in Oradea and one in Bacau employing more than 2,300 people in total.

Xerox has more than 25 years' experience managing customer relationships on behalf of clients. The company processes over 2.5 million interactions daily across 160 locations worldwide.


---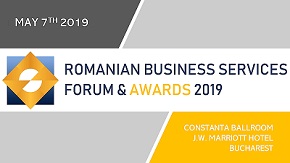 » Huawei opens a centre on cyber securit...
» Romania ranks above EU average in gend...
» ROMANIAN OUTSOURCING AWARDS FOR EXCELL...
» Bucharest, in the top of cities in Eur...
» Meet the experts who will decide the w...
» Bogdan Pelinescu, president of ABSL: A...
» Berg Software Romania: Reasons to outs...
» KPMG launches an application enabling ...
» ABSL GALA AWARDS celebrated its winner...
» George Rotariu, CEO Bitcoin Romania: B...

Meet the speakers at Romanian Business Services Forum 2019 CEO LEADERS DEBATE, on May 7th - Matthieu Pasquier

Matthieu Pasquier is CEO of Societe Generale European Business Services since August 2018 bringing more than 27 years experience in Societe Generale group. During 2014-2018, Matthieu was Head of SG GSC Chennai
Read Full article »
Sorin Mindrutescu among the speakers at Romanian Business Services Forum 2019 CEO LEADERS DEBATE, on May 7th

Sorin Mindrutescu is the Country Leader for Oracle Romania, as of February 2003. In this role, he is responsible for local sales and project delivery. In Romania, Oracle has two major business directions: the l
Read Full article »
Meet the speakers at Romanian Business Services Forum 2019 CEO LEADERS DEBATE, on May 7th - Vivek Bakshi

Vivek Bakshi is the General Manager of Wipro Technologies. He has spent 12 years heading the International Locations / Delivery Centers Europe from the Bucharest office.
Read Full article »
Meet the finalists of the fifth edition of Romanian Business Services Awards 2019

ROMANIAN BUSINESS SERVICES FORUM & AWARDS 2019, in its fifth year, brings on May 7, in Bucharest, a new concept event with engaging keynote sessions by industry leaders, interactive panel discussions, networkin
Read Full article »
Meet the experts who will decide the winners of 2019 at Romanian Business Services Forum & Awards

Each year, Outsourcing Today brings a landmark edition of the Romanian Outsourcing and Shared Services Summit and this year, we are hosting the Fifth of the annual Romanian Outsourcing and Shared Services Award
Read Full article »