CBRE: Bucharest will witness a fivefold increase in office space, IT - best lessee

A record area of office space will be delivered in 2016 in Bucharest, according to a CBRE report. In 2016 408,000 sqm of new offices will be delivered, over five times more than the total of 72,500 square meters in 2015 and 10% more than the volume of 2009, which represented a historical record of the local real estate market.

The most active real estate industry continues to be the IT&C; companies in this sector in the last three years rented 330,000 square meters of office space, and their 2015 lease represents 51% of total demand.

CBRE Romania owns a portfolio of tenants representing 44% of the local real estate market, according to a company release.

"It is the second consecutive year that reinforces the trend noted since 2014 of a growth in demand for new spaces and expansion of the rented space at the expense of simple renegotiations that characterized the period of hesitation and mistrust of the market in previous years," says Mihai Paduroiu, Head of Office Agency, CBRE Romania.

"It is an excellent signal on increasing market confidence in Romania, in line with the general economic growth communicated by the National Statistics Institute. The figures speak: business that needed new office space have practically doubled the demand over the last two years, from 28,700 sqm to 52,800 sqm in 2013 to 2015," says Paduroiu.

The total volume of office space leased last year was of 240,000 square meters, 20% less than in 2014. The 2015 figures represent "the result of the market context of 2009-2010 crisis when fewer deals were concluded, the vast majority of which were clinched over five years-periods. Last year fewer contracts have expired, meaning fewer tenants were in a position to seek accommodation and rentals are expected to resume growth in 2016, due to substantial number of warrants that are expected to be completed in the next 9-12 months," states the CBRE report.

Next year other 315,000 sqm will be delivered other, so that at the end of 2017, the volume of spaces delivered during 2016- 2017 will represent one third of all existing offices in Bucharest.
For 2017, more than half of the total number of spaces, or 53% of the total amount already announced, will be delivered in the western Bucharest.

"Reconfiguration of the real estate market trends clearly show a shift in demand from the North and Pipera towards the west, which will lead to a more dynamic market in Bucharest," says Paduroiu.


---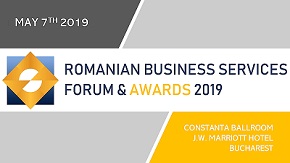 » Raiffeisen Bank Romania outsources onl...
» World-class HR organizations now spend...
» Oracle results pushed down by a strong...
» Sergiu Negut, on the stage of People i...
» Apostoleanu, Oracle: Human talent, mos...
» DTZ: Office demand outside Bucharest t...
» TELUS International: Chatbots - The pr...
» Microsoft and Oracle to interconnect M...
» The importance of training in developi...
» ANIS: Romanian IT market annual revenu...

My HR Lab: Research of suitable candidates and giving feedback to rejected ones, the biggest challenge in HR

During June 2019, My HR Lab company run an online (social media platforms) survey "Challenges of the recruitment process" which enrolled over 100 professionals working in HR and recruitment in Romania.
Read Full article »
The local market needs more added-value and complex projects to be developed by the companies

The statement has been uttered within this year's Romanian Outsourcing and Shared Services Summit by Catalina Dodu, Country Manager at Atos, pointing to the local enablers that could enhance the innovation and
Read Full article »
The office market at a glance: The round for tenants is on

Data provided by CBRE show that the office spaces segment will continue to grow rapidly in 2019, and 15 new projects covering 304.000 sqm will be delivered. According to the real estate consultancy agency, curr
Read Full article »
People Empowering Business Forum 2019 to take place on October, 30 at Bucharest

Latest trends like demographic upheaval, globalization, digital technology, and changing social values and worker expectations, are disrupting business models and radically changing the workplace. These are req
Read Full article »
Addressing the mantra of cyber-security: Confidentiality, integrity and availability

The fast advancement of technology in all the aspects of everyday life, either personal or professional, and the emerging of AI (Artificial Intelligence) and ML (Machine Learning), not to mention cloud technolo
Read Full article »