Luxoft Romania hires 100 specialists for its local IT automotive division


Luxoft Holding, Inc. (NYSE: LXFT), one of the providers of software development services and IT solutions to global customers, continues its local expansion and employs 100 more IT professionals in its automotive division.

They will join the Romanian-based team of more than 450 IT engineers dedicated to the auto industry, "while overall Romanian operations use a personnel base of about 1,500 people," company officials told Outsourcing Today.

The automotive division develops solutions for the infotainment systems which are found in today's modern vehicle equipment. The Romanian team of specialists works since 2011 to create multimedia functionality and advanced telematics covering a wide range of features, such as easy access to security systems and the interaction with advanced audio and navigation devices. The applications developed and implemented by this division facilitates a more enjoyable and safer human-vehicle experience.

The automotive division will work this year at some of the most complex IT engineering projects. In January, the company employs IT specialists for the following positions: Technical Lead, C ++ Developer and Test Specialist. Depending on the level of experience required, they endorse skills working with IT technologies and languages such as Linux, C ++ and advanced knowledge of English.

"Luxoft Romania's automotive projects have increased in number and complexity, from year to year, so the auto division has enjoyed a sustainable growth and reached hundreds of people. We continue to attract passionate automotive specialists into this division, to increase our ability to meet the market demand with the best solutions," said Bogdan Pelinescu, CEO Luxoft Romania.
In Romania, Luxoft also develops software solutions for global clients in the automotive sector. The positive development of these projects is reflected in the continued development of this center in the company on specific skills and technologies.

"We remain committed to help train future generations of professionals and leaders in the IT industry. Therefore, we recruit both people with relevant experience and youngsters at the beginning of their careers, which we train and to whom we offer the necessary framework to evolve professionally," said Pelinescu.

Luxoft Romania currently has over 1,500 employees.
The company develops solutions and delivers services from 27 delivery worldwide dedicated centers. Luxoft has over 10,000 employees in 30 offices in 16 countries in North America, Mexico, Western and Eastern Europe, Asia Pacific and South Africa.


---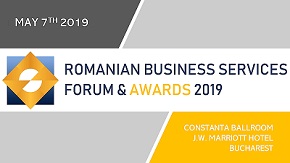 » Huawei opens a centre on cyber securit...
» ROMANIAN OUTSOURCING AWARDS FOR EXCELL...
» Romania ranks above EU average in gend...
» Bucharest, in the top of cities in Eur...
» Berg Software Romania: Reasons to outs...
» Meet the experts who will decide the w...
» Bogdan Pelinescu, president of ABSL: A...
» KPMG launches an application enabling ...
» ABSL GALA AWARDS celebrated its winner...
» Oracle reaches 4,200 employees and pla...

Colin C. Lovering: Meet the speakers at Romanian Business Services Forum & Awards 2019, on May 7

Colin C. Lovering has been living and working in Romania since 2009 when he arrived to offer consultancy and advice to organisations looking for growth and profitability and founded Achieve International.
Read Full article »
Antoniu Panait: Meet the speakers at Romanian Business Services Forum & Awards 2019, on May 7

Managing Director for VASTINT Romania since 2009, Antoniu Panait has an executive experience of more than 10 years, mainly in real estate.
Read Full article »
Andrei Voica: Meet the speakers at Romanian Business Services Forum & Awards 2019, on May 7

Andrei Voica, Director Project Management and Workplace Consultancy, Colliers International. Truly passionate about his work and always eager to add value to each project.
Read Full article »
Romulus Caralicea: Meet the speakers at Romanian Business Services Forum & Awards 2019, on May 7

Romulus is Wipro's Information Security, Risk & Compliance Lead for Europe. In his role he is managing internal audits and compliance activities for all clients and internal functions based on the corporate ISO
Read Full article »
George Didoiu: Meet the moderator of Romanian Business Services Forum 2019 CEO LEADERS DEBATE, on May 7

In his 15 years of real estate, George Didoiu advised on the relocation of top IT&C, finance-banking and consultancy companies, which total over 10,000 employees.
Read Full article »