20 graduates to attend DB Global Technology's Java School in Romania

DB Global Technology, Deutsche Bank's Bucharest technology center, launches Java School on the local market, a training program for specialists who are interested in the Java computer programming language.

Within the program, they will attend specialized courses which combine theoretical elements with Java programming projects. Following the successful graduation of the program, participants will join the DB Global Technology team.

Applications for the first edition of Java School organized by DB Global Technology will take place between January 18th - February 11th, 2016. Following the selection process, 20 participants will be chosen, to learn and work close with the DB Global Technology professionals.

"Java School will start on February 29th, 2016, and will take place over three months, with the participants being paid during the program. After finalizing the program, the graduates will have the possibility to pursue a career at DB Global Technology," explains Iulia Cirmaciu, HR Director at the technology center.

Java School is designed for students in their last year of studies and Master's students from IT&C profile faculties, as well as people who have a Bachelor's or Master's degree in fields such as informatics or software engineering.

"DB Global Technology's Java School program is unique and takes place for the first time in Romania. Through it, we aim to offer new perspectives to young IT&C professionals eager to specialize in a reference language for our domain, such as Java," said Marian V. Popa, General Director of DB Global Technology.
"Furthermore, by the end of the program, we aim to expand DB Global Technology's team with the new colleagues who prove themselves through positive results, passion, team spirit and creativity."

Java School is an initiative launched under the Bucharest Excellence School umbrella, DB Global Technology's learning and development program.
DB Global Technology develops cutting edge software solutions for Deutsche Bank's global operations and represents a platform for highly trained software engineers, being operational since 2014.


---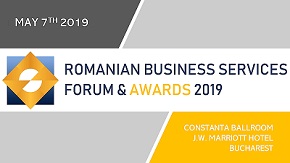 » Huawei opens a centre on cyber securit...
» Romania ranks above EU average in gend...
» ROMANIAN OUTSOURCING AWARDS FOR EXCELL...
» Bucharest, in the top of cities in Eur...
» Meet the experts who will decide the w...
» Bogdan Pelinescu, president of ABSL: A...
» Berg Software Romania: Reasons to outs...
» KPMG launches an application enabling ...
» ABSL GALA AWARDS celebrated its winner...
» George Rotariu, CEO Bitcoin Romania: B...

Meet the speakers at Romanian Business Services Forum 2019 CEO LEADERS DEBATE, on May 7th - Matthieu Pasquier

Matthieu Pasquier is CEO of Societe Generale European Business Services since August 2018 bringing more than 27 years experience in Societe Generale group. During 2014-2018, Matthieu was Head of SG GSC Chennai
Read Full article »
Sorin Mindrutescu among the speakers at Romanian Business Services Forum 2019 CEO LEADERS DEBATE, on May 7th

Sorin Mindrutescu is the Country Leader for Oracle Romania, as of February 2003. In this role, he is responsible for local sales and project delivery. In Romania, Oracle has two major business directions: the l
Read Full article »
Meet the speakers at Romanian Business Services Forum 2019 CEO LEADERS DEBATE, on May 7th - Vivek Bakshi

Vivek Bakshi is the General Manager of Wipro Technologies. He has spent 12 years heading the International Locations / Delivery Centers Europe from the Bucharest office.
Read Full article »
Meet the finalists of the fifth edition of Romanian Business Services Awards 2019

ROMANIAN BUSINESS SERVICES FORUM & AWARDS 2019, in its fifth year, brings on May 7, in Bucharest, a new concept event with engaging keynote sessions by industry leaders, interactive panel discussions, networkin
Read Full article »
Meet the experts who will decide the winners of 2019 at Romanian Business Services Forum & Awards

Each year, Outsourcing Today brings a landmark edition of the Romanian Outsourcing and Shared Services Summit and this year, we are hosting the Fifth of the annual Romanian Outsourcing and Shared Services Award
Read Full article »