Rusu, Webhelp: With the new Iasi center we will reach 2,300 employees

French group Webhelp expands its local activities with its sixth customer center in Iasi with an investment that will get up to 800,000 euro by year-end.

Already in Bucharest, Galati and Ploiesti with five customer centers and more than 2,000 employees, by opening the new office, Webhelp will create 300 new jobs for French speakers in Iasi.

"We chose Iasi because of its Francophone potential, while the culture and education levels are pretty high. It is the only investment of this kind planned for this year," Mihaela Rusu, CEO of Webhelp Romania told Outsourcing Today.

Interviews start mid-January and the official inauguration of the new Customer Care Center will take place at the end of February.

"We chose to expand into a new market area to support the fast pace of development of the company. We rely on the fact that Iasi academic environment will generate a valuable pool of future employees. More than 75 percent of the Webhelp Romania employees are students and graduates," says Rusu.

The main criteria of employment include the knowledge of French and PC networking skills.
The Webhelp Iasi employees will enjoy professional development through specialized courses, an attractive salary, meal vouchers and subscription to private health clinic.

Located in the Iasi city center, in the Class A building Moldova Center, Iasi Webhelp new headquarters will have a total area of 2,300mp. Fitting headquarters will be performed in two stages: first, on an area of 1,300 square meters by July 2016 and the second of 1,000 square meters by the end of this year.


---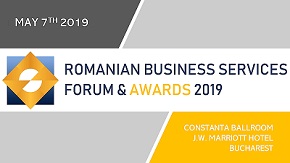 » The most appreciated companies from th...
» Webhelp Romania aiming for EUR 10 mill...
» Tremend joins Mellanox in powering the...
» Manpower: Romania's labor market, more...
» The Outsourcing industry announces its...
» Deloitte's Tech Trends 2019 report: B...
» Bucharest, in the top of cities in Eur...
» Oracle reaches 4,200 employees and pla...
» Genpact's COO: Staying ahead of the cu...
» CBRE study: Post-millennials, the happ...

Nomination are now open for Romanian Business Services Forum and Awards

Nominations have opened for the prestigious Romanian Business Services Forum & Awards. The 2019 awards will continue to recognize and reinforce the important contribution made by business services professionals
Read Full article »
Study: 89 per cent of finance teams yet to embrace Artificial Intelligence

Report by Association of International Certified Professional Accountants and Oracle shows that almost 90 per cent of finance teams do not have the skills to support digital transformation.
Read Full article »
Bucharest, in the top of cities in Europe with the largest number of experts in high-tech industry

Bucharest is among the top cities boasting the most experts in the high-tech innovative industry, with over 70,000 current employees, next to London, Dublin, Madrid or Budapest, reads a study conducted by CBRE
Read Full article »
CBRE study: Post-millennials, the happiest about their offices
During 2018, real estate consultancy company CBRE conducted the first study dedicated to work environment in office buildings in Bucharest. The respondents have been structured in four age segments, such as Z g
Read Full article »
Deloitte's Tech Trends 2019 report: Beyond the digital frontier

The recently released Deloitte's Tech Trends 2019: Beyond the digital frontier, as each Tech Trends report in the series conducted by the consultancy company, lobbies for embracing the increasing, often mind-b
Read Full article »