Rusu, Webhelp: With the new Iasi center we will reach 2,300 employees

French group Webhelp expands its local activities with its sixth customer center in Iasi with an investment that will get up to 800,000 euro by year-end.

Already in Bucharest, Galati and Ploiesti with five customer centers and more than 2,000 employees, by opening the new office, Webhelp will create 300 new jobs for French speakers in Iasi.

"We chose Iasi because of its Francophone potential, while the culture and education levels are pretty high. It is the only investment of this kind planned for this year," Mihaela Rusu, CEO of Webhelp Romania told Outsourcing Today.

Interviews start mid-January and the official inauguration of the new Customer Care Center will take place at the end of February.

"We chose to expand into a new market area to support the fast pace of development of the company. We rely on the fact that Iasi academic environment will generate a valuable pool of future employees. More than 75 percent of the Webhelp Romania employees are students and graduates," says Rusu.

The main criteria of employment include the knowledge of French and PC networking skills.
The Webhelp Iasi employees will enjoy professional development through specialized courses, an attractive salary, meal vouchers and subscription to private health clinic.

Located in the Iasi city center, in the Class A building Moldova Center, Iasi Webhelp new headquarters will have a total area of 2,300mp. Fitting headquarters will be performed in two stages: first, on an area of 1,300 square meters by July 2016 and the second of 1,000 square meters by the end of this year.


---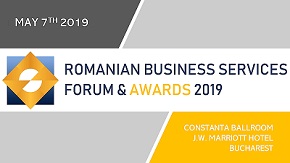 » Huawei opens a centre on cyber securit...
» Romania ranks above EU average in gend...
» ROMANIAN OUTSOURCING AWARDS FOR EXCELL...
» Bucharest, in the top of cities in Eur...
» Meet the experts who will decide the w...
» Bogdan Pelinescu, president of ABSL: A...
» Berg Software Romania: Reasons to outs...
» KPMG launches an application enabling ...
» ABSL GALA AWARDS celebrated its winner...
» George Rotariu, CEO Bitcoin Romania: B...

Meet the speakers at Romanian Business Services Forum 2019 CEO LEADERS DEBATE, on May 7th - Matthieu Pasquier

Matthieu Pasquier is CEO of Societe Generale European Business Services since August 2018 bringing more than 27 years experience in Societe Generale group. During 2014-2018, Matthieu was Head of SG GSC Chennai
Read Full article »
Sorin Mindrutescu among the speakers at Romanian Business Services Forum 2019 CEO LEADERS DEBATE, on May 7th

Sorin Mindrutescu is the Country Leader for Oracle Romania, as of February 2003. In this role, he is responsible for local sales and project delivery. In Romania, Oracle has two major business directions: the l
Read Full article »
Meet the speakers at Romanian Business Services Forum 2019 CEO LEADERS DEBATE, on May 7th - Vivek Bakshi

Vivek Bakshi is the General Manager of Wipro Technologies. He has spent 12 years heading the International Locations / Delivery Centers Europe from the Bucharest office.
Read Full article »
Meet the finalists of the fifth edition of Romanian Business Services Awards 2019

ROMANIAN BUSINESS SERVICES FORUM & AWARDS 2019, in its fifth year, brings on May 7, in Bucharest, a new concept event with engaging keynote sessions by industry leaders, interactive panel discussions, networkin
Read Full article »
Meet the experts who will decide the winners of 2019 at Romanian Business Services Forum & Awards

Each year, Outsourcing Today brings a landmark edition of the Romanian Outsourcing and Shared Services Summit and this year, we are hosting the Fifth of the annual Romanian Outsourcing and Shared Services Award
Read Full article »