Stefanini: Using Agile in Brazil, or how to complete a three-party project

Managing a nearshore development project for a US client creates its own challenges; doing it in a three-party ecosystem requires even greater management of potential issues and a creative approach to project development.

Stefanini recently tackled such a project for a US client from its Brazilian development center.
Stefanini does not usually divide nearshore teams themselves and so they tend to have one single site in the nearshore with on-site expertise in the US, according to nearshoreamericas.com.

Nikhil Desai, who is responsible for application management services at Stefanini and works with technology leads to set up outsourcing and nearshoring solutions for clients, explained that the application development project out of the nearshore took place in a three-entity ecosystem.

There was an end client, IFF (International Flavors & Fragrances Inc.), for whom the end portal has been designed, a partner, Tandemseven who provided the end-user experience expertise in user interface and design, and Stefanini, which provided the back-end solutions and execution of the system. "We addressed all of the technical solutions," he said.

The project, Desai said, exemplifies where nearshore adds value. The goal was to create an end-user system of engagement through the development of a customer web portal.

"The idea was that the portal could help identify sales leads, take customer feedback, conduct customer interviews, a single page application that could provide a list of the range of products that IFF have and so on," he said.

Stefanini, Desai noted, has strongly advocating nearshore to clients because real-time development with Agile is possible and there is the opportunity for very high interaction. "

Stefanini's Sao Paulo headquarters, with is almost 6,000-strong workforce, was chosen for its expertise. Stefanini does not usually divide nearshore teams themselves and so they tend to have one single site in the nearshore with on-site expertise in the US.

It is more feasible, in this nearshore context, to do something using Agile. "This kind of project requires very high interaction with your business user. You mock up a screen, you put up a wireframe, you show a business user and then the next thing they say not this way or this makes more sense. It is very agile, very responsive," Desai explained.

Desai explained that key to the success of this was team structuring and distribution. It was a 10-member effort, with a nine-month timeframe, delivered through agile methodology, with two-week iterations. The project began in February/ March 2014.

It was important to decide what roles were needed and where they would be situated. The project manager was on site, as was a web designer, with the back-end development team situated mainly in the nearshore at Stefanini's Sao Paulo, Brazil delivery center with support from members on-site in the USA.

Since it was a distributed agile model it worked well in nearshore where the time zones were the same. "The project rolled out similarly to any two-team project where you have one team in Florida and one Michigan, for example. And that is the beauty of nearshore," Desai said.

The result of this was that was not really a need to have a scrum of scrums. The scrum included Tandemseven and the client. "We established that connection between all three entities," he said. "The team structuring is one of most important elements to bridge the communication and culture gap, and ensure collaboration."

Language was not an issue as "fully 90% of staff are English-speaking in the nearshore." The emphasis on communication extended across the entire project. "Pretty much everybody in our nearshore team was encouraged to have a real-time conversation for anything that was technical or required a dialogue and that was critical," Desai added. "We couldn't afford single communication channel bottlenecks."

"It was a pretty smooth execution," he said. The result is that Stefanini has looked at the process and outcome of this project, combined the learnings with its existing views and adapted their overall model. "There were lots of lessons learned around team structuring and execution and we have implemented these learnings across our projects," Desai added. "All organizations need to keep learning."

Agile principles (Wiki)

The Agile Manifesto is based on twelve principles:
1. Customer satisfaction by early and continuous delivery of valuable software
2. Welcome changing requirements, even in late development
3. Working software is delivered frequently (weeks rather than months)
4. Close, daily cooperation between business people and developers
5. Projects are built around motivated individuals, who should be trusted
6. Face-to-face conversation is the best form of communication (co-location)
7. Working software is the principal measure of progress
8. Sustainable development, able to maintain a constant pace
9. Continuous attention to technical excellence and good design
10. Simplicity—the art of maximizing the amount of work not done—is essential
11. Self-organizing teams
12. Regular adaptation to changing circumstance


---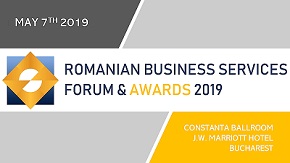 » Raiffeisen Bank Romania outsources onl...
» World-class HR organizations now spend...
» Oracle results pushed down by a strong...
» Apostoleanu, Oracle: Human talent, mos...
» TELUS International: Chatbots - The pr...
» Sergiu Negut, on the stage of People i...
» Microsoft and Oracle to interconnect M...
» The importance of training in developi...
» ANIS: Romanian IT market annual revenu...
» Healthcare IT outsourcing market is ex...

My HR Lab: Research of suitable candidates and giving feedback to rejected ones, the biggest challenge in HR

During June 2019, My HR Lab company run an online (social media platforms) survey "Challenges of the recruitment process" which enrolled over 100 professionals working in HR and recruitment in Romania.
Read Full article »
The local market needs more added-value and complex projects to be developed by the companies

The statement has been uttered within this year's Romanian Outsourcing and Shared Services Summit by Catalina Dodu, Country Manager at Atos, pointing to the local enablers that could enhance the innovation and
Read Full article »
The office market at a glance: The round for tenants is on

Data provided by CBRE show that the office spaces segment will continue to grow rapidly in 2019, and 15 new projects covering 304.000 sqm will be delivered. According to the real estate consultancy agency, curr
Read Full article »
People Empowering Business Forum 2019 to take place on October, 30 at Bucharest

Latest trends like demographic upheaval, globalization, digital technology, and changing social values and worker expectations, are disrupting business models and radically changing the workplace. These are req
Read Full article »
Addressing the mantra of cyber-security: Confidentiality, integrity and availability

The fast advancement of technology in all the aspects of everyday life, either personal or professional, and the emerging of AI (Artificial Intelligence) and ML (Machine Learning), not to mention cloud technolo
Read Full article »