Capgemini, Accenture buy salesforce and cloud partners

Two giants in the solution provider space began the new year by boosting their cloud capabilities through their acquisitions of two European-based salesforce partners.

Consulting, technology and outsourcing service giant Capgemini acquired Munich-based Oinio, a leading Salesforce partner on the continent. That came a day after Accenture's purchase of CRMWaypoint, based in The Netherlands, according to CRN.com.

That marked Accenture's second salesforce partner acquisition within months; in September, it bought Cloud Sherpas. Details on both deals were not disclosed.

Accenture has more than 350,000 employees worldwide and is on Fortune's Global 500; Capgemini's roster numbers around 180,000 and is on the Fortune Global 2000 list.

With these acquisitions, both Capgemini and Accenture are positioning themselves in the cloud brokerage and integration space, which analyst firm Technology Business Research sees as a small but growing piece of the broader cloud market, according to Bozhidar Hristov, a TBR analyst who covers Accenture.

Hristov said TBR expects the market will soon pick up speed and grow significantly over the next five years as enterprise-level companies move more of their IT environments to the cloud and seek to centralize and integrate management of those environments.

Hristov said Accenture's investments in companies such as Cloud Sherpas and CRMWaypoint, as well as the company's other movements, will help position it as a cloud leader as it provides services across multi-cloud environments.

Through its bolt-on acquisition of Oinio, Paris-based Capgemini will add over 100 employees in Germany and China to its 180,000 person-strong employee base, bolstering its digital growth and building on its capabilities to providing digital transformation services around Salesforce solutions in both countries and throughout the world.

Oinio, a Salesforce Platinum Cloud Alliance partner, has become one of the larger European players in the deployment and associated consulting services for Salesforce's cloud-based CRM and digital marketing solutions, with more than 600 current projects in life sciences, manufacturing and financial services, according to a statement from Capgemini.

"The recognized expertise of Oinio will allow us to reinforce our position in the European and Asian markets, while strengthening our partnership with Salesforce globally," Jean Lassignardie, Capgemini corporate vice president, said in a prepared statement. "Together, we will be able to quickly deploy the most innovative solutions to support our customers in their business transformation and growth acceleration."

Oinio CEO Maic Stohr said in a statement that his company will be better prepared to scale Salesforce-based solutions to enterprise-level businesses and drive quicker business outcomes.
"It's a commitment to our customers, our team and to the digital era," he said.


---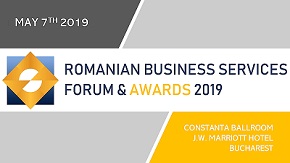 » Huawei opens a centre on cyber securit...
» ROMANIAN OUTSOURCING AWARDS FOR EXCELL...
» Romania ranks above EU average in gend...
» Bucharest, in the top of cities in Eur...
» Berg Software Romania: Reasons to outs...
» Meet the experts who will decide the w...
» Bogdan Pelinescu, president of ABSL: A...
» KPMG launches an application enabling ...
» ABSL GALA AWARDS celebrated its winner...
» Oracle reaches 4,200 employees and pla...

Colin C. Lovering: Meet the speakers at Romanian Business Services Forum & Awards 2019, on May 7

Colin C. Lovering has been living and working in Romania since 2009 when he arrived to offer consultancy and advice to organisations looking for growth and profitability and founded Achieve International.
Read Full article »
Antoniu Panait: Meet the speakers at Romanian Business Services Forum & Awards 2019, on May 7

Managing Director for VASTINT Romania since 2009, Antoniu Panait has an executive experience of more than 10 years, mainly in real estate.
Read Full article »
Andrei Voica: Meet the speakers at Romanian Business Services Forum & Awards 2019, on May 7

Andrei Voica, Director Project Management and Workplace Consultancy, Colliers International. Truly passionate about his work and always eager to add value to each project.
Read Full article »
Romulus Caralicea: Meet the speakers at Romanian Business Services Forum & Awards 2019, on May 7

Romulus is Wipro's Information Security, Risk & Compliance Lead for Europe. In his role he is managing internal audits and compliance activities for all clients and internal functions based on the corporate ISO
Read Full article »
George Didoiu: Meet the moderator of Romanian Business Services Forum 2019 CEO LEADERS DEBATE, on May 7

In his 15 years of real estate, George Didoiu advised on the relocation of top IT&C, finance-banking and consultancy companies, which total over 10,000 employees.
Read Full article »