Wipro appoints new executives, creates new unit

After naming former TCS veteran Abidali Neemuchwala as its new chief executive officer (CEO), India's third largest software exporter Wipro has appointed Bhanumurthy BM as its new chief operating officer.

Wipro also assigned new roles to other veterans such as GK Prasanna as part of a newly-unveiled organizational structure, according to sources quoted by The Economic Times-India.

Wipro created a new business unit called Marketing, Innovations and Technology and appointed Prasanna as the President of the unit, according to an internal email sent out by Neemuchwala to the company's 168,000-odd employees. Anand Padmanabhan and Shaji Farooq are the other top company executives who currently hold the rank of President. While Bhanumurthy BM was named new COO of Wipro, the new CEO Abidali Neemuchwala conducts the organization's reshuffle.

A Wipro spokesperson confirmed the latest changes. "Bhanumurthy B M (Bhanu) has been appointed as President & Chief Operating Officer of Wipro Ltd."

"In his role, Bhanu will provide leadership to all the Service Lines (Business Application Services, Global Infrastructure Services, Product Engineering Services, Analytics, Application Management Services and Business Process Services), Service Transformation and Excellence, Global Delivery Enablement, and Quality functions," a Wipro spokeswoman said in an email to ET.
All these appointments are effective February 1.

Under the new structure, all service lines will report to Bhanumurthy, while all the heads of the verticals will report to Neemuchwala. All function heads will also continue to report to the new CEO.

The latest organisational reshuffle comes weeks after two other company veterans Sangita Singh and Ayan Mukerji resigned from the company after spending over two decades at Wipro.


---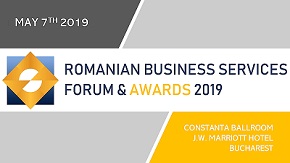 » Raiffeisen Bank Romania outsources onl...
» Horváth & Partners launches Steering ...
» JLL: Total office space in Bucharest t...
» Colliers International takes over the ...
» SSC in Romania. Who takes the lion's s...
» Oracle results pushed down by a strong...
» Survey: Romanians switch to a lower-pa...
» Genpact, Luxoft and Oracle, top lessee...
» Romanian employers report the stronges...
» Eucom: Nine out of ten corporate Roman...

My HR Lab: Research of suitable candidates and giving feedback to rejected ones, the biggest challenge in HR

During June 2019, My HR Lab company run an online (social media platforms) survey "Challenges of the recruitment process" which enrolled over 100 professionals working in HR and recruitment in Romania.
Read Full article »
The local market needs more added-value and complex projects to be developed by the companies

The statement has been uttered within this year's Romanian Outsourcing and Shared Services Summit by Catalina Dodu, Country Manager at Atos, pointing to the local enablers that could enhance the innovation and
Read Full article »
The office market at a glance: The round for tenants is on

Data provided by CBRE show that the office spaces segment will continue to grow rapidly in 2019, and 15 new projects covering 304.000 sqm will be delivered. According to the real estate consultancy agency, curr
Read Full article »
People Empowering Business Forum 2019 to take place on October, 30 at Bucharest

Latest trends like demographic upheaval, globalization, digital technology, and changing social values and worker expectations, are disrupting business models and radically changing the workplace. These are req
Read Full article »
Addressing the mantra of cyber-security: Confidentiality, integrity and availability

The fast advancement of technology in all the aspects of everyday life, either personal or professional, and the emerging of AI (Artificial Intelligence) and ML (Machine Learning), not to mention cloud technolo
Read Full article »