Wipro appoints new executives, creates new unit

After naming former TCS veteran Abidali Neemuchwala as its new chief executive officer (CEO), India's third largest software exporter Wipro has appointed Bhanumurthy BM as its new chief operating officer.

Wipro also assigned new roles to other veterans such as GK Prasanna as part of a newly-unveiled organizational structure, according to sources quoted by The Economic Times-India.

Wipro created a new business unit called Marketing, Innovations and Technology and appointed Prasanna as the President of the unit, according to an internal email sent out by Neemuchwala to the company's 168,000-odd employees. Anand Padmanabhan and Shaji Farooq are the other top company executives who currently hold the rank of President. While Bhanumurthy BM was named new COO of Wipro, the new CEO Abidali Neemuchwala conducts the organization's reshuffle.

A Wipro spokesperson confirmed the latest changes. "Bhanumurthy B M (Bhanu) has been appointed as President & Chief Operating Officer of Wipro Ltd."

"In his role, Bhanu will provide leadership to all the Service Lines (Business Application Services, Global Infrastructure Services, Product Engineering Services, Analytics, Application Management Services and Business Process Services), Service Transformation and Excellence, Global Delivery Enablement, and Quality functions," a Wipro spokeswoman said in an email to ET.
All these appointments are effective February 1.

Under the new structure, all service lines will report to Bhanumurthy, while all the heads of the verticals will report to Neemuchwala. All function heads will also continue to report to the new CEO.

The latest organisational reshuffle comes weeks after two other company veterans Sangita Singh and Ayan Mukerji resigned from the company after spending over two decades at Wipro.


---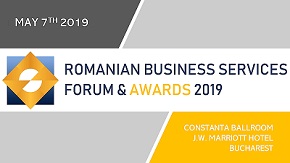 » Huawei opens a centre on cyber securit...
» ROMANIAN OUTSOURCING AWARDS FOR EXCELL...
» Romania ranks above EU average in gend...
» Bucharest, in the top of cities in Eur...
» Berg Software Romania: Reasons to outs...
» Meet the experts who will decide the w...
» Bogdan Pelinescu, president of ABSL: A...
» KPMG launches an application enabling ...
» ABSL GALA AWARDS celebrated its winner...
» Oracle reaches 4,200 employees and pla...

Colin C. Lovering: Meet the speakers at Romanian Business Services Forum & Awards 2019, on May 7

Colin C. Lovering has been living and working in Romania since 2009 when he arrived to offer consultancy and advice to organisations looking for growth and profitability and founded Achieve International.
Read Full article »
Antoniu Panait: Meet the speakers at Romanian Business Services Forum & Awards 2019, on May 7

Managing Director for VASTINT Romania since 2009, Antoniu Panait has an executive experience of more than 10 years, mainly in real estate.
Read Full article »
Andrei Voica: Meet the speakers at Romanian Business Services Forum & Awards 2019, on May 7

Andrei Voica, Director Project Management and Workplace Consultancy, Colliers International. Truly passionate about his work and always eager to add value to each project.
Read Full article »
Romulus Caralicea: Meet the speakers at Romanian Business Services Forum & Awards 2019, on May 7

Romulus is Wipro's Information Security, Risk & Compliance Lead for Europe. In his role he is managing internal audits and compliance activities for all clients and internal functions based on the corporate ISO
Read Full article »
George Didoiu: Meet the moderator of Romanian Business Services Forum 2019 CEO LEADERS DEBATE, on May 7

In his 15 years of real estate, George Didoiu advised on the relocation of top IT&C, finance-banking and consultancy companies, which total over 10,000 employees.
Read Full article »