Luxoft expands into Poland, Germany and Sweden


Luxoft Holding, Inc., a leading provider of software development services and IT solutions to a global client base, announced opening new offices in Tricity - Poland, Munich - Germany and Stockholm - Sweden.

"Demand for Luxoft's engineering services and deep domain expertise from new and existing clients continues to steadily rise, creating a need to open three new offices and expand its presence in Stuttgart, Germany," reveals a release.

"As a result of the Company's current business pipeline, Luxoft has not only built upon its core presence in Central and Eastern Europe, but also entered into a new geography – Sweden."
In addition to existing operations in Wroclaw and Krakow, Luxoft has opened a new delivery location in Tricity (consisting of three cities: Gdańsk, Gdynia, and Sopot) to support its entire delivery ecosystem.

The Company has operated in Poland since 2010, and as of September 30, 2015 this location represented over 15% of total delivery headcount. Tricity is home to 10 universities and is one of the fastest growing metropolitan areas within Poland. The advantages of Poland continue to spark interest from all industries that are in search of superior talent and seek to enjoy the differentiating benefits of nearshore delivery.

Luxoft is supporting Financial Services, Automotive, and Aviation projects from Tricity, and the Company expects to grow the location at least to 500 engineers over the next several years. In conjunction with Poland, the Company has also increased its presence in Germany, opening a new office in Munich and expanding its existing office within Stuttgart, which has been in operation for over two years successfully providing nearshore services to clients.

These locations in Germany will continue to function as client-facing and business development offices, mainly benefitting Luxoft's Automotive line of business, but both possess ample potential to service other verticals in the Company's portfolio.

Alongside Poland and Germany, Luxoft opened its first office in the Nordic region, in Stockholm, Sweden, with a specific mandate of serving new contracts and helping manage Luxoft's client and potential client relationships in the region. The office is designed to respond to all current lines of business (focusing on Automotive and Telecommunications in the short term), and expand its current support of Luxoft's market-leading financial services clients.

"We are very excited about the steady expansion of our dedicated global delivery center ecosystem," said Luxoft's Vice President for Global Delivery, Dmitry Kushnir.

"As with all of Luxoft's new locations, their establishment is driven by business demands. We are responding to our clients' needs for focused domain expertise, agile delivery and nearshore convenience leveraging our existing delivery center presence and, as always, entering new and exciting geographies that support and enhance our current footprint.

From a regional perspective, Sweden is particularly interesting as it gives Luxoft a much stronger foothold in a region where opportunities exist in multiple industries, and from a global perspective, Poland and Germany continue to play a very important role in the overall maturation of Luxoft's delivery model."

The new enhancements to the global dedicated delivery model elevate Luxoft's total office count to 30, all of which are spread across 16 countries in multiple regions. The Company views these offices as important pillars in sustaining strong client relationships and fostering new business opportunities across multiple industries.

The new locations will give Luxoft improved access to new geographies and reinforce the Company's differentiating nearshore delivery in existing ones.


---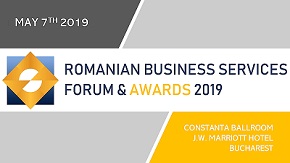 » Raiffeisen Bank Romania outsources onl...
» Horváth & Partners launches Steering ...
» JLL: Total office space in Bucharest t...
» Colliers International takes over the ...
» SSC in Romania. Who takes the lion's s...
» Oracle results pushed down by a strong...
» Survey: Romanians switch to a lower-pa...
» Genpact, Luxoft and Oracle, top lessee...
» Romanian employers report the stronges...
» Eucom: Nine out of ten corporate Roman...

My HR Lab: Research of suitable candidates and giving feedback to rejected ones, the biggest challenge in HR

During June 2019, My HR Lab company run an online (social media platforms) survey "Challenges of the recruitment process" which enrolled over 100 professionals working in HR and recruitment in Romania.
Read Full article »
The local market needs more added-value and complex projects to be developed by the companies

The statement has been uttered within this year's Romanian Outsourcing and Shared Services Summit by Catalina Dodu, Country Manager at Atos, pointing to the local enablers that could enhance the innovation and
Read Full article »
The office market at a glance: The round for tenants is on

Data provided by CBRE show that the office spaces segment will continue to grow rapidly in 2019, and 15 new projects covering 304.000 sqm will be delivered. According to the real estate consultancy agency, curr
Read Full article »
People Empowering Business Forum 2019 to take place on October, 30 at Bucharest

Latest trends like demographic upheaval, globalization, digital technology, and changing social values and worker expectations, are disrupting business models and radically changing the workplace. These are req
Read Full article »
Addressing the mantra of cyber-security: Confidentiality, integrity and availability

The fast advancement of technology in all the aspects of everyday life, either personal or professional, and the emerging of AI (Artificial Intelligence) and ML (Machine Learning), not to mention cloud technolo
Read Full article »