Robots will change the wealth management industry

Automated financial advisors, or robo-advisors, have enjoyed a brilliant start off the blocks in their race to disrupt the market for personal wealth management.

They attracted an eyepopping $427 million in venture capital (VC) funding in 2014 and gathered some $19 billion worth of assets under management on the back of 2013-14 asset growth of 64%, writes Reuters. But while their rise has been meteoric, robo assets under management comprise a miniscule .38% of the $5 trillion retail market for financial advice.

So are robos a harbinger of an imminent "FinTech" revolution that will bring down the big banks or a dot-com-worthy example of supercharged burn rates on a road to nowhere? Their true significance may be an order of magnitude greater than either of these scenarios suggest.

Robos provide basic liability assessment, portfolio analytics, asset allocation/rebalancing and tax loss harvesting (the systematic sale and replacement of money-losing securities to offset taxes on capital gains) for 25-30 basis points in fees, (.25% - .30% of assets under management) plus some 15-30 basis points for underlying funds – a 50% - 75% discount on the 100-200 basis points charged by most traditional advisors.

What's more, most robos offer to manage as little as $5,000 - $10,000, where traditional broker-dealers and registered investment advisors (RIAs) usually can't afford to service portfolios of less than $500,000 - $1 million. Robos have astutely aimed their services at an underserved, but fast growing, mass affluent market composed of millennial HENRYs (High Earning, Not Rich Yet). HENRYs are 18-34 years old with $50,000 in assets and annual incomes of at least $50,000; they can also be 35+ years old with $50,000 - $500,000 to invest.

In considering the rise of robos, it's interesting to do so in the context of other industry developments. In the 1980s, when simple stock trades could cost up to $100 per transaction, dozens of "discount brokers" rode the wave of commission deregulation to take on Wall Street, morphing into the first Internet brokers. Many are gone, but Schwab, Fidelity, TD Ameritrade, Interactive Brokers and Vanguard are today pillars of the industry, with diversified businesses, intermediated by constantly evolving technology.

Then there was the rise of low-cost Exchange Traded Funds (ETFs). Over the past 25 years, U.S. ETFs have evolved into a $2 trillion industry segment. ETF assets today are expanding by 24% per annum – triple the rate of traditional mutual funds. Notwithstanding their popularity, ETFs have fallen well short of displacing the $16 trillion mutual fund industry. But over the long term, on current rates of growth, mutual funds and ETFs will reach parity at $50 trillion each by 2030.

Discount brokers and ETFs were revolutionary in their time. But there was no revolution. Both have long since intertwined, commingled, gone into business with and been acquired by traditional financial advisors and mutual fund complexes. Today's robos are only the latest wave of technology and innovation to wash up on the shores of U.S. wealth management.

And robos are not alone. While a promising new financial technology, they are but one element of a vast, cloud-centric, mobile-capable, socially driven transformation in progress under the FinTech banner. The 2014 wave of investment in robos comprised only 3.5% of the $12 billion global investment in FinTech that year. Innovation is rampant across the ecosystem – not only in wealth management, but also in e-invoicing and payments, crowdfunding, marketplace lending, insurance, risk and security, equity financing, remittances and socially sourced investment research.


---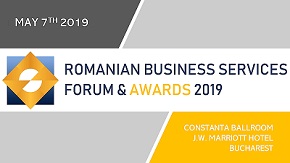 » Raiffeisen Bank Romania outsources onl...
» Horváth & Partners launches Steering ...
» JLL: Total office space in Bucharest t...
» Colliers International takes over the ...
» Oracle results pushed down by a strong...
» SSC in Romania. Who takes the lion's s...
» Survey: Romanians switch to a lower-pa...
» Genpact, Luxoft and Oracle, top lessee...
» Romanian employers report the stronges...
» Eucom: Nine out of ten corporate Roman...

My HR Lab: Research of suitable candidates and giving feedback to rejected ones, the biggest challenge in HR

During June 2019, My HR Lab company run an online (social media platforms) survey "Challenges of the recruitment process" which enrolled over 100 professionals working in HR and recruitment in Romania.
Read Full article »
The local market needs more added-value and complex projects to be developed by the companies

The statement has been uttered within this year's Romanian Outsourcing and Shared Services Summit by Catalina Dodu, Country Manager at Atos, pointing to the local enablers that could enhance the innovation and
Read Full article »
The office market at a glance: The round for tenants is on

Data provided by CBRE show that the office spaces segment will continue to grow rapidly in 2019, and 15 new projects covering 304.000 sqm will be delivered. According to the real estate consultancy agency, curr
Read Full article »
People Empowering Business Forum 2019 to take place on October, 30 at Bucharest

Latest trends like demographic upheaval, globalization, digital technology, and changing social values and worker expectations, are disrupting business models and radically changing the workplace. These are req
Read Full article »
Addressing the mantra of cyber-security: Confidentiality, integrity and availability

The fast advancement of technology in all the aspects of everyday life, either personal or professional, and the emerging of AI (Artificial Intelligence) and ML (Machine Learning), not to mention cloud technolo
Read Full article »