DTZ: Bucharest office market up 10% at 9 M 2015

The total trading activity in Bucharest was approximately 10% higher in the first nine months (9m) of the year as compared to the same period of last year, says DTZ.

"We expect that total this year to exceed the 2014 results," DTZ officials said.

In terms of demand, for the new office space, in the first nine months of the year, it was higher by 11%, which demonstrates that Bucharest is still attractive in terms of total cost of employment, productivity and quality of labor.

In 2016, the stock Bucharest office will undergo the second major stage of development, the volume of new space for the next two years will go over 550,000 sqm. However, Bucharest will continue to lag behind the main capitals of Central and Eastern Europe region (forecasts for the end of 2017: Bucharest - 2.9 million square meters, Warsaw - 5.4 million square meters, Prague - 3.4 million sq.m. Budapest - 3.4 million sqm).

The total volume of office space scheduled to be delivered in 2016 is three times higher than in 2015 to 350.000 sqm. Approximately 35% of these areas are already pre-leased.

The vacancy rate declined, standing at the end of Q3 2015 at around 12.7%. Considering the average absorption rate of the last two years and the volume of demand, the vacancy rate is projected to reach 12% by the end of Q4 2015. In 2016, the vacancy rate will register growth trends. However, the forecast for the end of 2016 reflects a value much lower than the maximum value in Q1 2014 (17%).


---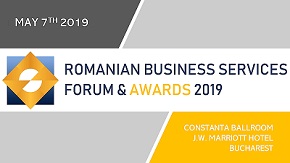 » Romania ranks above EU average in gend...
» The voting procedure for the BRAND OF ...
» Berg Software Romania: Reasons to outs...
» Deloitte's Tech Trends 2019 report: B...
» Steven Hunt, SAP SuccessFactors: Tecto...
» Molson Coors started to grow its busin...
» Societe Generale-European Business Ser...
» Capgemini: Investing in people is the ...
» Countries in CEE region, including Rom...
» Oracle reaches 4,200 employees and pla...

The voting procedure for the BRAND OF THE YEAR 2019 IN ROMANIAN BUSINESS SERVICES is open!

This is the fifth edition of the event and the second year to select the public's favorite brand in the business services BPO, ITO and SSC in Romania.
Read Full article »
Romania ranks above EU average in gender employment gap

In Romania, the employment rate measures the number of people who have a job as a percentage of the working age population. This page provides - Romania Employment Rate- actual values, historical data, forecast
Read Full article »
Steven Hunt, SAP SuccessFactors: Tectonic movements in the world of work

The world of work will be shaped by five tectonic movements – or global megatrends – over the next few years. As you may guess from the geological analogy, the effects could be dramatic.
Read Full article »
EY: European companies are divesting to future-proof growth

According to the EY Global Corporate Divestment Study, 84 per cent of European companies surveyed intending to divest within the next two years (the majority planning to do so in the coming 12 months), executiv
Read Full article »
Knowledge-sharing presentation on latest trends the industry deals, in the program of Romanian Business Services Forum and Awards

Part of the upcoming joint half-day event, Romanian Business Services Forum and Awards to be held at JW Marriott Hotel on May 7th, the discussion agenda comprises a complex Knowledge-sharing presentation on lat
Read Full article »