DTZ: Bucharest office market up 10% at 9 M 2015

The total trading activity in Bucharest was approximately 10% higher in the first nine months (9m) of the year as compared to the same period of last year, says DTZ.

"We expect that total this year to exceed the 2014 results," DTZ officials said.

In terms of demand, for the new office space, in the first nine months of the year, it was higher by 11%, which demonstrates that Bucharest is still attractive in terms of total cost of employment, productivity and quality of labor.

In 2016, the stock Bucharest office will undergo the second major stage of development, the volume of new space for the next two years will go over 550,000 sqm. However, Bucharest will continue to lag behind the main capitals of Central and Eastern Europe region (forecasts for the end of 2017: Bucharest - 2.9 million square meters, Warsaw - 5.4 million square meters, Prague - 3.4 million sq.m. Budapest - 3.4 million sqm).

The total volume of office space scheduled to be delivered in 2016 is three times higher than in 2015 to 350.000 sqm. Approximately 35% of these areas are already pre-leased.

The vacancy rate declined, standing at the end of Q3 2015 at around 12.7%. Considering the average absorption rate of the last two years and the volume of demand, the vacancy rate is projected to reach 12% by the end of Q4 2015. In 2016, the vacancy rate will register growth trends. However, the forecast for the end of 2016 reflects a value much lower than the maximum value in Q1 2014 (17%).


---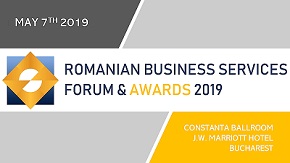 » Raiffeisen Bank Romania outsources onl...
» Oracle results pushed down by a strong...
» World-class HR organizations now spend...
» Microsoft and Oracle to interconnect M...
» Apostoleanu, Oracle: Human talent, mos...
» ANIS: Romanian IT market annual revenu...
» Healthcare IT outsourcing market is ex...
» Bosch Service Solutions to grow 20% Ti...
» Omnichannel: 4 pillars of a purposeful...
» The digitalization of the customer rel...

My HR Lab: Research of suitable candidates and giving feedback to rejected ones, the biggest challenge in HR

During June 2019, My HR Lab company run an online (social media platforms) survey "Challenges of the recruitment process" which enrolled over 100 professionals working in HR and recruitment in Romania.
Read Full article »
The local market needs more added-value and complex projects to be developed by the companies

The statement has been uttered within this year's Romanian Outsourcing and Shared Services Summit by Catalina Dodu, Country Manager at Atos, pointing to the local enablers that could enhance the innovation and
Read Full article »
The office market at a glance: The round for tenants is on

Data provided by CBRE show that the office spaces segment will continue to grow rapidly in 2019, and 15 new projects covering 304.000 sqm will be delivered. According to the real estate consultancy agency, curr
Read Full article »
People Empowering Business Forum 2019 to take place on October, 30 at Bucharest

Latest trends like demographic upheaval, globalization, digital technology, and changing social values and worker expectations, are disrupting business models and radically changing the workplace. These are req
Read Full article »
Addressing the mantra of cyber-security: Confidentiality, integrity and availability

The fast advancement of technology in all the aspects of everyday life, either personal or professional, and the emerging of AI (Artificial Intelligence) and ML (Machine Learning), not to mention cloud technolo
Read Full article »