Bosch Service Solutions to grow 20% Timisoara employment in 2016

Bosch Service Solutions, a leading provider of business processes outsourcing (BPO) reached a total of 570 employees this year and plans to grow the personnel figure by 20% by end-2016, company officials told Outsourcing Today.

Bosch opened on December 14 a new business services center in Timisoara to support the group's continuous growth and development plans.

"In Romania, Bosch Service Solutions has developed very well in recent years with new and existing services, and thanks to the collaboration with new clients. We enjoy our company's development, and this motion is a commitment to continue to evolve in a positive direction," said Raluca Romanu, general manager of Bosch Service Solutions in Romania.

"We have reached 570 employees by now, and we plan to grow by another 20% next year. We are hiring, and we're looking for economists, call center consultants, project managers and IT support personnel, SAP specialists and we also have other support positions available," a company official said.

The second Bosch SSC in Timisoara supports the development of support services business for group.

"The new office space allows us to provide additional shared services for the financial and accounting system of the Bosch Group, as part of the recently -established corporate financial department," according to a release.

The range of services include general accounting and financial reporting, debt management, receivables and travel expenses management, as well as accounting and fixed asset account management.

With the new office space, the total operational area increased from 4,200 to over 6,700 square meters.

"The second service center business in Timisoara will be a step forward to improve the efficiency and quality of services and to simplify procedures within the Bosch Group," said Joerg Fischer, President of Bosch Service Solutions since January 2016.

Since 2013, Bosch Service Solutions is present in Timisoara, offering shared services and business support services.


---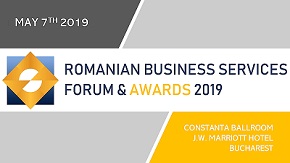 » Huawei opens a centre on cyber securit...
» Romania ranks above EU average in gend...
» ROMANIAN OUTSOURCING AWARDS FOR EXCELL...
» Bucharest, in the top of cities in Eur...
» Meet the experts who will decide the w...
» Bogdan Pelinescu, president of ABSL: A...
» Berg Software Romania: Reasons to outs...
» KPMG launches an application enabling ...
» ABSL GALA AWARDS celebrated its winner...
» George Rotariu, CEO Bitcoin Romania: B...

Meet the speakers at Romanian Business Services Forum 2019 CEO LEADERS DEBATE, on May 7th - Matthieu Pasquier

Matthieu Pasquier is CEO of Societe Generale European Business Services since August 2018 bringing more than 27 years experience in Societe Generale group. During 2014-2018, Matthieu was Head of SG GSC Chennai
Read Full article »
Sorin Mindrutescu among the speakers at Romanian Business Services Forum 2019 CEO LEADERS DEBATE, on May 7th

Sorin Mindrutescu is the Country Leader for Oracle Romania, as of February 2003. In this role, he is responsible for local sales and project delivery. In Romania, Oracle has two major business directions: the l
Read Full article »
Meet the speakers at Romanian Business Services Forum 2019 CEO LEADERS DEBATE, on May 7th - Vivek Bakshi

Vivek Bakshi is the General Manager of Wipro Technologies. He has spent 12 years heading the International Locations / Delivery Centers Europe from the Bucharest office.
Read Full article »
Meet the finalists of the fifth edition of Romanian Business Services Awards 2019

ROMANIAN BUSINESS SERVICES FORUM & AWARDS 2019, in its fifth year, brings on May 7, in Bucharest, a new concept event with engaging keynote sessions by industry leaders, interactive panel discussions, networkin
Read Full article »
Meet the experts who will decide the winners of 2019 at Romanian Business Services Forum & Awards

Each year, Outsourcing Today brings a landmark edition of the Romanian Outsourcing and Shared Services Summit and this year, we are hosting the Fifth of the annual Romanian Outsourcing and Shared Services Award
Read Full article »