Bosch Service Solutions to grow 20% Timisoara employment in 2016

Bosch Service Solutions, a leading provider of business processes outsourcing (BPO) reached a total of 570 employees this year and plans to grow the personnel figure by 20% by end-2016, company officials told Outsourcing Today.

Bosch opened on December 14 a new business services center in Timisoara to support the group's continuous growth and development plans.

"In Romania, Bosch Service Solutions has developed very well in recent years with new and existing services, and thanks to the collaboration with new clients. We enjoy our company's development, and this motion is a commitment to continue to evolve in a positive direction," said Raluca Romanu, general manager of Bosch Service Solutions in Romania.

"We have reached 570 employees by now, and we plan to grow by another 20% next year. We are hiring, and we're looking for economists, call center consultants, project managers and IT support personnel, SAP specialists and we also have other support positions available," a company official said.

The second Bosch SSC in Timisoara supports the development of support services business for group.

"The new office space allows us to provide additional shared services for the financial and accounting system of the Bosch Group, as part of the recently -established corporate financial department," according to a release.

The range of services include general accounting and financial reporting, debt management, receivables and travel expenses management, as well as accounting and fixed asset account management.

With the new office space, the total operational area increased from 4,200 to over 6,700 square meters.

"The second service center business in Timisoara will be a step forward to improve the efficiency and quality of services and to simplify procedures within the Bosch Group," said Joerg Fischer, President of Bosch Service Solutions since January 2016.

Since 2013, Bosch Service Solutions is present in Timisoara, offering shared services and business support services.


---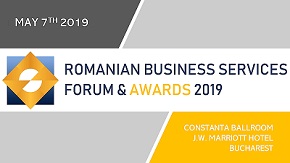 » Raiffeisen Bank Romania outsources onl...
» Horváth & Partners launches Steering ...
» JLL: Total office space in Bucharest t...
» Genpact, Luxoft and Oracle, top lessee...
» SSC in Romania. Who takes the lion's s...
» Oracle results pushed down by a strong...
» World-class HR organizations now spend...
» Romanian employers report the stronges...
» ROMANIAN OUTSOURCING AWARDS FOR EXCELL...
» Eucom: Nine out of ten corporate Roman...

My HR Lab: Research of suitable candidates and giving feedback to rejected ones, the biggest challenge in HR

During June 2019, My HR Lab company run an online (social media platforms) survey "Challenges of the recruitment process" which enrolled over 100 professionals working in HR and recruitment in Romania.
Read Full article »
The local market needs more added-value and complex projects to be developed by the companies

The statement has been uttered within this year's Romanian Outsourcing and Shared Services Summit by Catalina Dodu, Country Manager at Atos, pointing to the local enablers that could enhance the innovation and
Read Full article »
The office market at a glance: The round for tenants is on

Data provided by CBRE show that the office spaces segment will continue to grow rapidly in 2019, and 15 new projects covering 304.000 sqm will be delivered. According to the real estate consultancy agency, curr
Read Full article »
People Empowering Business Forum 2019 to take place on October, 30 at Bucharest

Latest trends like demographic upheaval, globalization, digital technology, and changing social values and worker expectations, are disrupting business models and radically changing the workplace. These are req
Read Full article »
Addressing the mantra of cyber-security: Confidentiality, integrity and availability

The fast advancement of technology in all the aspects of everyday life, either personal or professional, and the emerging of AI (Artificial Intelligence) and ML (Machine Learning), not to mention cloud technolo
Read Full article »