Bosch Service Solutions to grow 20% Timisoara employment in 2016

Bosch Service Solutions, a leading provider of business processes outsourcing (BPO) reached a total of 570 employees this year and plans to grow the personnel figure by 20% by end-2016, company officials told Outsourcing Today.

Bosch opened on December 14 a new business services center in Timisoara to support the group's continuous growth and development plans.

"In Romania, Bosch Service Solutions has developed very well in recent years with new and existing services, and thanks to the collaboration with new clients. We enjoy our company's development, and this motion is a commitment to continue to evolve in a positive direction," said Raluca Romanu, general manager of Bosch Service Solutions in Romania.

"We have reached 570 employees by now, and we plan to grow by another 20% next year. We are hiring, and we're looking for economists, call center consultants, project managers and IT support personnel, SAP specialists and we also have other support positions available," a company official said.

The second Bosch SSC in Timisoara supports the development of support services business for group.

"The new office space allows us to provide additional shared services for the financial and accounting system of the Bosch Group, as part of the recently -established corporate financial department," according to a release.

The range of services include general accounting and financial reporting, debt management, receivables and travel expenses management, as well as accounting and fixed asset account management.

With the new office space, the total operational area increased from 4,200 to over 6,700 square meters.

"The second service center business in Timisoara will be a step forward to improve the efficiency and quality of services and to simplify procedures within the Bosch Group," said Joerg Fischer, President of Bosch Service Solutions since January 2016.

Since 2013, Bosch Service Solutions is present in Timisoara, offering shared services and business support services.


---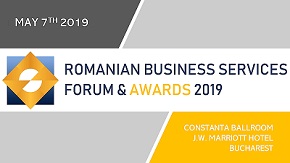 » The most appreciated companies from th...
» Webhelp Romania aiming for EUR 10 mill...
» Tremend joins Mellanox in powering the...
» Manpower: Romania's labor market, more...
» The Outsourcing industry announces its...
» Deloitte's Tech Trends 2019 report: B...
» Bucharest, in the top of cities in Eur...
» Oracle reaches 4,200 employees and pla...
» Genpact's COO: Staying ahead of the cu...
» Ascentis: The top ten HR trends for 20...

Nomination are now open for Romanian Business Services Forum and Awards

Nominations have opened for the prestigious Romanian Business Services Forum & Awards. The 2019 awards will continue to recognize and reinforce the important contribution made by business services professionals
Read Full article »
Study: 89 per cent of finance teams yet to embrace Artificial Intelligence

Report by Association of International Certified Professional Accountants and Oracle shows that almost 90 per cent of finance teams do not have the skills to support digital transformation.
Read Full article »
Bucharest, in the top of cities in Europe with the largest number of experts in high-tech industry

Bucharest is among the top cities boasting the most experts in the high-tech innovative industry, with over 70,000 current employees, next to London, Dublin, Madrid or Budapest, reads a study conducted by CBRE
Read Full article »
CBRE study: Post-millennials, the happiest about their offices
During 2018, real estate consultancy company CBRE conducted the first study dedicated to work environment in office buildings in Bucharest. The respondents have been structured in four age segments, such as Z g
Read Full article »
Deloitte's Tech Trends 2019 report: Beyond the digital frontier

The recently released Deloitte's Tech Trends 2019: Beyond the digital frontier, as each Tech Trends report in the series conducted by the consultancy company, lobbies for embracing the increasing, often mind-b
Read Full article »