63% of BPS managers believe robots will transform their business

About 22% of business process services (BPS) managers think that automation will completely transform their business, while 41% of them say it will "make a big difference," says a study.

According to UK's Virtual Operations 2014 survey by HfS, robots are threatening to undercut the outsourcing sector as almost everything that can be outsourced could be automated, writes raconteur.net.

But as some managers fear automation will lead to major employment changes, others say it will simply upscale the human work and to ensure progress, as Outsourcing-Today previously reported
( http://tinyurl.com/p6g4fpa ).

Although the market for robotic process automation software is still very much in its infancy, it is already starting to make its mark on the business process outsourcing sector.

While most people had not even heard of the technology a year ago, awareness has grown rapidly over the last six months in particular. This has resulted in a number of companies, predominantly in the UK and United States, introducing small proof-of-concept and pilot projects to evaluate its potential for automating carefully selected business processes in a controlled way, before rolling them out more widely.

Andrew Burgess, management consultant and director of services provider Symphony Ventures, explains: "Robotic process automation or RPA implementations are mainly being done on the client side in areas of the business that haven't been outsourced. People tend to look at automating in-house systems first because they've got more control and the savings are more immediate."

But this is not to say that the software is not starting to make its presence felt in the business process outsourcing (BPO) world too. According to a study by management consultancy Deloitte, entitled The robots are coming, the cost-savings of deploying RPA technology are far greater than sending them offshore. While an offshore full-time equivalent worker is on average 35 per cent cheaper than a UK-based one, a typical robot comes in at more like one ninth of the price.

This means customers deciding to go down the RPA rather than BPO route can expect to see the total cost of their service delivery drop significantly.

Tom Reuner, managing director for IT outsourcing research at HfS Research, believes that cost-savings of anywhere between 20 and 40 per cent are possible depending on the nature of the business and where it is based, simply because far fewer people are required to do the job. It also means that customers no longer have to expend time and effort each year trying to wring additional savings out of their BPO providers.

As a result, once the technology really starts to take off, it is likely to have a huge impact on the BPO sector and particularly on dedicated, pure-play firms whose "business model is predicated on labor arbitrage", he says, quoted by raconteur.net.

"The broader-based tier-one players will find ways of balancing things out more, although they might see a margin shortfall in the short term," Reuner explains.

"But not a trivial majority of contracts are either fixed price or have fixed-price components, which makes things difficult for them too."


---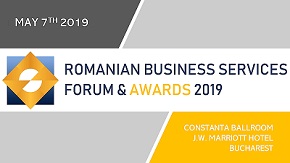 » Romania ranks above EU average in gend...
» The voting procedure for the BRAND OF ...
» Berg Software Romania: Reasons to outs...
» Deloitte's Tech Trends 2019 report: B...
» Steven Hunt, SAP SuccessFactors: Tecto...
» Molson Coors started to grow its busin...
» Societe Generale-European Business Ser...
» Capgemini: Investing in people is the ...
» Countries in CEE region, including Rom...
» Oracle reaches 4,200 employees and pla...

The voting procedure for the BRAND OF THE YEAR 2019 IN ROMANIAN BUSINESS SERVICES is open!

This is the fifth edition of the event and the second year to select the public's favorite brand in the business services BPO, ITO and SSC in Romania.
Read Full article »
Romania ranks above EU average in gender employment gap

In Romania, the employment rate measures the number of people who have a job as a percentage of the working age population. This page provides - Romania Employment Rate- actual values, historical data, forecast
Read Full article »
Steven Hunt, SAP SuccessFactors: Tectonic movements in the world of work

The world of work will be shaped by five tectonic movements – or global megatrends – over the next few years. As you may guess from the geological analogy, the effects could be dramatic.
Read Full article »
EY: European companies are divesting to future-proof growth

According to the EY Global Corporate Divestment Study, 84 per cent of European companies surveyed intending to divest within the next two years (the majority planning to do so in the coming 12 months), executiv
Read Full article »
Knowledge-sharing presentation on latest trends the industry deals, in the program of Romanian Business Services Forum and Awards

Part of the upcoming joint half-day event, Romanian Business Services Forum and Awards to be held at JW Marriott Hotel on May 7th, the discussion agenda comprises a complex Knowledge-sharing presentation on lat
Read Full article »