63% of BPS managers believe robots will transform their business

About 22% of business process services (BPS) managers think that automation will completely transform their business, while 41% of them say it will "make a big difference," says a study.

According to UK's Virtual Operations 2014 survey by HfS, robots are threatening to undercut the outsourcing sector as almost everything that can be outsourced could be automated, writes raconteur.net.

But as some managers fear automation will lead to major employment changes, others say it will simply upscale the human work and to ensure progress, as Outsourcing-Today previously reported
( http://tinyurl.com/p6g4fpa ).

Although the market for robotic process automation software is still very much in its infancy, it is already starting to make its mark on the business process outsourcing sector.

While most people had not even heard of the technology a year ago, awareness has grown rapidly over the last six months in particular. This has resulted in a number of companies, predominantly in the UK and United States, introducing small proof-of-concept and pilot projects to evaluate its potential for automating carefully selected business processes in a controlled way, before rolling them out more widely.

Andrew Burgess, management consultant and director of services provider Symphony Ventures, explains: "Robotic process automation or RPA implementations are mainly being done on the client side in areas of the business that haven't been outsourced. People tend to look at automating in-house systems first because they've got more control and the savings are more immediate."

But this is not to say that the software is not starting to make its presence felt in the business process outsourcing (BPO) world too. According to a study by management consultancy Deloitte, entitled The robots are coming, the cost-savings of deploying RPA technology are far greater than sending them offshore. While an offshore full-time equivalent worker is on average 35 per cent cheaper than a UK-based one, a typical robot comes in at more like one ninth of the price.

This means customers deciding to go down the RPA rather than BPO route can expect to see the total cost of their service delivery drop significantly.

Tom Reuner, managing director for IT outsourcing research at HfS Research, believes that cost-savings of anywhere between 20 and 40 per cent are possible depending on the nature of the business and where it is based, simply because far fewer people are required to do the job. It also means that customers no longer have to expend time and effort each year trying to wring additional savings out of their BPO providers.

As a result, once the technology really starts to take off, it is likely to have a huge impact on the BPO sector and particularly on dedicated, pure-play firms whose "business model is predicated on labor arbitrage", he says, quoted by raconteur.net.

"The broader-based tier-one players will find ways of balancing things out more, although they might see a margin shortfall in the short term," Reuner explains.

"But not a trivial majority of contracts are either fixed price or have fixed-price components, which makes things difficult for them too."


---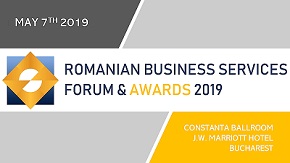 » Raiffeisen Bank Romania outsources onl...
» Oracle results pushed down by a strong...
» World-class HR organizations now spend...
» Microsoft and Oracle to interconnect M...
» Apostoleanu, Oracle: Human talent, mos...
» The importance of training in developi...
» ANIS: Romanian IT market annual revenu...
» Healthcare IT outsourcing market is ex...
» Bosch Service Solutions to grow 20% Ti...
» Omnichannel: 4 pillars of a purposeful...

My HR Lab: Research of suitable candidates and giving feedback to rejected ones, the biggest challenge in HR

During June 2019, My HR Lab company run an online (social media platforms) survey "Challenges of the recruitment process" which enrolled over 100 professionals working in HR and recruitment in Romania.
Read Full article »
The local market needs more added-value and complex projects to be developed by the companies

The statement has been uttered within this year's Romanian Outsourcing and Shared Services Summit by Catalina Dodu, Country Manager at Atos, pointing to the local enablers that could enhance the innovation and
Read Full article »
The office market at a glance: The round for tenants is on

Data provided by CBRE show that the office spaces segment will continue to grow rapidly in 2019, and 15 new projects covering 304.000 sqm will be delivered. According to the real estate consultancy agency, curr
Read Full article »
People Empowering Business Forum 2019 to take place on October, 30 at Bucharest

Latest trends like demographic upheaval, globalization, digital technology, and changing social values and worker expectations, are disrupting business models and radically changing the workplace. These are req
Read Full article »
Addressing the mantra of cyber-security: Confidentiality, integrity and availability

The fast advancement of technology in all the aspects of everyday life, either personal or professional, and the emerging of AI (Artificial Intelligence) and ML (Machine Learning), not to mention cloud technolo
Read Full article »