HfS survey: Most managers choose outsourcing for decreasing costs

About 52% of managers see the providers of business services as "a great vehicle to drive down costs and improve efficiencies," and only 28% see them as " a vital partner that plugs critical gaps in term of skills, global scale, domain knowledge and technology," according to a new HfS study.

"Our theme for 2016 is all about us getting back to basics as a services industry, and nothing exemplifies this more than what the buyers and providers privately said about each other at the recent HfS Working Summit in Harvard Square. Once we get past all the talk of disruption and change, the real issue holding back progress is the simple fact that too many of today's services relationships are just not set up to be collaborative ventures," writes horsesforsources.com.

Only one in five outsourcing relationships are "collaborative," and therefore, about 80% of buyers simply aren't engaging with their providers in a collaborative way.

About 70% of the responders said that the relation with the service provider have a "directive" relations, in which "they tell them what to do".

Only 21% have a "collaborative" relation, in which joinly strategize and execute, and just 10% of managers think they have a dysfunctional relation, and there's a "general lack of communication and accomplishment."

HfS considers also three measure that could break the cycle:

1) Buyers need to entrust more higher-value work to their providers, with their leadership incentivizing their middle-managers to "let go". Many buyers consistently admit they need to entrust their provider with higher value work to improve the quality of their engagement. But this isn't really about trust, it's more about the buyer letting go and having the confidence to give their service provider more responsibility, which would make them more effective at their own jobs. Sadly, most middle-managers have absolutely no motivation to entrust more to their service provider -and, frankly, why should they? What motivation would you have to make yourself less dispensable to your firm? So it's up to their leadership to force the issue, either by demanding more work is outsourced, or by incentivizing their managers by giving them more motivating work to do… with real financial and career benefits to do so.
2) Automation is the "new offshoring", so leverage RPA to create renewed opportunities to collaborate. The next wave of value is blending global sourcing with the mimicking of manual processes in RPA software that are predominantly high throughout, high intensity tasks. All enterprises have varying potentials for real automation value to be created by robotizing rote manual tasks. And most of the respectable service providers have invested in capabilities to develop an RPA strategy for their clients. Buyers must learn from mistakes of the past to look beyond short term cost savings and create a broader intelligent automation strategy, which also creates significant opportunities to establish more collaborative, value-added relationships with their service partners. Moreover, it is in the interests of buyside managers to put automation capabilities on their resumés as CEOs increasingly demand a cohesive plan to create a more automated operating platform to support non-linear future growth for their firms.
3) Weave Design Thinking into engagements to shift the impetus towards mutually beneficial outcomes. The less hyped, but nevertheless creeping uptake of Design Thinking is helping several relationships inject lateral thinking and renewed motivation to work together, not only in the customer-facing front office, but also in the back office operational functions. Design Thinking in services is based, primarily, on both service buyer and provider coming together to create business outcomes that are mutually beneficial – and motivational – for both parties. However, this must be established as ongoing collaboration across all key relationship stakeholders, and not simply two days of senior management putting sticky notes on each others' foreheads. There must be senior pressure and buy in to adopt Design Thinking as a means to move away from Six Sigma-obsessed old world models, and really change the way the service buyer and provider teams work together. We're seeing encouraging signs from several providers aggressively promoting Design Thinking techniques, such as Infosys, IBM and Cognizant, into their engagements, but this is still restricted to far too few a number of buyers at this stage. But Design Thinking, and new creations of Design Thinking-eque collaborative methods are increasingly important ways to bring together new concepts and ideas, better teamwork, and ways to design outcomes jointly that can incporporate investments from both sides


---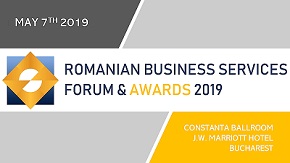 » Raiffeisen Bank Romania outsources onl...
» World-class HR organizations now spend...
» Oracle results pushed down by a strong...
» Apostoleanu, Oracle: Human talent, mos...
» TELUS International: Chatbots - The pr...
» Sergiu Negut, on the stage of People i...
» Microsoft and Oracle to interconnect M...
» The importance of training in developi...
» ANIS: Romanian IT market annual revenu...
» Healthcare IT outsourcing market is ex...

My HR Lab: Research of suitable candidates and giving feedback to rejected ones, the biggest challenge in HR

During June 2019, My HR Lab company run an online (social media platforms) survey "Challenges of the recruitment process" which enrolled over 100 professionals working in HR and recruitment in Romania.
Read Full article »
The local market needs more added-value and complex projects to be developed by the companies

The statement has been uttered within this year's Romanian Outsourcing and Shared Services Summit by Catalina Dodu, Country Manager at Atos, pointing to the local enablers that could enhance the innovation and
Read Full article »
The office market at a glance: The round for tenants is on

Data provided by CBRE show that the office spaces segment will continue to grow rapidly in 2019, and 15 new projects covering 304.000 sqm will be delivered. According to the real estate consultancy agency, curr
Read Full article »
People Empowering Business Forum 2019 to take place on October, 30 at Bucharest

Latest trends like demographic upheaval, globalization, digital technology, and changing social values and worker expectations, are disrupting business models and radically changing the workplace. These are req
Read Full article »
Addressing the mantra of cyber-security: Confidentiality, integrity and availability

The fast advancement of technology in all the aspects of everyday life, either personal or professional, and the emerging of AI (Artificial Intelligence) and ML (Machine Learning), not to mention cloud technolo
Read Full article »