Accenture teamed with Code in education event

Accenture teamed up with Code.org to support global participation in Hour of Code, one of the world's largest educational events, designed to prove anyone can learn the basics of coding, have fun doing it, then continue learning beyond one hour.

Thousands of Accenture employees around the world have pledged to complete nearly 8,000 Hours of Code during Computer Science Education Week (December 7-13).

This number is expected to grow as Accenture employees commit to an Hour of Code and volunteer to work with teachers and Code.org to help students learn the basics of computer science at local schools and events through fun, game-like online lessons.

Organized by Code.org, the Hour of Code brings together more than 350 partner organizations and tens of millions of students in every country around the world. The campaign culminated with a massive coding event the week of Dec 7-13, with 191,000 registered events. The goal of the grassroots movement is to empower every student in every school with the opportunity to learn computer science. By starting early, students will have a foundation for success in any 21st-century career path.

"We are aligned with Code.org's mission and vision that exposure to coding is important to the success of every student, regardless of what field they choose to pursue," said Paul Daugherty, Accenture's chief technology officer.

"We must all do more to encourage greater interest in computer science in schools, especially for girls and underrepresented students of color. Armed with coding skills they develop throughout their academic careers, students will be much better prepared to fill key roles in the digital businesses of the future. I am impressed with the passion and energy that our Accenture people are showing in their commitment to this important cause."

"The need for people with STEM skills has never been greater," said Roxanne Taylor, Accenture's chief marketing and communications officer. "By 2020, there will be 1.2 million jobs requiring computer-related skills in the U.S. alone. Yet the pipeline of graduates with technology skills is lacking, especially among women. Code.org is helping to reverse this trend by addressing the issue early in the education cycle. We need to get young people excited about computer science long before they enter college. Hour of Code is an amazing campaign that does just that."

As part of its collaboration with Code.org, senior Accenture leaders will join with employees in 186 cities across 56 countries to participate in Hour of Code activities.

"Accenture is leading by example in their efforts to support computer science education with a company-wide commitment to help students start learning skills that will prepare them for the best opportunities in any future career path," said Code.org CEO and Co-founder Hadi Partovi.

"By not only looking inward into their own organization, Accenture's support in classrooms and Code.org events around the world will address some of the biggest issues faced by the technology industry, helping make it more diverse, inclusive and available to all people."

---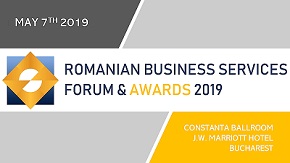 » Romania ranks above EU average in gend...
» The voting procedure for the BRAND OF ...
» Berg Software Romania: Reasons to outs...
» Deloitte's Tech Trends 2019 report: B...
» Steven Hunt, SAP SuccessFactors: Tecto...
» Molson Coors started to grow its busin...
» Societe Generale-European Business Ser...
» Capgemini: Investing in people is the ...
» Countries in CEE region, including Rom...
» Oracle reaches 4,200 employees and pla...

The voting procedure for the BRAND OF THE YEAR 2019 IN ROMANIAN BUSINESS SERVICES is open!

This is the fifth edition of the event and the second year to select the public's favorite brand in the business services BPO, ITO and SSC in Romania.
Read Full article »
Romania ranks above EU average in gender employment gap

In Romania, the employment rate measures the number of people who have a job as a percentage of the working age population. This page provides - Romania Employment Rate- actual values, historical data, forecast
Read Full article »
Steven Hunt, SAP SuccessFactors: Tectonic movements in the world of work

The world of work will be shaped by five tectonic movements – or global megatrends – over the next few years. As you may guess from the geological analogy, the effects could be dramatic.
Read Full article »
EY: European companies are divesting to future-proof growth

According to the EY Global Corporate Divestment Study, 84 per cent of European companies surveyed intending to divest within the next two years (the majority planning to do so in the coming 12 months), executiv
Read Full article »
Knowledge-sharing presentation on latest trends the industry deals, in the program of Romanian Business Services Forum and Awards

Part of the upcoming joint half-day event, Romanian Business Services Forum and Awards to be held at JW Marriott Hotel on May 7th, the discussion agenda comprises a complex Knowledge-sharing presentation on lat
Read Full article »