Accenture teamed with Code in education event

Accenture teamed up with Code.org to support global participation in Hour of Code, one of the world's largest educational events, designed to prove anyone can learn the basics of coding, have fun doing it, then continue learning beyond one hour.

Thousands of Accenture employees around the world have pledged to complete nearly 8,000 Hours of Code during Computer Science Education Week (December 7-13).

This number is expected to grow as Accenture employees commit to an Hour of Code and volunteer to work with teachers and Code.org to help students learn the basics of computer science at local schools and events through fun, game-like online lessons.

Organized by Code.org, the Hour of Code brings together more than 350 partner organizations and tens of millions of students in every country around the world. The campaign culminated with a massive coding event the week of Dec 7-13, with 191,000 registered events. The goal of the grassroots movement is to empower every student in every school with the opportunity to learn computer science. By starting early, students will have a foundation for success in any 21st-century career path.

"We are aligned with Code.org's mission and vision that exposure to coding is important to the success of every student, regardless of what field they choose to pursue," said Paul Daugherty, Accenture's chief technology officer.

"We must all do more to encourage greater interest in computer science in schools, especially for girls and underrepresented students of color. Armed with coding skills they develop throughout their academic careers, students will be much better prepared to fill key roles in the digital businesses of the future. I am impressed with the passion and energy that our Accenture people are showing in their commitment to this important cause."

"The need for people with STEM skills has never been greater," said Roxanne Taylor, Accenture's chief marketing and communications officer. "By 2020, there will be 1.2 million jobs requiring computer-related skills in the U.S. alone. Yet the pipeline of graduates with technology skills is lacking, especially among women. Code.org is helping to reverse this trend by addressing the issue early in the education cycle. We need to get young people excited about computer science long before they enter college. Hour of Code is an amazing campaign that does just that."

As part of its collaboration with Code.org, senior Accenture leaders will join with employees in 186 cities across 56 countries to participate in Hour of Code activities.

"Accenture is leading by example in their efforts to support computer science education with a company-wide commitment to help students start learning skills that will prepare them for the best opportunities in any future career path," said Code.org CEO and Co-founder Hadi Partovi.

"By not only looking inward into their own organization, Accenture's support in classrooms and Code.org events around the world will address some of the biggest issues faced by the technology industry, helping make it more diverse, inclusive and available to all people."

---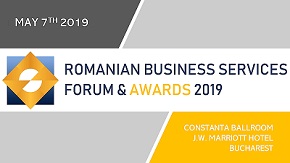 » Raiffeisen Bank Romania outsources onl...
» Oracle results pushed down by a strong...
» World-class HR organizations now spend...
» Microsoft and Oracle to interconnect M...
» Apostoleanu, Oracle: Human talent, mos...
» ANIS: Romanian IT market annual revenu...
» Healthcare IT outsourcing market is ex...
» Bosch Service Solutions to grow 20% Ti...
» Omnichannel: 4 pillars of a purposeful...
» The digitalization of the customer rel...

My HR Lab: Research of suitable candidates and giving feedback to rejected ones, the biggest challenge in HR

During June 2019, My HR Lab company run an online (social media platforms) survey "Challenges of the recruitment process" which enrolled over 100 professionals working in HR and recruitment in Romania.
Read Full article »
The local market needs more added-value and complex projects to be developed by the companies

The statement has been uttered within this year's Romanian Outsourcing and Shared Services Summit by Catalina Dodu, Country Manager at Atos, pointing to the local enablers that could enhance the innovation and
Read Full article »
The office market at a glance: The round for tenants is on

Data provided by CBRE show that the office spaces segment will continue to grow rapidly in 2019, and 15 new projects covering 304.000 sqm will be delivered. According to the real estate consultancy agency, curr
Read Full article »
People Empowering Business Forum 2019 to take place on October, 30 at Bucharest

Latest trends like demographic upheaval, globalization, digital technology, and changing social values and worker expectations, are disrupting business models and radically changing the workplace. These are req
Read Full article »
Addressing the mantra of cyber-security: Confidentiality, integrity and availability

The fast advancement of technology in all the aspects of everyday life, either personal or professional, and the emerging of AI (Artificial Intelligence) and ML (Machine Learning), not to mention cloud technolo
Read Full article »