Automation and customization raise Wizrom revenue by 30%

Wizrom Software is forecasting an increase of 30% in revenues for 2015 due to special projects – design and implementation of customized, turn-key solutions.

The company has created this year a special business unit currently involved in seven major projects of designing and implementing complex solutions for customers in US, Western Europe and Romania.

"Wizrom has the team, the expertize and technologies necessary for delivering big, complex, turn-key projects for large organizations, such as those in FMCG or manufacturing. With the special projects division, we have the capacity of designing and delivering unique solutions, representing a competitive advantage for our clients," said Adrian Bodomoiu, managing director Wizrom Software (photo).

By combining the existing solutions in Wizrom's portfolio with new developments, the special projects division creates solutions adapted to the organizational and business models of each customer.

Amid the increasing competition and decrease of time to market deadlines for their products, the dynamic players seek competitive advantages inclusively in the informatics systems, with which they coordinate and evaluate their operations.

"We talk about web-based special apps, porting on web-based of existing applications, process automation for organizations using heterogeneous solutions, applications for IoT (internet of things), adaptation to the mobile environment (from cloud-based systems to interfaces for smartphones), and many more", explains Adrian Bodomoiu.

For 2016, Wizrom Software is forecasting that special projects may reach up to 10% in total revenues, amid increased demand on this segment in Romania as well as in the US and Western Europe. Wizrom Software implements ERP systems (the provider with the largest number of ERP customers), WMS, TMS, SFA, CRM, BI and others, having 3,800 active clients and over 34,000 licenses in use.

---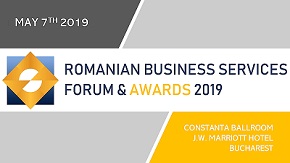 » Huawei opens a centre on cyber securit...
» ROMANIAN OUTSOURCING AWARDS FOR EXCELL...
» Romania ranks above EU average in gend...
» Bucharest, in the top of cities in Eur...
» Berg Software Romania: Reasons to outs...
» Meet the experts who will decide the w...
» Bogdan Pelinescu, president of ABSL: A...
» KPMG launches an application enabling ...
» ABSL GALA AWARDS celebrated its winner...
» Oracle reaches 4,200 employees and pla...

Colin C. Lovering: Meet the speakers at Romanian Business Services Forum & Awards 2019, on May 7

Colin C. Lovering has been living and working in Romania since 2009 when he arrived to offer consultancy and advice to organisations looking for growth and profitability and founded Achieve International.
Read Full article »
Antoniu Panait: Meet the speakers at Romanian Business Services Forum & Awards 2019, on May 7

Managing Director for VASTINT Romania since 2009, Antoniu Panait has an executive experience of more than 10 years, mainly in real estate.
Read Full article »
Andrei Voica: Meet the speakers at Romanian Business Services Forum & Awards 2019, on May 7

Andrei Voica, Director Project Management and Workplace Consultancy, Colliers International. Truly passionate about his work and always eager to add value to each project.
Read Full article »
Romulus Caralicea: Meet the speakers at Romanian Business Services Forum & Awards 2019, on May 7

Romulus is Wipro's Information Security, Risk & Compliance Lead for Europe. In his role he is managing internal audits and compliance activities for all clients and internal functions based on the corporate ISO
Read Full article »
George Didoiu: Meet the moderator of Romanian Business Services Forum 2019 CEO LEADERS DEBATE, on May 7

In his 15 years of real estate, George Didoiu advised on the relocation of top IT&C, finance-banking and consultancy companies, which total over 10,000 employees.
Read Full article »