Manpower: Slightly positive sentiment among employers for Q1 perspective

Good news for job seekers from Manpower, as hiring will keep its pace in the first quarter (Q1) of next year, with the net number of employers bringing an extra 1% pace* to the hiring sentiment, and a seasonally adjusted 12%, according to managers' estimations.

Employers in all regions of Romania and nine out of 10 industry sectors anticipate that a moderately optimistic hiring activity is likely to continue through January- March 2016, says the Manpower Employment Outlook Survey.

Therefore, job seekers can continue to expect a steady hiring pace in the January – March 2016 interval, according to the Q1/2016 edition of the Manpower Employment Outlook Survey, quoting 625 employers across eight regions and 10 industry sectors during October 14 – 27.

With 16% of employers indicating intentions to increase their payroll, 15% anticipating a decrease and 66% envisioning no change, the seasonally adjusted Net Employment Outlook stands at +12%, relatively stable when compared to the current quarter, and 2 percentage points stronger year-on-year.

"It's encouraging to see that last quarter's early signs of increased confidence are reinforced in Q1, and especially that the regional outlook is less uneven. Employer optimism is not as buoyant as in the previous three months across all industry sectors, which is to be expected given global interdependencies, but the continuation in 2016 of the double digit Net Employment Outlooks reported throughout 2015 gives us reason to hope that this is indeed the beginning of a trend toward sustainable job growth," says ManpowerGroup Romania's country manager, Valentin Petrof.

Staffing levels are forecast to grow in nine of the 10 industry sectors during the upcoming quarter.

The strongest Q1 hiring plans are reported in the Wholesale and Retail Trade sector, where more than 1 in 4 employers intend to add to their payrolls during the January – March 2016 interval. At +23%, the Net Employment Outlook in the sector is the strongest it has been since Q4/2012, and improves both quarter-over-quarter and years-over-year by 3, respectively 15 percentage points. More than 1 in 4 employers in the Manufacturing sector also expect to add to their payrolls in the coming months despite the outlook's moderate decline in comparison to the prior quarter.

Across eight of the 10 sectors, however, forecasts weaken by varying degrees over Q4/2015, with the steepest declines reported by employers in the Construction and Manufacturing sectors. The only negative Outlook, of -6%, continues to be reported in the Electricity, Gas and Water Supply sector, where employer intentions have only been positive once in almost three years.

From regional standpoint Outlooks are positive across the country, with employers in the Center and North-West regions being the country's most optimistic, for the second consecutive quarter. At +13%, the Net Employment Outlooks in these regions remain relatively stable compared to the previous quarter.

Elsewhere, the Outlook in the South-West region strengthens quarter-over quarter by 6 percentage points, reaching +9%, one of the most optimistic in the past almost four years, while the Outlook in the North-East region weakens over Q4/2015 by 9 percentage points, to stand at +4%, the least optimistic in the country.

Hiring perspectives continue to be positive in organizations of all size, with employers in large organizations one again reporting the most favorable hiring climate, with an Outlook of +16%, and employers in micro-organizations being the most cautious, with an Outlook of +2%.

"Hiring confidence is the engine that fuels the job growth Romania needs for economic development, and for retaining the talents companies operating locally need. Seeing confidence persist, and indeed grow in some industries, can only be positive, but it's worth noting that companies are quicker to make adjustments to their hiring than they were prior to the recession, and that in a changing environment they respond by changing as well," added Valentin Petrof.

*The Net Employment Outlook is derived by taking the percentage of employers anticipating an increase in hiring activity and subtracting from it the percentage of employers expecting to see a decrease.


---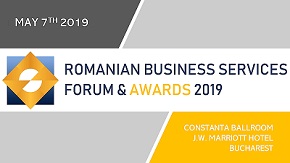 » Raiffeisen Bank Romania outsources onl...
» Oracle results pushed down by a strong...
» World-class HR organizations now spend...
» Apostoleanu, Oracle: Human talent, mos...
» Sergiu Negut, on the stage of People i...
» Microsoft and Oracle to interconnect M...
» The importance of training in developi...
» ANIS: Romanian IT market annual revenu...
» Healthcare IT outsourcing market is ex...
» Bosch Service Solutions to grow 20% Ti...

My HR Lab: Research of suitable candidates and giving feedback to rejected ones, the biggest challenge in HR

During June 2019, My HR Lab company run an online (social media platforms) survey "Challenges of the recruitment process" which enrolled over 100 professionals working in HR and recruitment in Romania.
Read Full article »
The local market needs more added-value and complex projects to be developed by the companies

The statement has been uttered within this year's Romanian Outsourcing and Shared Services Summit by Catalina Dodu, Country Manager at Atos, pointing to the local enablers that could enhance the innovation and
Read Full article »
The office market at a glance: The round for tenants is on

Data provided by CBRE show that the office spaces segment will continue to grow rapidly in 2019, and 15 new projects covering 304.000 sqm will be delivered. According to the real estate consultancy agency, curr
Read Full article »
People Empowering Business Forum 2019 to take place on October, 30 at Bucharest

Latest trends like demographic upheaval, globalization, digital technology, and changing social values and worker expectations, are disrupting business models and radically changing the workplace. These are req
Read Full article »
Addressing the mantra of cyber-security: Confidentiality, integrity and availability

The fast advancement of technology in all the aspects of everyday life, either personal or professional, and the emerging of AI (Artificial Intelligence) and ML (Machine Learning), not to mention cloud technolo
Read Full article »