Outsourcing can take the risk out of the productivity puzzle

Tony Hague explains why outsourcing could hold the answer to increased productivity.

There have been numerous solutions put forward when discussing the productivity puzzle, but few have involved more firms focusing on their core competences, writes Tony Hague for bqlive.co.uk.

As chairman of the unique Midlands Assembly Network, I get a firsthand insight into the operations of hundreds of manufacturers every year and one trend is clearly developing…more management teams are choosing to outsource some of their production capabilities in a bid to reduce costs, improve efficiencies and open up capacity.

We have already benefitted to the tune of £3m of new projects secured in the last twelve months, with a number of members working together to deliver added value and new production solutions for clients in automotive, aerospace, oil and gas and renewables.

There are another six opportunities currently in the MAN pipeline as more businesses look at new ways of boosting their productivity.

High profile topic

The 'puzzle' is probably the industry topic of the year and a lot has already been written about how to solve it…investment in automation, investment in skills, investment in systems.

These are all very valid. However, there has been little discussion about outsourcing, where you source a supplier to deliver your non-core manufacturing operations.

As long as the right strategic partner is chosen, this offers numerous benefits; less unnecessary stock and reduction in work in progress, better cash flow and significantly reduced lead times. It also gives you greater flexibility for volatile volume requirements.

The strength of MAN is that we have expertise across all engineering and manufacturing disciplines and our nine companies are financially strong and invest in world class processes. It's no surprise we are seeing existing and new customers outsource more of their non-core operations to us. It makes perfect sense.

After all this positivity, it's important to note that outsourcing shouldn't be entered into lightly and the merits of any partnership should be explored fully, long before any agreement is signed.

All organisations need to share a similar business philosophy and understand each other's role. There also has to be a period of transition where the necessary learning can take place so the process become transparent and starts delivering the goods.

Whisper it quietly, outsourcing could well be the secret answer to the productivity puzzle.
Tony Hague is chairman of the Midlands Assembly Network and MD of PP Electrical Systems,

---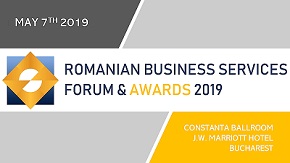 » The most appreciated companies from th...
» Webhelp Romania aiming for EUR 10 mill...
» Tremend joins Mellanox in powering the...
» The Outsourcing industry announces its...
» Manpower: Romania's labor market, more...
» Deloitte's Tech Trends 2019 report: B...
» Bucharest, in the top of cities in Eur...
» Oracle reaches 4,200 employees and pla...
» Genpact's COO: Staying ahead of the cu...
» Ascentis: The top ten HR trends for 20...

Nomination are now open for Romanian Business Services Forum and Awards

Nominations have opened for the prestigious Romanian Business Services Forum & Awards. The 2019 awards will continue to recognize and reinforce the important contribution made by business services professionals
Read Full article »
Study: 89 per cent of finance teams yet to embrace Artificial Intelligence

Report by Association of International Certified Professional Accountants and Oracle shows that almost 90 per cent of finance teams do not have the skills to support digital transformation.
Read Full article »
Bucharest, in the top of cities in Europe with the largest number of experts in high-tech industry

Bucharest is among the top cities boasting the most experts in the high-tech innovative industry, with over 70,000 current employees, next to London, Dublin, Madrid or Budapest, reads a study conducted by CBRE
Read Full article »
CBRE study: Post-millennials, the happiest about their offices
During 2018, real estate consultancy company CBRE conducted the first study dedicated to work environment in office buildings in Bucharest. The respondents have been structured in four age segments, such as Z g
Read Full article »
Deloitte's Tech Trends 2019 report: Beyond the digital frontier

The recently released Deloitte's Tech Trends 2019: Beyond the digital frontier, as each Tech Trends report in the series conducted by the consultancy company, lobbies for embracing the increasing, often mind-b
Read Full article »