Hays: Timisoara outsourcing industry follows the Krakowian example

The amazing less than 1% real unemployment rate in Timisoara is owed to foreign direct but also local investments.

More and more outsourced services providers come to the city, and some of the personnel is imported from nearby countries, Serbia and Hungary.

But Timisoara is far from being a saturated market, even if more similarly to Krakow's market, imports part of the personnel, says Ilona Manea, Team manager of Romanian operations, Hays.

"I think Timisoara can reach 10-15,000 employees without the market to saturate," says Manea.
In Krakow, 21% of employees moved in from another Polish cities, and 14% relocated from abroad, says a Hays survey. But Krakow is double in terms of population as compared to Timisoara.

While Bucharest is among top 50 outsourcing cities in CEE, placing itself on 39 position (just climbed one position), ahead of Bratislava and Sophia, Krakow reached the 9 th position within the last survey, and is the only city in Europe having international recognition.

Hays, an organization which has a data base of 560,000 potential employees and its own SSC in Krakow, is ready to survey the Timisoara BPS market, which lacks official statistics about the market.
"The growth forecast of the Romanian market is very challenging, to reach from 60,000 today to 150,000 in the next five years and 300,000 in the future. Bucharest is among top 50 outsourcing cities in the world, placing itself on position 39 (just climbed one position), ahead of Bratislava and Sophia. Krakow reach the 9th position, and is the only city in Europe having international recognition," she adds.

But as "Poland (BPO and SSC industry) reached 170,000 employees, the industry did not reach the market saturation, it is still growing".

In Krakow there are 35,000 employees in Business services alone.

"In 2005, there were only 5,000 employees in Krakow. The discussion about market saturation was on even then. They grew 20% each year in Krakow, and the estimation for this year is of 38,000," Manea says.

Krakow's and Poland's strategy should be followed, as the growth is still there. Poland grew from 150 to 170,000 employees over the past few months.

"Over the past five years there was a growth of 20% in jobs creation in Krakow alone. In 10 years the number of employees grew 10 times over," she says.

According to Hays, whereas Bucharest is getting the 39 th position among the top 50 global outsourcing cities in CEE, but still growing, while markets in Bratislava (49) or Brno (29) are rather saturated. (Tholons 100 top cities for global outsourcing 2015).

---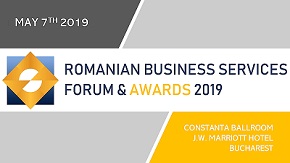 » The most appreciated companies from th...
» Webhelp Romania aiming for EUR 10 mill...
» Tremend joins Mellanox in powering the...
» The Outsourcing industry announces its...
» Manpower: Romania's labor market, more...
» Deloitte's Tech Trends 2019 report: B...
» Bucharest, in the top of cities in Eur...
» Oracle reaches 4,200 employees and pla...
» Genpact's COO: Staying ahead of the cu...
» Ascentis: The top ten HR trends for 20...

Nomination are now open for Romanian Business Services Forum and Awards

Nominations have opened for the prestigious Romanian Business Services Forum & Awards. The 2019 awards will continue to recognize and reinforce the important contribution made by business services professionals
Read Full article »
Study: 89 per cent of finance teams yet to embrace Artificial Intelligence

Report by Association of International Certified Professional Accountants and Oracle shows that almost 90 per cent of finance teams do not have the skills to support digital transformation.
Read Full article »
Bucharest, in the top of cities in Europe with the largest number of experts in high-tech industry

Bucharest is among the top cities boasting the most experts in the high-tech innovative industry, with over 70,000 current employees, next to London, Dublin, Madrid or Budapest, reads a study conducted by CBRE
Read Full article »
CBRE study: Post-millennials, the happiest about their offices
During 2018, real estate consultancy company CBRE conducted the first study dedicated to work environment in office buildings in Bucharest. The respondents have been structured in four age segments, such as Z g
Read Full article »
Deloitte's Tech Trends 2019 report: Beyond the digital frontier

The recently released Deloitte's Tech Trends 2019: Beyond the digital frontier, as each Tech Trends report in the series conducted by the consultancy company, lobbies for embracing the increasing, often mind-b
Read Full article »