Hays: Timisoara outsourcing industry follows the Krakowian example

The amazing less than 1% real unemployment rate in Timisoara is owed to foreign direct but also local investments.

More and more outsourced services providers come to the city, and some of the personnel is imported from nearby countries, Serbia and Hungary.

But Timisoara is far from being a saturated market, even if more similarly to Krakow's market, imports part of the personnel, says Ilona Manea, Team manager of Romanian operations, Hays.

"I think Timisoara can reach 10-15,000 employees without the market to saturate," says Manea.
In Krakow, 21% of employees moved in from another Polish cities, and 14% relocated from abroad, says a Hays survey. But Krakow is double in terms of population as compared to Timisoara.

While Bucharest is among top 50 outsourcing cities in CEE, placing itself on 39 position (just climbed one position), ahead of Bratislava and Sophia, Krakow reached the 9 th position within the last survey, and is the only city in Europe having international recognition.

Hays, an organization which has a data base of 560,000 potential employees and its own SSC in Krakow, is ready to survey the Timisoara BPS market, which lacks official statistics about the market.
"The growth forecast of the Romanian market is very challenging, to reach from 60,000 today to 150,000 in the next five years and 300,000 in the future. Bucharest is among top 50 outsourcing cities in the world, placing itself on position 39 (just climbed one position), ahead of Bratislava and Sophia. Krakow reach the 9th position, and is the only city in Europe having international recognition," she adds.

But as "Poland (BPO and SSC industry) reached 170,000 employees, the industry did not reach the market saturation, it is still growing".

In Krakow there are 35,000 employees in Business services alone.

"In 2005, there were only 5,000 employees in Krakow. The discussion about market saturation was on even then. They grew 20% each year in Krakow, and the estimation for this year is of 38,000," Manea says.

Krakow's and Poland's strategy should be followed, as the growth is still there. Poland grew from 150 to 170,000 employees over the past few months.

"Over the past five years there was a growth of 20% in jobs creation in Krakow alone. In 10 years the number of employees grew 10 times over," she says.

According to Hays, whereas Bucharest is getting the 39 th position among the top 50 global outsourcing cities in CEE, but still growing, while markets in Bratislava (49) or Brno (29) are rather saturated. (Tholons 100 top cities for global outsourcing 2015).

---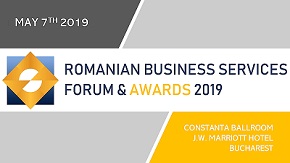 » Raiffeisen Bank Romania outsources onl...
» Horváth & Partners launches Steering ...
» JLL: Total office space in Bucharest t...
» Genpact, Luxoft and Oracle, top lessee...
» SSC in Romania. Who takes the lion's s...
» Oracle results pushed down by a strong...
» World-class HR organizations now spend...
» Romanian employers report the stronges...
» ROMANIAN OUTSOURCING AWARDS FOR EXCELL...
» Eucom: Nine out of ten corporate Roman...

My HR Lab: Research of suitable candidates and giving feedback to rejected ones, the biggest challenge in HR

During June 2019, My HR Lab company run an online (social media platforms) survey "Challenges of the recruitment process" which enrolled over 100 professionals working in HR and recruitment in Romania.
Read Full article »
The local market needs more added-value and complex projects to be developed by the companies

The statement has been uttered within this year's Romanian Outsourcing and Shared Services Summit by Catalina Dodu, Country Manager at Atos, pointing to the local enablers that could enhance the innovation and
Read Full article »
The office market at a glance: The round for tenants is on

Data provided by CBRE show that the office spaces segment will continue to grow rapidly in 2019, and 15 new projects covering 304.000 sqm will be delivered. According to the real estate consultancy agency, curr
Read Full article »
People Empowering Business Forum 2019 to take place on October, 30 at Bucharest

Latest trends like demographic upheaval, globalization, digital technology, and changing social values and worker expectations, are disrupting business models and radically changing the workplace. These are req
Read Full article »
Addressing the mantra of cyber-security: Confidentiality, integrity and availability

The fast advancement of technology in all the aspects of everyday life, either personal or professional, and the emerging of AI (Artificial Intelligence) and ML (Machine Learning), not to mention cloud technolo
Read Full article »