Siemens to invest more into Romanian R&D opps

After finishing the Cluj Napoca 4.5 million euro investment last year, Siemens keeps on hiring more and more personnel for its Cluj and Brasov ITO centers, says George Costache, CEO Siemens for Romania.

Besides investments into technology refurbishment, electricity and automatization, Siemens gets more out of Internet of Things (IoT).

"In the B2B sector we have to deal more and more with IoT, which will change the industry significantly," says Costache.

"We expect the software and database segments to grow globally by 7-9% by 2020, while other industries will register more modest growths…We will hire a few hundreds more people into Brasov and Cluj R&D centers, that create software applications for worldwide clients," says Costache.

One of the applications was used by the NASA Curiosity Mars mission rover (remote operated vehicle), which is still operational on the Red Planet.

Romania can be proud of software testing the Mars robot Curiosity's skills in extreme simulated conditions, such as extreme heat and metal fatigue, as Cristian Uceanu, Channel Sales executive, Romania and Bulgaria, explains.

"IoT and digitalization are happening now, and Siemens has refocused its businesses in industry and infrastructure accordingly. Now, data models are being built, simulating testing prototypes into a virtual world, and saving time and money," says Bernhard Kienlein, head of Process Industries and Drives, Siemens Austria & CEE.

Siemens has about 1,700 employees in Romania. The holding will also invest million euros into a new Sibiu-based rail car parts factory, which will be ready by the first half of next year.


---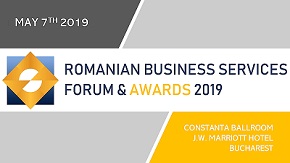 » Raiffeisen Bank Romania outsources onl...
» Horváth & Partners launches Steering ...
» JLL: Total office space in Bucharest t...
» Colliers International takes over the ...
» Oracle results pushed down by a strong...
» Survey: Romanians switch to a lower-pa...
» SSC in Romania. Who takes the lion's s...
» Genpact, Luxoft and Oracle, top lessee...
» Romanian employers report the stronges...
» Eucom: Nine out of ten corporate Roman...

My HR Lab: Research of suitable candidates and giving feedback to rejected ones, the biggest challenge in HR

During June 2019, My HR Lab company run an online (social media platforms) survey "Challenges of the recruitment process" which enrolled over 100 professionals working in HR and recruitment in Romania.
Read Full article »
The local market needs more added-value and complex projects to be developed by the companies

The statement has been uttered within this year's Romanian Outsourcing and Shared Services Summit by Catalina Dodu, Country Manager at Atos, pointing to the local enablers that could enhance the innovation and
Read Full article »
The office market at a glance: The round for tenants is on

Data provided by CBRE show that the office spaces segment will continue to grow rapidly in 2019, and 15 new projects covering 304.000 sqm will be delivered. According to the real estate consultancy agency, curr
Read Full article »
People Empowering Business Forum 2019 to take place on October, 30 at Bucharest

Latest trends like demographic upheaval, globalization, digital technology, and changing social values and worker expectations, are disrupting business models and radically changing the workplace. These are req
Read Full article »
Addressing the mantra of cyber-security: Confidentiality, integrity and availability

The fast advancement of technology in all the aspects of everyday life, either personal or professional, and the emerging of AI (Artificial Intelligence) and ML (Machine Learning), not to mention cloud technolo
Read Full article »