Siemens to invest more into Romanian R&D opps

After finishing the Cluj Napoca 4.5 million euro investment last year, Siemens keeps on hiring more and more personnel for its Cluj and Brasov ITO centers, says George Costache, CEO Siemens for Romania.

Besides investments into technology refurbishment, electricity and automatization, Siemens gets more out of Internet of Things (IoT).

"In the B2B sector we have to deal more and more with IoT, which will change the industry significantly," says Costache.

"We expect the software and database segments to grow globally by 7-9% by 2020, while other industries will register more modest growths…We will hire a few hundreds more people into Brasov and Cluj R&D centers, that create software applications for worldwide clients," says Costache.

One of the applications was used by the NASA Curiosity Mars mission rover (remote operated vehicle), which is still operational on the Red Planet.

Romania can be proud of software testing the Mars robot Curiosity's skills in extreme simulated conditions, such as extreme heat and metal fatigue, as Cristian Uceanu, Channel Sales executive, Romania and Bulgaria, explains.

"IoT and digitalization are happening now, and Siemens has refocused its businesses in industry and infrastructure accordingly. Now, data models are being built, simulating testing prototypes into a virtual world, and saving time and money," says Bernhard Kienlein, head of Process Industries and Drives, Siemens Austria & CEE.

Siemens has about 1,700 employees in Romania. The holding will also invest million euros into a new Sibiu-based rail car parts factory, which will be ready by the first half of next year.


---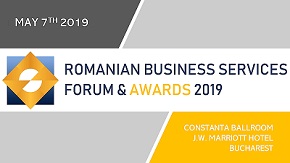 » Huawei opens a centre on cyber securit...
» ROMANIAN OUTSOURCING AWARDS FOR EXCELL...
» Romania ranks above EU average in gend...
» Bucharest, in the top of cities in Eur...
» Berg Software Romania: Reasons to outs...
» Meet the experts who will decide the w...
» Bogdan Pelinescu, president of ABSL: A...
» KPMG launches an application enabling ...
» ABSL GALA AWARDS celebrated its winner...
» Oracle reaches 4,200 employees and pla...

Colin C. Lovering: Meet the speakers at Romanian Business Services Forum & Awards 2019, on May 7

Colin C. Lovering has been living and working in Romania since 2009 when he arrived to offer consultancy and advice to organisations looking for growth and profitability and founded Achieve International.
Read Full article »
Antoniu Panait: Meet the speakers at Romanian Business Services Forum & Awards 2019, on May 7

Managing Director for VASTINT Romania since 2009, Antoniu Panait has an executive experience of more than 10 years, mainly in real estate.
Read Full article »
Andrei Voica: Meet the speakers at Romanian Business Services Forum & Awards 2019, on May 7

Andrei Voica, Director Project Management and Workplace Consultancy, Colliers International. Truly passionate about his work and always eager to add value to each project.
Read Full article »
Romulus Caralicea: Meet the speakers at Romanian Business Services Forum & Awards 2019, on May 7

Romulus is Wipro's Information Security, Risk & Compliance Lead for Europe. In his role he is managing internal audits and compliance activities for all clients and internal functions based on the corporate ISO
Read Full article »
George Didoiu: Meet the moderator of Romanian Business Services Forum 2019 CEO LEADERS DEBATE, on May 7

In his 15 years of real estate, George Didoiu advised on the relocation of top IT&C, finance-banking and consultancy companies, which total over 10,000 employees.
Read Full article »