CBRE: Outsourcing companies expand more and more into towns

Most outsourcing companies are present in Bucharest (47%) and in one of the major regional centers such as Cluj Napoca (12%), Timisoara (8%) and Brasov (7%). With intensifying competition to attract labor, companies tend to expand in towns, like Targu Mures (5%), Galati (3%) or smaller towns such as Suceava and Targu Jiu, reveals a CBRE study.

A relatively new branch, SSC (shared service centers) are starting to gain momentum and have around 15,000 employees. Research & Development, due to its high-skill level of operation is a relatively small sector, around 5,000 employees.

On average, an outsourcing center in Romania has 320 employees, with BPOs (business processes outsourcing) having almost 500, while ITOs (IT outsourtcing) having around 270 employees.
In the office sector in Romania, tenants influence dominates the market, with some features in certain limited areas of cities that offer immediate delivery office. The study also shows that more than 75% of Class A surfaces are occupied by companies in the software industry and the centralized service centers (SSC).

More than half (47%) of the analysed companies are focused on Application Development & Maintenance, followed by companies dealing with a multitude of processes, including Human Resources, Finance & Accounting, Support Services. Pure contact centres (call centres) account for 12% of the companies analysed. Still, as the nature of the business entails large operations, these companies employee over 10,000 people (15% of total).

"The presence of so many ITO's is not random – two factors are at play: High number of graduates with programming / IT skills, in all major regional cities – over 20,000 graduates with technical skills on a yearly basis. The number and value of state incentives awarded by the Romanian Government to the IT industry. This includes 100% exemption on income tax for IT employees and public financing for development of IT innovation parks," the study shows.

"Software and outsourcing companies alike can benefit from state aids for regional development, job creation and investment support for new technologies creation, as well as 50% tax deduction for R&D related cost of operations, according to ANIS (Employers Association of the Software and Service Industry)."

While the last couple of years the exposure and size of outsourcing companies has increased substantially, these companies are very much present as early as 1991. Indeed, in the last 4 years, the number of SSC has almost tripled in size, while a majority of other outsourcing companies expanded their presence.

Outsourcing industry in Romania offers employment to over 67,000 people within 215 companies, that have over 310 offices covering an office space of half million sq m spread throughout Romania, according to CBRE Romania.

"About 67,000 people are working within BPO, SSC and ITO in Romania, with at least another 5,000 new jobs in planning to be occupied within the next 12 months. Alongside software and telecom companies, outsourcing is one of the biggest employers within the white-collar segment in Romania," says the CBRE report.

The study was conducted on a sample of 215 outsourcing company, with operations in 310 office buildings across the country.

These companies represent a highly dynamic vector of the real estate market, signing more than half the total transactions concluded in Romania, among them the transactions for areas larger than 20,000 square meters.

The report shows that the total office space across the country is 3.1 million square meters, of which outsourced service companies occupy more than 500,000 square meters.

CBRE study estimated that in the coming years, increasingly more companies will establish in Romania regional or global operational centers. Outsourced service companies follow this trend and will continue to expand both office space and headcount. Also competing for the occupation of Class A offices will be increasingly stiffer.

---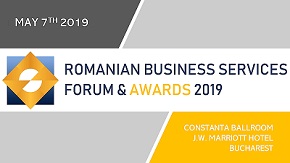 » Huawei opens a centre on cyber securit...
» ROMANIAN OUTSOURCING AWARDS FOR EXCELL...
» Romania ranks above EU average in gend...
» Bucharest, in the top of cities in Eur...
» Berg Software Romania: Reasons to outs...
» Meet the experts who will decide the w...
» KPMG launches an application enabling ...
» Bogdan Pelinescu, president of ABSL: A...
» ABSL GALA AWARDS celebrated its winner...
» George Rotariu, CEO Bitcoin Romania: B...

Catalina Dodu - Meet the speakers at Romanian Business Services Forum 2019 CEO LEADERS DEBATE, on May 7

Catalina Dodu runs the operations of Atos Romania since March 2014, with an experience of over 15 years in IT management. Previous to being appointed Country Manager, Catalina managed the System Integration div
Read Full article »
Philippe Beucher: Meet the speakers at Romanian Business Services Forum 2019 CEO LEADERS DEBATE, on May 7

Philippe Beucher is the Managing Director of Accenture Operations – Danubia Region, leading the Operations entity for Romania, Czech Republic, Slovakia and Hungary starting from February 2019. For the past 1
Read Full article »
Meet the speakers at Romanian Business Services Forum 2019 CEO LEADERS DEBATE, on May 7th - Matthieu Pasquier

Matthieu Pasquier is CEO of Societe Generale European Business Services since August 2018 bringing more than 27 years experience in Societe Generale group. During 2014-2018, Matthieu was Head of SG GSC Chennai
Read Full article »
Sorin Mindrutescu among the speakers at Romanian Business Services Forum 2019 CEO LEADERS DEBATE, on May 7th

Sorin Mindrutescu is the Country Leader for Oracle Romania, as of February 2003. In this role, he is responsible for local sales and project delivery. In Romania, Oracle has two major business directions: the l
Read Full article »
Meet the speakers at Romanian Business Services Forum 2019 CEO LEADERS DEBATE, on May 7th - Vivek Bakshi

Vivek Bakshi is the General Manager of Wipro Technologies. He has spent 12 years heading the International Locations / Delivery Centers Europe from the Bucharest office.
Read Full article »