CBRE: Outsourcing companies expand more and more into towns

Most outsourcing companies are present in Bucharest (47%) and in one of the major regional centers such as Cluj Napoca (12%), Timisoara (8%) and Brasov (7%). With intensifying competition to attract labor, companies tend to expand in towns, like Targu Mures (5%), Galati (3%) or smaller towns such as Suceava and Targu Jiu, reveals a CBRE study.

A relatively new branch, SSC (shared service centers) are starting to gain momentum and have around 15,000 employees. Research & Development, due to its high-skill level of operation is a relatively small sector, around 5,000 employees.

On average, an outsourcing center in Romania has 320 employees, with BPOs (business processes outsourcing) having almost 500, while ITOs (IT outsourtcing) having around 270 employees.
In the office sector in Romania, tenants influence dominates the market, with some features in certain limited areas of cities that offer immediate delivery office. The study also shows that more than 75% of Class A surfaces are occupied by companies in the software industry and the centralized service centers (SSC).

More than half (47%) of the analysed companies are focused on Application Development & Maintenance, followed by companies dealing with a multitude of processes, including Human Resources, Finance & Accounting, Support Services. Pure contact centres (call centres) account for 12% of the companies analysed. Still, as the nature of the business entails large operations, these companies employee over 10,000 people (15% of total).

"The presence of so many ITO's is not random – two factors are at play: High number of graduates with programming / IT skills, in all major regional cities – over 20,000 graduates with technical skills on a yearly basis. The number and value of state incentives awarded by the Romanian Government to the IT industry. This includes 100% exemption on income tax for IT employees and public financing for development of IT innovation parks," the study shows.

"Software and outsourcing companies alike can benefit from state aids for regional development, job creation and investment support for new technologies creation, as well as 50% tax deduction for R&D related cost of operations, according to ANIS (Employers Association of the Software and Service Industry)."

While the last couple of years the exposure and size of outsourcing companies has increased substantially, these companies are very much present as early as 1991. Indeed, in the last 4 years, the number of SSC has almost tripled in size, while a majority of other outsourcing companies expanded their presence.

Outsourcing industry in Romania offers employment to over 67,000 people within 215 companies, that have over 310 offices covering an office space of half million sq m spread throughout Romania, according to CBRE Romania.

"About 67,000 people are working within BPO, SSC and ITO in Romania, with at least another 5,000 new jobs in planning to be occupied within the next 12 months. Alongside software and telecom companies, outsourcing is one of the biggest employers within the white-collar segment in Romania," says the CBRE report.

The study was conducted on a sample of 215 outsourcing company, with operations in 310 office buildings across the country.

These companies represent a highly dynamic vector of the real estate market, signing more than half the total transactions concluded in Romania, among them the transactions for areas larger than 20,000 square meters.

The report shows that the total office space across the country is 3.1 million square meters, of which outsourced service companies occupy more than 500,000 square meters.

CBRE study estimated that in the coming years, increasingly more companies will establish in Romania regional or global operational centers. Outsourced service companies follow this trend and will continue to expand both office space and headcount. Also competing for the occupation of Class A offices will be increasingly stiffer.

---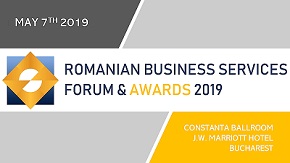 » The most appreciated companies from th...
» Webhelp Romania aiming for EUR 10 mill...
» Tremend joins Mellanox in powering the...
» The Outsourcing industry announces its...
» Manpower: Romania's labor market, more...
» Deloitte's Tech Trends 2019 report: B...
» Bucharest, in the top of cities in Eur...
» Oracle reaches 4,200 employees and pla...
» Genpact's COO: Staying ahead of the cu...
» Ascentis: The top ten HR trends for 20...

Nomination are now open for Romanian Business Services Forum and Awards

Nominations have opened for the prestigious Romanian Business Services Forum & Awards. The 2019 awards will continue to recognize and reinforce the important contribution made by business services professionals
Read Full article »
Study: 89 per cent of finance teams yet to embrace Artificial Intelligence

Report by Association of International Certified Professional Accountants and Oracle shows that almost 90 per cent of finance teams do not have the skills to support digital transformation.
Read Full article »
Bucharest, in the top of cities in Europe with the largest number of experts in high-tech industry

Bucharest is among the top cities boasting the most experts in the high-tech innovative industry, with over 70,000 current employees, next to London, Dublin, Madrid or Budapest, reads a study conducted by CBRE
Read Full article »
CBRE study: Post-millennials, the happiest about their offices
During 2018, real estate consultancy company CBRE conducted the first study dedicated to work environment in office buildings in Bucharest. The respondents have been structured in four age segments, such as Z g
Read Full article »
Deloitte's Tech Trends 2019 report: Beyond the digital frontier

The recently released Deloitte's Tech Trends 2019: Beyond the digital frontier, as each Tech Trends report in the series conducted by the consultancy company, lobbies for embracing the increasing, often mind-b
Read Full article »