Companies such as Endava and Fortech drive up Cluj employment

In Cluj, Tech and outsourcing companies doubled staff transforming the Transilvanian city into second-largest IT investment destination in Romania.

Over the past three years, the IT sector has boomed in Cluj-Napoca. Many software companies located there have doubled their staff in that period and are experiencing 20 to 30 percent growth in turnover, year on year, writes Zdnet.com/Central European Processing.

Some software companies prefer to set up shop in Cluj over Bucharest, according to IT recruitment agency Brainspotting.

Of the large pool of developers covering the full stack of software technology, 98 percent speak English and many are also fluent in German and Hungarian.

"We've seen some interesting JavaScript professionals with knowledge of CoffeeScript or AngularJS. There's also a lot of mobile development and SAP Basis," according to Brainspotting.

Overall, salaries are 10 percent lower compared with Bucharest. A junior iOS or Android developer has a take-home pay starting at €450 ($480) a month, while a senior engineer can make up to €3,000 ($3,200) a month, the agency's Talent Map shows.

Cluj-Napoca is the location of the Romanian headquarters of UK IT services company Endava. "Cluj is a vibrant city, welcoming and innovative, with a strong entrepreneurial spirit. Many new companies are setting up offices there," Valentin Metzger, Endava's delivery director, said.

"There's strong demand and an opportunity for the IT community in Cluj to continue to develop. Local authorities and other business sectors are continuing to keep up with the infrastructure needed for business development," he said.

Endava had revenues of over €37m ($39m) last year in Romania, up 40 percent compared with 2013. It employs 1,400 people in the country, half of whom are located in Cluj.

Cluj's talent pool has also been appreciated by local software company Fortech. It is planning to increase its numbers in the coming years. "With a strong tradition in engineering, sustained by the technical universities, Cluj promises to ensure a constant flow of skilled graduates," Fortech CEO Calin Vaduva said.

Last year, the Romanian ICT sector was worth €2.4bn ($2.55bn), a 12.5 percent rise year on year, according to a recent report released by Romanian software and services industry association ANIS. And the future looks bright: estimates say it will be a €4bn ($4.26bn) market by 2020.


---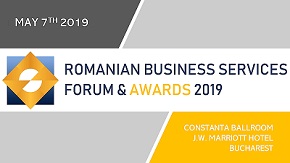 » The most appreciated companies from th...
» Webhelp Romania aiming for EUR 10 mill...
» Tremend joins Mellanox in powering the...
» The Outsourcing industry announces its...
» Manpower: Romania's labor market, more...
» Deloitte's Tech Trends 2019 report: B...
» Bucharest, in the top of cities in Eur...
» Oracle reaches 4,200 employees and pla...
» Genpact's COO: Staying ahead of the cu...
» Ascentis: The top ten HR trends for 20...

Nomination are now open for Romanian Business Services Forum and Awards

Nominations have opened for the prestigious Romanian Business Services Forum & Awards. The 2019 awards will continue to recognize and reinforce the important contribution made by business services professionals
Read Full article »
Study: 89 per cent of finance teams yet to embrace Artificial Intelligence

Report by Association of International Certified Professional Accountants and Oracle shows that almost 90 per cent of finance teams do not have the skills to support digital transformation.
Read Full article »
Bucharest, in the top of cities in Europe with the largest number of experts in high-tech industry

Bucharest is among the top cities boasting the most experts in the high-tech innovative industry, with over 70,000 current employees, next to London, Dublin, Madrid or Budapest, reads a study conducted by CBRE
Read Full article »
CBRE study: Post-millennials, the happiest about their offices
During 2018, real estate consultancy company CBRE conducted the first study dedicated to work environment in office buildings in Bucharest. The respondents have been structured in four age segments, such as Z g
Read Full article »
Deloitte's Tech Trends 2019 report: Beyond the digital frontier

The recently released Deloitte's Tech Trends 2019: Beyond the digital frontier, as each Tech Trends report in the series conducted by the consultancy company, lobbies for embracing the increasing, often mind-b
Read Full article »