WNS, NIIT jointly launch MBA program in business analytics

WNS (Holdings) Limited and NIIT University have come together to launch a two-year specialized and work-integrated MBA program in Business Analytics.

"This first-of-its-kind MBA, co-created by academic experts from NU and senior professionals from the WNS Analytics practice, combines comprehensive academic content with actual practice and work-experience at WNS," the companies said in a joint statement quoted by firstpost.com.

The selection process will have three layers. The first part of the MBA program will take place at the Neemrana Campus of NIIT University, followed by internship at WNS, under the supervision of the NU faculty.

As part of the collaboration, the graduating students will be placed in key positions in the analytics practice.

"WNS partners with over 200 clients across the globe, and sees analytics becoming increasingly important for sharper and smarter decision-making. While we have a large Research & Analytics practice of over 2,500 professionals, we are further looking to build on the talent supply with a customized and specialized intervention like this program. The chosen students will join the WNS family skilled with a high-end program that will change the course of their career for a lifetime," said Keshav R. Murugesh, Group CEO, WNS.

The first batch of the MBA programwill commence in June 2016, and information will be available online from Nov. 24, 2015 at www.niituniversity.in. Eligibility criteria will include graduation with Mathematics as one of the subjects, followed by at least two years of work experience.



---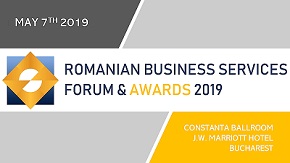 » Huawei opens a centre on cyber securit...
» Romania ranks above EU average in gend...
» ROMANIAN OUTSOURCING AWARDS FOR EXCELL...
» Bucharest, in the top of cities in Eur...
» Berg Software Romania: Reasons to outs...
» Meet the experts who will decide the w...
» Bogdan Pelinescu, president of ABSL: A...
» KPMG launches an application enabling ...
» ABSL GALA AWARDS celebrated its winner...
» George Rotariu, CEO Bitcoin Romania: B...

Meet the speakers at Romanian Business Services Forum 2019 CEO LEADERS DEBATE, on May 7th - Matthieu Pasquier

Matthieu Pasquier is CEO of Societe Generale European Business Services since August 2018 bringing more than 27 years experience in Societe Generale group. During 2014-2018, Matthieu was Head of SG GSC Chennai
Read Full article »
Sorin Mindrutescu among the speakers at Romanian Business Services Forum 2019 CEO LEADERS DEBATE, on May 7th

Sorin Mindrutescu is the Country Leader for Oracle Romania, as of February 2003. In this role, he is responsible for local sales and project delivery. In Romania, Oracle has two major business directions: the l
Read Full article »
Meet the speakers at Romanian Business Services Forum 2019 CEO LEADERS DEBATE, on May 7th - Vivek Bakshi

Vivek Bakshi is the General Manager of Wipro Technologies. He has spent 12 years heading the International Locations / Delivery Centers Europe from the Bucharest office.
Read Full article »
Meet the finalists of the fifth edition of Romanian Business Services Awards 2019

ROMANIAN BUSINESS SERVICES FORUM & AWARDS 2019, in its fifth year, brings on May 7, in Bucharest, a new concept event with engaging keynote sessions by industry leaders, interactive panel discussions, networkin
Read Full article »
Meet the experts who will decide the winners of 2019 at Romanian Business Services Forum & Awards

Each year, Outsourcing Today brings a landmark edition of the Romanian Outsourcing and Shared Services Summit and this year, we are hosting the Fifth of the annual Romanian Outsourcing and Shared Services Award
Read Full article »