WNS, NIIT jointly launch MBA program in business analytics

WNS (Holdings) Limited and NIIT University have come together to launch a two-year specialized and work-integrated MBA program in Business Analytics.

"This first-of-its-kind MBA, co-created by academic experts from NU and senior professionals from the WNS Analytics practice, combines comprehensive academic content with actual practice and work-experience at WNS," the companies said in a joint statement quoted by firstpost.com.

The selection process will have three layers. The first part of the MBA program will take place at the Neemrana Campus of NIIT University, followed by internship at WNS, under the supervision of the NU faculty.

As part of the collaboration, the graduating students will be placed in key positions in the analytics practice.

"WNS partners with over 200 clients across the globe, and sees analytics becoming increasingly important for sharper and smarter decision-making. While we have a large Research & Analytics practice of over 2,500 professionals, we are further looking to build on the talent supply with a customized and specialized intervention like this program. The chosen students will join the WNS family skilled with a high-end program that will change the course of their career for a lifetime," said Keshav R. Murugesh, Group CEO, WNS.

The first batch of the MBA programwill commence in June 2016, and information will be available online from Nov. 24, 2015 at www.niituniversity.in. Eligibility criteria will include graduation with Mathematics as one of the subjects, followed by at least two years of work experience.



---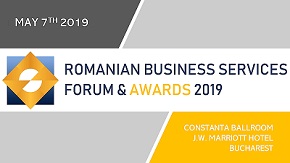 » The most appreciated companies from th...
» Webhelp Romania aiming for EUR 10 mill...
» Tremend joins Mellanox in powering the...
» Manpower: Romania's labor market, more...
» The Outsourcing industry announces its...
» Deloitte's Tech Trends 2019 report: B...
» Bucharest, in the top of cities in Eur...
» Oracle reaches 4,200 employees and pla...
» Genpact's COO: Staying ahead of the cu...
» CBRE study: Post-millennials, the happ...

Nomination are now open for Romanian Business Services Forum and Awards

Nominations have opened for the prestigious Romanian Business Services Forum & Awards. The 2019 awards will continue to recognize and reinforce the important contribution made by business services professionals
Read Full article »
Study: 89 per cent of finance teams yet to embrace Artificial Intelligence

Report by Association of International Certified Professional Accountants and Oracle shows that almost 90 per cent of finance teams do not have the skills to support digital transformation.
Read Full article »
Bucharest, in the top of cities in Europe with the largest number of experts in high-tech industry

Bucharest is among the top cities boasting the most experts in the high-tech innovative industry, with over 70,000 current employees, next to London, Dublin, Madrid or Budapest, reads a study conducted by CBRE
Read Full article »
CBRE study: Post-millennials, the happiest about their offices
During 2018, real estate consultancy company CBRE conducted the first study dedicated to work environment in office buildings in Bucharest. The respondents have been structured in four age segments, such as Z g
Read Full article »
Deloitte's Tech Trends 2019 report: Beyond the digital frontier

The recently released Deloitte's Tech Trends 2019: Beyond the digital frontier, as each Tech Trends report in the series conducted by the consultancy company, lobbies for embracing the increasing, often mind-b
Read Full article »