IDC: More than 7% of Romanian companies already have IoT solutions

About 7% of the Romanian companies have implemented Internet of Things (IoT) solutions, with 21% of the respondents to an IDC survey planning to adopt similar technologies during the next period, said Milan Kalal, program manager IoT, IDC CEMA, during a conference.

Romania already has IoT implementations in manufacturing, smart grids, industrial process, production asset management, or home security, said Kalal, quoted by cloudmania.

Tomorrow growing areas are expected for healthcare-hospitals, public transportation, retail, connected cars and entertainment area.

IDC estimates that the total value of IoT market may reach up to 1.7 trillion USD by 2020. John Gole, research director IoT, IDC, says that there are more than 12.8 billion objects connected today to the internet, which "mark the onset of a new, exciting era."

"The internet of things has been transforming not only cities, industries and businesses, but also the way people live," said Gole.

GE is maybe one of the most spectacular example of traditional company transformation in order to act as digital vendor and to offer digital solutions to the customers, writes couldmania. Big part of this transformation process is related to Jeffrey Immelt – Chairman and CEO of GE from September 2001, coined as "the father of the Industrial Internet".

In September 2015, Jeffrey Immelt announced foundation of the new GE Digital division, as main movement in the US industrial conglomerate strategy to compete in the software industry. Managed by Bill Ruh, GE's software chief, the new GE Digital division will provide the best industrial solutions and the software needed to solve real world problems.

GE Digital strategy is based on four main digital drivers: IoT, Intelligent grids, Big Data, and Analytics. In GE Digital vision, the Industrial Internet is taking place through the convergence of the global industrial system with the power of advanced computing, analytics, low-cost sensing and new levels of connectivity afforded by the Internet. It brings together three key elements: brilliant machines, advanced analytics, and people at work. It drives powerful outcomes and affords new possibilities for industry enabling businesses to reach never-seen-before performance levels.

According GE's CEO, "in the next five years GE will be a USD15 billion software business, compared with around USD3 billion in 2011 and around USD6 billion today. Within the next 15 years, digital industrial companies will add USD15 trillion to global GDP."

IoT predictions IDC FutureScape 2015:

By 2020, 90% of all IoT data hosted on Cloud platforms.

By 2020, 90% of all IT networks will have new IoT security policies.

By 2018, 40% of IoT-created data will be stored, processed, analyzed at the networks edges.

By 2017, 90% of datacenter and enterprise systems management will adopt new business models to manage non-traditional infrastructure and BYOD.

Today, over 50% of IoT activity is cantered in manufacturing, transportation, smart city, and consumer applications

In 5 years, all industries will have rolled out IoT initiatives.

By 2018, more than 25% of government spending will focus on Smart Cities.

By 2018, 60% of IT industry solutions will become open-sourced allowing a rush of vertical-driven IoT markets.

In 5 years, 40% of wearables will become consumer mass market alternative to smartphones.
By 2018, 16% of the population will be Millennials, accelerating IoT adoption.
Source: cloudmania.


---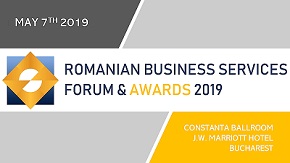 » Molson Coors started to grow its busin...
» TELUS International Europe: Three ways...
» Deloitte's Tech Trends 2019 report: B...
» Capgemini: Investing in people is the ...
» Committed to growth
» The Outsourcing industry announces its...
» Romania ranks above EU average in gend...
» ROMANIAN OUTSOURCING AWARDS FOR EXCELL...
» Engagement and inclusion through direc...
» KPMG study: Big data needs a big re-th...

The voting procedure for the BRAND OF THE YEAR 2019 IN ROMANIAN BUSINESS SERVICES is open!

This is the fifth edition of the event and the second year to select the public's favorite brand in the business services BPO, ITO and SSC in Romania.
Read Full article »
Romania ranks above EU average in gender employment gap

In Romania, the employment rate measures the number of people who have a job as a percentage of the working age population. This page provides - Romania Employment Rate- actual values, historical data, forecast
Read Full article »
Steven Hunt, SAP SuccessFactors: Tectonic movements in the world of work

The world of work will be shaped by five tectonic movements – or global megatrends – over the next few years. As you may guess from the geological analogy, the effects could be dramatic.
Read Full article »
EY: European companies are divesting to future-proof growth

According to the EY Global Corporate Divestment Study, 84 per cent of European companies surveyed intending to divest within the next two years (the majority planning to do so in the coming 12 months), executiv
Read Full article »
Knowledge-sharing presentation on latest trends the industry deals, in the program of Romanian Business Services Forum and Awards

Part of the upcoming joint half-day event, Romanian Business Services Forum and Awards to be held at JW Marriott Hotel on May 7th, the discussion agenda comprises a complex Knowledge-sharing presentation on lat
Read Full article »