UK: Outsourcing body calls for "balanced approach" to open book accounting

The government has been told it must take a "balanced approach" to reforms of Whitehall outsourcing, including moves to open book accounting, if it wants to ensure the sector can continue to provide public services.

In a submission to ministers, the National Outsourcing Association said that the recommendation from the National Audit Office and CIPFA that Whitehall improve its approach towards open-book accounting could make public sector contracts less appealing, writes publicfinance.co.uk.
It stated that the sector supports transparency and accountability but "a delicate balance" will be required in any reforms.

"The government must focus on the value attained from outsourcing, rather than the profits made by its service providers," the NOA stated. "Purely attacking profits will have huge ramifications, restricting innovation which in turn will reduce productivity, and making the prospect of public sector contracts far less appealing."

The trade group also urged the government to provide "active and vocal" support to the sector, which it said could be a growth area of the UK economy in addition to providing vital public services.
The UK could become a global strategic hub for service delivery by 2020, the report stated, which would provide a boost to growth and jobs.

National Outsourcing Association chief executive Kerry Hallard said the government must stop "castigating outsourcing to save ministerial skins" if it wants the sector to grow.

She also called for an additional skills focus on the areas needed for outsourced services, such as digital and IT skills, as well as better understanding of commercial environments and contracts. Less restrictive immigration policies would help the sector develop, she said.

"For an industry to contribute so significantly to the UK economy, yet be ignored to this extent by its government, is quite frankly disgusting. It used to be the manufacturing sector that put the 'Great' into Great Britain – today it's British services and outsourcing," she added. "Just imagine how much more the UK could achieve in terms of economic growth, employment and productivity if outsourcing had the government's full backing."


---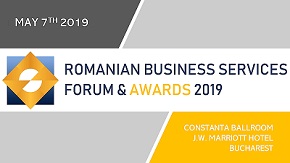 » Huawei opens a centre on cyber securit...
» ROMANIAN OUTSOURCING AWARDS FOR EXCELL...
» Romania ranks above EU average in gend...
» Bucharest, in the top of cities in Eur...
» Berg Software Romania: Reasons to outs...
» Meet the experts who will decide the w...
» Bogdan Pelinescu, president of ABSL: A...
» KPMG launches an application enabling ...
» ABSL GALA AWARDS celebrated its winner...
» Oracle reaches 4,200 employees and pla...

Colin C. Lovering: Meet the speakers at Romanian Business Services Forum & Awards 2019, on May 7

Colin C. Lovering has been living and working in Romania since 2009 when he arrived to offer consultancy and advice to organisations looking for growth and profitability and founded Achieve International.
Read Full article »
Antoniu Panait: Meet the speakers at Romanian Business Services Forum & Awards 2019, on May 7

Managing Director for VASTINT Romania since 2009, Antoniu Panait has an executive experience of more than 10 years, mainly in real estate.
Read Full article »
Andrei Voica: Meet the speakers at Romanian Business Services Forum & Awards 2019, on May 7

Andrei Voica, Director Project Management and Workplace Consultancy, Colliers International. Truly passionate about his work and always eager to add value to each project.
Read Full article »
Romulus Caralicea: Meet the speakers at Romanian Business Services Forum & Awards 2019, on May 7

Romulus is Wipro's Information Security, Risk & Compliance Lead for Europe. In his role he is managing internal audits and compliance activities for all clients and internal functions based on the corporate ISO
Read Full article »
George Didoiu: Meet the moderator of Romanian Business Services Forum 2019 CEO LEADERS DEBATE, on May 7

In his 15 years of real estate, George Didoiu advised on the relocation of top IT&C, finance-banking and consultancy companies, which total over 10,000 employees.
Read Full article »