UK: Outsourcing body calls for "balanced approach" to open book accounting

The government has been told it must take a "balanced approach" to reforms of Whitehall outsourcing, including moves to open book accounting, if it wants to ensure the sector can continue to provide public services.

In a submission to ministers, the National Outsourcing Association said that the recommendation from the National Audit Office and CIPFA that Whitehall improve its approach towards open-book accounting could make public sector contracts less appealing, writes publicfinance.co.uk.
It stated that the sector supports transparency and accountability but "a delicate balance" will be required in any reforms.

"The government must focus on the value attained from outsourcing, rather than the profits made by its service providers," the NOA stated. "Purely attacking profits will have huge ramifications, restricting innovation which in turn will reduce productivity, and making the prospect of public sector contracts far less appealing."

The trade group also urged the government to provide "active and vocal" support to the sector, which it said could be a growth area of the UK economy in addition to providing vital public services.
The UK could become a global strategic hub for service delivery by 2020, the report stated, which would provide a boost to growth and jobs.

National Outsourcing Association chief executive Kerry Hallard said the government must stop "castigating outsourcing to save ministerial skins" if it wants the sector to grow.

She also called for an additional skills focus on the areas needed for outsourced services, such as digital and IT skills, as well as better understanding of commercial environments and contracts. Less restrictive immigration policies would help the sector develop, she said.

"For an industry to contribute so significantly to the UK economy, yet be ignored to this extent by its government, is quite frankly disgusting. It used to be the manufacturing sector that put the 'Great' into Great Britain – today it's British services and outsourcing," she added. "Just imagine how much more the UK could achieve in terms of economic growth, employment and productivity if outsourcing had the government's full backing."


---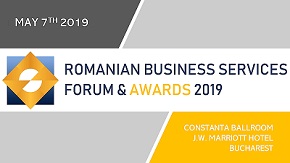 » Raiffeisen Bank Romania outsources onl...
» Horváth & Partners launches Steering ...
» JLL: Total office space in Bucharest t...
» Colliers International takes over the ...
» SSC in Romania. Who takes the lion's s...
» Oracle results pushed down by a strong...
» Survey: Romanians switch to a lower-pa...
» Genpact, Luxoft and Oracle, top lessee...
» Romanian employers report the stronges...
» Eucom: Nine out of ten corporate Roman...

My HR Lab: Research of suitable candidates and giving feedback to rejected ones, the biggest challenge in HR

During June 2019, My HR Lab company run an online (social media platforms) survey "Challenges of the recruitment process" which enrolled over 100 professionals working in HR and recruitment in Romania.
Read Full article »
The local market needs more added-value and complex projects to be developed by the companies

The statement has been uttered within this year's Romanian Outsourcing and Shared Services Summit by Catalina Dodu, Country Manager at Atos, pointing to the local enablers that could enhance the innovation and
Read Full article »
The office market at a glance: The round for tenants is on

Data provided by CBRE show that the office spaces segment will continue to grow rapidly in 2019, and 15 new projects covering 304.000 sqm will be delivered. According to the real estate consultancy agency, curr
Read Full article »
People Empowering Business Forum 2019 to take place on October, 30 at Bucharest

Latest trends like demographic upheaval, globalization, digital technology, and changing social values and worker expectations, are disrupting business models and radically changing the workplace. These are req
Read Full article »
Addressing the mantra of cyber-security: Confidentiality, integrity and availability

The fast advancement of technology in all the aspects of everyday life, either personal or professional, and the emerging of AI (Artificial Intelligence) and ML (Machine Learning), not to mention cloud technolo
Read Full article »