Arvato UK research reveals post-election boost in council outsourcing

Local government has spent more than treble the amount on outsourcing since the General Election, according to new research.

The latest Arvato UK Quarterly Outsourcing Index has revealed that the total value of local government outsourcing contracts increased by 67% in the third quarter of 2015, when compared to Q2, according to localgov.co.uk.

The average length of deals has also doubled from 54 months to 102 months.

Debra Maxwell, CEO, CRM & Public Sector, Arvato UK & Ireland, said: "Now that the pre-election uncertainty among local authorities has passed, it's no surprise to see a surge in outsourcing activity as councils look to leverage new efficiency savings."

"With greater cuts expected in this month's Spending Review, we expect an increasing number of councils to turn to outsourcing partners for the technology and expertise to help meet their challenges in the months ahead. Much of the low hanging fruit has already been picked, and councils are going to have to really transform how they operate and deliver services to meet new savings targets."

The Index showed that councils had mainly signed "multi-scope IT outsourcing deals" focusing on infrastructure.


---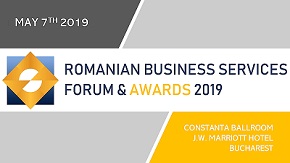 » The most appreciated companies from th...
» Webhelp Romania aiming for EUR 10 mill...
» Tremend joins Mellanox in powering the...
» The Outsourcing industry announces its...
» Manpower: Romania's labor market, more...
» Deloitte's Tech Trends 2019 report: B...
» Bucharest, in the top of cities in Eur...
» Oracle reaches 4,200 employees and pla...
» Genpact's COO: Staying ahead of the cu...
» Ascentis: The top ten HR trends for 20...

Nomination are now open for Romanian Business Services Forum and Awards

Nominations have opened for the prestigious Romanian Business Services Forum & Awards. The 2019 awards will continue to recognize and reinforce the important contribution made by business services professionals
Read Full article »
Study: 89 per cent of finance teams yet to embrace Artificial Intelligence

Report by Association of International Certified Professional Accountants and Oracle shows that almost 90 per cent of finance teams do not have the skills to support digital transformation.
Read Full article »
Bucharest, in the top of cities in Europe with the largest number of experts in high-tech industry

Bucharest is among the top cities boasting the most experts in the high-tech innovative industry, with over 70,000 current employees, next to London, Dublin, Madrid or Budapest, reads a study conducted by CBRE
Read Full article »
CBRE study: Post-millennials, the happiest about their offices
During 2018, real estate consultancy company CBRE conducted the first study dedicated to work environment in office buildings in Bucharest. The respondents have been structured in four age segments, such as Z g
Read Full article »
Deloitte's Tech Trends 2019 report: Beyond the digital frontier

The recently released Deloitte's Tech Trends 2019: Beyond the digital frontier, as each Tech Trends report in the series conducted by the consultancy company, lobbies for embracing the increasing, often mind-b
Read Full article »