Isarescu: Economy will grow above potential, uncertainties remain

Romanian economy will grow above potential, especially due to a rise in internal demand, but local and international uncertainties still dominate the market, says Romanian central bank governor, Mugur Isarescu.

"Our next year projection sees a surplus of demand, according to the current data. In addition to that, the economic sentiment index shows a positive evolution" of the economy, Isarescu says.
As Romania sees a growth in consumption, fueled by the domestic demand, also the local investment sees a positive rebound. "We see a growth in the gross formation of fixed capital…the demand for machine-tools and vehicles is booming," he explains.

Investment lending is up, and "ever more active seems the real estate lending".

Central Bank officials also told Outsourcing Today that even if real estate refinancing from exotic currencies and euro into lei dominated the previous period, it is reduced now to a mere 15-20% for the Swiss Francs, and it will be soon marginal. This outlook seems positive for the market as a whole, since the lending shifts up a gear.

However, prudence is key, says Isarescu, as the productivity pace level is still under the salary acceleration rate.

"We should be prudent as regards of salary increases," says Isarescu.

But even if the demand accident is above the previous values, uncertainties remain.

"Uncertainties are dominating. We hope they will be reduced by next spring. Our synthetic target is stabilizing," Isarescu says, concluding that the leu/euro exchange rate will be kept stable, the inflation- under control, and the interest rates (the key rate now 1.75%) still offer a grip for further monetary intervention into the market.


---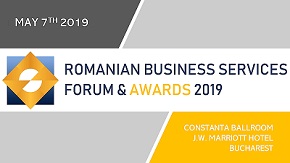 » Huawei opens a centre on cyber securit...
» ROMANIAN OUTSOURCING AWARDS FOR EXCELL...
» Romania ranks above EU average in gend...
» Bucharest, in the top of cities in Eur...
» Berg Software Romania: Reasons to outs...
» Meet the experts who will decide the w...
» Bogdan Pelinescu, president of ABSL: A...
» KPMG launches an application enabling ...
» ABSL GALA AWARDS celebrated its winner...
» Oracle reaches 4,200 employees and pla...

Colin C. Lovering: Meet the speakers at Romanian Business Services Forum & Awards 2019, on May 7

Colin C. Lovering has been living and working in Romania since 2009 when he arrived to offer consultancy and advice to organisations looking for growth and profitability and founded Achieve International.
Read Full article »
Antoniu Panait: Meet the speakers at Romanian Business Services Forum & Awards 2019, on May 7

Managing Director for VASTINT Romania since 2009, Antoniu Panait has an executive experience of more than 10 years, mainly in real estate.
Read Full article »
Andrei Voica: Meet the speakers at Romanian Business Services Forum & Awards 2019, on May 7

Andrei Voica, Director Project Management and Workplace Consultancy, Colliers International. Truly passionate about his work and always eager to add value to each project.
Read Full article »
Romulus Caralicea: Meet the speakers at Romanian Business Services Forum & Awards 2019, on May 7

Romulus is Wipro's Information Security, Risk & Compliance Lead for Europe. In his role he is managing internal audits and compliance activities for all clients and internal functions based on the corporate ISO
Read Full article »
George Didoiu: Meet the moderator of Romanian Business Services Forum 2019 CEO LEADERS DEBATE, on May 7

In his 15 years of real estate, George Didoiu advised on the relocation of top IT&C, finance-banking and consultancy companies, which total over 10,000 employees.
Read Full article »