Isarescu: Economy will grow above potential, uncertainties remain

Romanian economy will grow above potential, especially due to a rise in internal demand, but local and international uncertainties still dominate the market, says Romanian central bank governor, Mugur Isarescu.

"Our next year projection sees a surplus of demand, according to the current data. In addition to that, the economic sentiment index shows a positive evolution" of the economy, Isarescu says.
As Romania sees a growth in consumption, fueled by the domestic demand, also the local investment sees a positive rebound. "We see a growth in the gross formation of fixed capital…the demand for machine-tools and vehicles is booming," he explains.

Investment lending is up, and "ever more active seems the real estate lending".

Central Bank officials also told Outsourcing Today that even if real estate refinancing from exotic currencies and euro into lei dominated the previous period, it is reduced now to a mere 15-20% for the Swiss Francs, and it will be soon marginal. This outlook seems positive for the market as a whole, since the lending shifts up a gear.

However, prudence is key, says Isarescu, as the productivity pace level is still under the salary acceleration rate.

"We should be prudent as regards of salary increases," says Isarescu.

But even if the demand accident is above the previous values, uncertainties remain.

"Uncertainties are dominating. We hope they will be reduced by next spring. Our synthetic target is stabilizing," Isarescu says, concluding that the leu/euro exchange rate will be kept stable, the inflation- under control, and the interest rates (the key rate now 1.75%) still offer a grip for further monetary intervention into the market.


---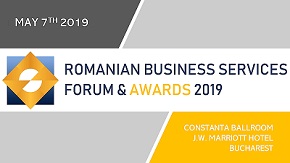 » Raiffeisen Bank Romania outsources onl...
» Horváth & Partners launches Steering ...
» JLL: Total office space in Bucharest t...
» Colliers International takes over the ...
» Oracle results pushed down by a strong...
» Survey: Romanians switch to a lower-pa...
» SSC in Romania. Who takes the lion's s...
» Genpact, Luxoft and Oracle, top lessee...
» Romanian employers report the stronges...
» Eucom: Nine out of ten corporate Roman...

My HR Lab: Research of suitable candidates and giving feedback to rejected ones, the biggest challenge in HR

During June 2019, My HR Lab company run an online (social media platforms) survey "Challenges of the recruitment process" which enrolled over 100 professionals working in HR and recruitment in Romania.
Read Full article »
The local market needs more added-value and complex projects to be developed by the companies

The statement has been uttered within this year's Romanian Outsourcing and Shared Services Summit by Catalina Dodu, Country Manager at Atos, pointing to the local enablers that could enhance the innovation and
Read Full article »
The office market at a glance: The round for tenants is on

Data provided by CBRE show that the office spaces segment will continue to grow rapidly in 2019, and 15 new projects covering 304.000 sqm will be delivered. According to the real estate consultancy agency, curr
Read Full article »
People Empowering Business Forum 2019 to take place on October, 30 at Bucharest

Latest trends like demographic upheaval, globalization, digital technology, and changing social values and worker expectations, are disrupting business models and radically changing the workplace. These are req
Read Full article »
Addressing the mantra of cyber-security: Confidentiality, integrity and availability

The fast advancement of technology in all the aspects of everyday life, either personal or professional, and the emerging of AI (Artificial Intelligence) and ML (Machine Learning), not to mention cloud technolo
Read Full article »