New technologies will accelerate digital transformation - Microsoft Summit 2015 Bucharest

Innovative technologies will accelerate the digital transformation in the coming years, say industry leaders at Microsoft Summit 2015.

"Technology is a real force that helps people and organizations in Romania to achieve more," said Kostas Loukas, general manager of Microsoft Romania.

"If in the past, information was difficult to access, now thereare multiple sources of information. In the past, we could discuss about static hierarchies, in which employees were having most often a competitional culture, while now we are dealing with dynamic networks in which employees are motivated to work increasingly more to bring value,"says Violeta Luca, Marketing & Operations Manager, Microsoft Romania.

And the industry went from streamlining processes to streamlining results.

"Digital technologies have a major impact and have developed continuously over time. If we refer to the number of years in which technology is used by 100 million people, we have the following statistics: cell phone came to be adopted in 16 years by 100 million people since 1979, Facebook in about 4 years, since 2004, What'sApp reached this milestone of users in about 3 years and Candy Crush Saga, in just one year," Luca adds on.

"Mobile Internet, Internet of Things (IoT), advanced robotics and genomics, automation and autonomous vehicles are six innovative technologies that will accelerate the digital transformation," said Aurelia Costache, Financial Services Industry Advisory Leader, EY Romania.

"These six technology will not only change the habits of purchasing and consumption behavior of people, but will fundamentally transform how we access and consume information, while companies will increase the speed of business and create new forms of user interaction ", added Aurelia Costache.

In a business environment that is a true revolution of transformation, the role of leader will become a more complex one, that will require professional skills, such as vision and ability to analyze micro and macro, innovative spirit, openness to technology, the ability to change the pace of the organization depending on the context, responsiveness and ability to connect people and organizations, she adds.

"Leaders also will have to develop and personal skills such as clarity of vision in a way that sense of right prevail calm in any situation, ability to integrate personal life and professional life, the tone in a marathon sprints," explainsVioleta Luca.

"The technology enables the creation of new solutions that were unimaginable in the past. The companies benefited through use of new technologies, competitive advantages that ensure long-term sustainable growth. Therefore, organizations need to experiment, innovate and exploit the capability to continually reinvent themselves, "said Jasper Vis, Managing Partner, Headcandy.

According to Sergiu Neguţ, Associate Dean of Entrepreneurial Growth, Maastricht School of Management Romania, "businesses that soared amaze us and make us wonder how it was possible such an increase, and especially what we can do to get the same result? Most often, however, we are too caught up in everyday life to succeed in realizing to see, with detachment, what we lack and what we could do better. Technology has long passed when we refer to it only as an accumulation of means and approaches. Today, it is a wave that brings change. The world is transformed by technology, and companies that succeed in mastering this wave will be successful."

Microsoft Romania is the second operations center in Eastern Europe, the company currently has over 700 employees locally and expected to increase to 1,000 professionals in the next three years. Globally, the company offers productivity solutions to more than 600,000 companies and public institutions and has a community of over 1,000 Romanian employees. In 2007, Bill Gates ushered in Romania Global Business Support Center, a division which now has over 500 professionals in Bucharest and Timisoara.

With a network of over 3,000 local partners, Microsoft is involved in the work of entrepreneurs in Romania, investing more than USD 600,000 for the development of over 450 start-ups so far. In Romania, employees of small and medium companies use at a rate of 52% mobile solutions to operate, and in the opinion of 55% of respondents to a survey the digitization through mobile solutions of work processes within organizations has an important contribution to time efficiency and to maximizing productivity.


---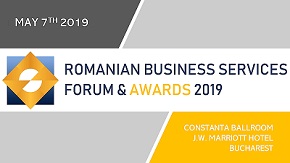 » Evolving from consumers of resources t...
» Preparing for the new future
» ROMANIAN OUTSOURCING AWARDS FOR EXCELL...
» Pepper Escu, the first humanoid robot ...
» Volvo Cars and Uber present production...
» Berg Software Romania: Reasons to outs...
» Marian V. Popa: Meet the speakers at R...
» Deloitte 2019 Global Human Capital Tre...
» George Didoiu: Meet the moderator of R...
» Andrei Voica: Meet the speakers at Rom...

Digital Transformation Conference to take place on June 19 at Bucharest

The Diplomat – Bucharest organizes Digital Transformation Conference to be held on 14 of June in Bucharest, at Hilton Hotel - Regina Maria Hall, starting 8:30 AM.
Read Full article »
L&D Conference by The Diplomat Bucharest took place on June 4th at Bucharest

The Diplomat-Bucharest organizes the Third Edition of its Learning & Development CONFERENCE on 4 June, 2019 at InterContinental Hotel Bucharest starting 09:00 am.
Read Full article »
Meet the winners of ROMANIAN BUSINESS SERVICES AWARDS, 2019 edition

ROMANIAN BUSINESS SERVICES FORUM & AWARDS 2019, in its fifth year, brrought on May 7, in Bucharest, a new concept event with engaging keynote sessions by industry leaders, interactive panel discussions, network
Read Full article »
Few hours away from to the long awaited CEO Leaders Debate, a premiere of Romanian Business Services Forum and Awards
We are a few hours away to the long awaited CEO Leaders Debate, a premiere of Romanian Business Services Forum and Awards on May 7.
Read Full article »
Colin C. Lovering: Meet the speakers at Romanian Business Services Forum & Awards 2019, on May 7

Colin C. Lovering has been living and working in Romania since 2009 when he arrived to offer consultancy and advice to organisations looking for growth and profitability and founded Achieve International.
Read Full article »