A visit to Chernivtsi, only 200 km away from Iasi, is a must

A visit to Chernivtsi (Cernauti, Ukraine, a former Romanian region) should be mandatory in the agenda of every HR manager, delivery manager, site manager in the ITC companies in Iasi and not only, writes Dan Zaharia for Outsourcing Today's Opinion section.

Before the development of the Economic Mission Afaceri.ro Cernauti 2015, I knew little of the talent pool in the region of Chernivtsi, that has a total population of about 2 million people and about the office market in Kiev.

The annual pipeline of talent is of around 400-500 graduates, that are relevant for the ITC industry:
• University of Bucovina – Faculty of Computer and Technology Systems
• The Public University of Economy and Finance Bucovina – Accounting Economy Departament, specialty – Computer Science
• Polytechnic College Cernauti – Development Department – specialized software development
• The Institute of Commerce and Economy Cernauti – KNTEU – Faculty of Business and Information Technology – Faculty of Economic Cybernetics and Software Engineering
• The Industrial College Cernauti – Software Development, programmer
• National Technical University "Kharkiv Institutul Politehnic" Cernauti – Faculty of Engineering, Computers.
• Faculty of Mathematics and Computer Science

I discovered an effervescent city with polite people, with a historical center mostly rebuilt (dubbed "The Small Vienna"), which has been attested for over 600 years in the same document as the city of Iasi, boasting a building of the National University, that can stand its ground architecturally next to the big universities of Western Europe.

A relevant example for the regional IT industry is Horizont Business Hub, a concept of office-sharing in the center of the city, which hosts on a surface of 400 square meters around 80 start-ups and self-employed entrepreneurs, as well as many specialized conferences.

A market research offered generously by Mr. George Zvirid reveals a timestamp of the ITC community in the region, a community that is formed of 43 companies and 700 members that is only at the beginning, exactly like the ITC community in Iasi was 7-10 years ago.

I see many opportunities for the ITC industry in Romania correlated with this community situated only 200km away from Iasi:
• common conferences of the ITC industry in Iasi and Cernauti
• a better presence of the universities in Iasi that have foreign languages specializations (English, German)
• job fairs at Chernivtsi, because presently over 50% of the graduates are oriented towards other big cities in Ukraine (Lvov, Kiev) or Poland (Cracow)
• raising of the awareness of the city Iasi in the ITC students and employees community

So, following this economic mission, a few what-if questions remain:
1. What if we can attract annually 100-200 new IT employees from the Chernivtsi region towards Iasi?
2. What if we can attract 40-50 students from there towards the specialty faculties in Iasi?
3. What if we can easily externalize the operations towards the ITC companies in Chernivtsi?

Of course, it will not be easy: what is needed is a rethinking of the attraction sphere of the city Iasi, adapting the legislation in the work field, to obtain faster residency and labor rights in ITC, ambassadors of the industry and the academic environment in Iasi.

Probably those who know me well will see and promptly support my future initiatives to obtain concrete answers to these questions.

Dan Zaharia is senior leasing consultant at Extind.


---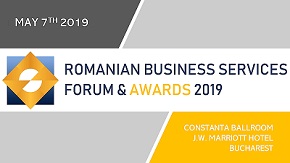 » Huawei opens a centre on cyber securit...
» Romania ranks above EU average in gend...
» ROMANIAN OUTSOURCING AWARDS FOR EXCELL...
» Bucharest, in the top of cities in Eur...
» Meet the experts who will decide the w...
» Bogdan Pelinescu, president of ABSL: A...
» Berg Software Romania: Reasons to outs...
» KPMG launches an application enabling ...
» ABSL GALA AWARDS celebrated its winner...
» George Rotariu, CEO Bitcoin Romania: B...

Meet the speakers at Romanian Business Services Forum 2019 CEO LEADERS DEBATE, on May 7th - Matthieu Pasquier

Matthieu Pasquier is CEO of Societe Generale European Business Services since August 2018 bringing more than 27 years experience in Societe Generale group. During 2014-2018, Matthieu was Head of SG GSC Chennai
Read Full article »
Sorin Mindrutescu among the speakers at Romanian Business Services Forum 2019 CEO LEADERS DEBATE, on May 7th

Sorin Mindrutescu is the Country Leader for Oracle Romania, as of February 2003. In this role, he is responsible for local sales and project delivery. In Romania, Oracle has two major business directions: the l
Read Full article »
Meet the speakers at Romanian Business Services Forum 2019 CEO LEADERS DEBATE, on May 7th - Vivek Bakshi

Vivek Bakshi is the General Manager of Wipro Technologies. He has spent 12 years heading the International Locations / Delivery Centers Europe from the Bucharest office.
Read Full article »
Meet the finalists of the fifth edition of Romanian Business Services Awards 2019

ROMANIAN BUSINESS SERVICES FORUM & AWARDS 2019, in its fifth year, brings on May 7, in Bucharest, a new concept event with engaging keynote sessions by industry leaders, interactive panel discussions, networkin
Read Full article »
Meet the experts who will decide the winners of 2019 at Romanian Business Services Forum & Awards

Each year, Outsourcing Today brings a landmark edition of the Romanian Outsourcing and Shared Services Summit and this year, we are hosting the Fifth of the annual Romanian Outsourcing and Shared Services Award
Read Full article »