Candy Crush creator, with Bucharest office, bought for 5.9 bln. USD

Activision Blizzard is purchasing King Digital, maker of the popular mobile game Candy Crush, for a total equity value of USD 5.9 billion. King also has an office in Bucharest.

Activision Blizzard will pay USD18 per share, nearly a 20% premium over King's recent price, according to Reuters and Business Insider. The deal is all cash.

ABS Partners CV, a unit of Activision Blizzard, will acquire King shares for USD18 each in cash, representing a premium of 16 percent to King's closing price on Monday.

The addition of King's mobile games will position Activision as a global leader in interactive entertainment across mobile, console and PC platforms, Activision said in a statement.
Video game publishers are shifting to the lucrative digital business from physical sales of games as consumers shift from consoles to playing on smartphones and tablets.

The fast-growing mobile gaming segment is expected to generate more than USD36 billion in revenue by the end of 2015, according to Activision.

Activision Blizzard Chief Executive Bobby Kotick told Reuters that buying King will help broaden the reach of its games and expand into new demographics, adding that 60 percent of King's players are female and that no gaming consoles or hardware, besides a phone, is needed to play King's games.
"You have such broad reach. This is a fantastic opportunity for us to create compelling content for new demographics," Kotick said.

Activision, which owns popular game franchises such as "World of Warcraft," "Call of Duty," and "Diablo," said the deal gives the combined company more than 500 million monthly active users across the world and would add to Activision's estimated 2016 adjusted revenue and earnings by about 30 percent.
Dublin, Ireland-based King will continue to operate as an independent operating unit led by Chief Executive Riccardo Zacconi.

Zacconi told Reuters that Activision appealed to him because of the company's expertise in building long-lasting franchises.
King, which went public last March, has been struggling to boost bookings - an indicator of future revenue.
The deal, expected to be completed by spring 2016, is subject to approval by King's shareholders and the Irish High Court, and clearances by antitrust authorities.
Activision said it will use USD3.6 billion of offshore cash and borrow the rest from Bank of America Merrill Lynch and Goldman Sachs Bank as incremental lenders.

Activision also reported third-quarter earnings of 17 cents per share, compared with a loss of 3 cents a year earlier. Excluding items, it earned 21 cents per share. Revenue rose 31 percent to USD990 million. Analysts had expected earnings of 15 cents a share, on revenue of USD950.4 million.

While the acquisition still has to be approved by King's shareholders and cleared by relevant antitrust authorities, the sale was unanimously approved by the boards of both Activision and King. The sale is expected to be completed by next spring.

With the acquisition, Activision Blizzard will add two of the five highest-grossing US mobile games to its already formidable war chest of intellectual properties, including "Call of Duty," "World of WarCraft," "StarCraft," "Hearthstone," and "Guitar Hero."

Here's the statement from Bobby Kotick, CEO of Activision Blizzard:
"The combined revenues and profits solidify our position as the largest, most profitable standalone company in interactive entertainment. With a combined global network of more than half a billion monthly active users, our potential to reach audiences around the world on the device of their choosing enables us to deliver great games to even bigger audiences than ever before."

The purchase is a major signal by Activision that it plans to move more aggressively into mobile gaming. As of the company's second-quarter earnings, 54% of its net revenue came from console games, 21% from online, and 14% from PC gaming, with just 5% coming from mobile and other sources.

That should change. King Digital reported USD490 million in second-quarter revenue in August, according to The Wall Street Journal. All of that is from web and mobile games.

Though Candy Crush has been a rousing commercial and popular success since its launch in 2012, King has struggled to release another title that even comes close to the puzzle game's popularity.
The app accounts for a third of King's revenues. Revenue from Candy Crush is declining, however, reflecting the game's waning popularity. King posted a 28% drop in net profit in the second quarter, owing to an 18% fall in revenue.


---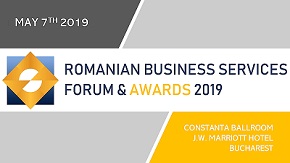 » Huawei opens a centre on cyber securit...
» ROMANIAN OUTSOURCING AWARDS FOR EXCELL...
» Romania ranks above EU average in gend...
» Bucharest, in the top of cities in Eur...
» Berg Software Romania: Reasons to outs...
» Meet the experts who will decide the w...
» Bogdan Pelinescu, president of ABSL: A...
» KPMG launches an application enabling ...
» ABSL GALA AWARDS celebrated its winner...
» Oracle reaches 4,200 employees and pla...

Colin C. Lovering: Meet the speakers at Romanian Business Services Forum & Awards 2019, on May 7

Colin C. Lovering has been living and working in Romania since 2009 when he arrived to offer consultancy and advice to organisations looking for growth and profitability and founded Achieve International.
Read Full article »
Antoniu Panait: Meet the speakers at Romanian Business Services Forum & Awards 2019, on May 7

Managing Director for VASTINT Romania since 2009, Antoniu Panait has an executive experience of more than 10 years, mainly in real estate.
Read Full article »
Andrei Voica: Meet the speakers at Romanian Business Services Forum & Awards 2019, on May 7

Andrei Voica, Director Project Management and Workplace Consultancy, Colliers International. Truly passionate about his work and always eager to add value to each project.
Read Full article »
Romulus Caralicea: Meet the speakers at Romanian Business Services Forum & Awards 2019, on May 7

Romulus is Wipro's Information Security, Risk & Compliance Lead for Europe. In his role he is managing internal audits and compliance activities for all clients and internal functions based on the corporate ISO
Read Full article »
George Didoiu: Meet the moderator of Romanian Business Services Forum 2019 CEO LEADERS DEBATE, on May 7

In his 15 years of real estate, George Didoiu advised on the relocation of top IT&C, finance-banking and consultancy companies, which total over 10,000 employees.
Read Full article »