ABSL leaders: Romania can attract major investors, should focus on talent development

As Jacek Levernes, president of the board of the Association of Business Services Leaders (ABSL) and leader of the organization in Poland and other business services industry leaders promoted Romania in their recent business tour to New York, major investors with assets worth billions of dollars talked about their Central and Eastern Europe positive experiences.

"The New York discussions was pretty much concentrated on large corporations convincing other corporations how great it is to invest and run operations in Central and Eastern Europe. The focus was pretty much on the finance vertical, we had a lot of banks and financial institutions there, discussing about investments that are happening, that are already there. Discussion were held by senior leaders from Goldman Sachs, MoneyGram and other leaders," Levernes tells Outsourcing Today.

"With that, we are hoping and what we expect is that many new investors will come to Romania and other CEE countries and invest here, because of the positive news offered by the industry leaders."

And as our country's not so positive image is getting whitened by investors, the local industry will concentrate on value, as opposed to cost. With Romanian salaries growing, the attrition rate is rather large, and we are losing our cost competitive edge if this trend continues during the following years. However, new education programs emerged, so new talent will complete the demand in the market.
"What people understood is that we should not compete on cost with India, we should be looking relevant with our nearsourcing specialty, on how to do value stuff that cannot be done in India – so we compete on value, not on cost," says Levernes.

But while Romania has to catch up with other countries in terms of market share, it is hard to say if our growth pace is more accelerated as compared to other more developed regions in the emerging CEE market.

"It is hard, yet, to say, but during this summer we welcomed new investors setting up shop in Romania, I would say that this year Romania has the fastest growth pace, although we cannot compare yet with the Poland's market depth," says Florin Grama, president of ABSL in Romania.
Is, yet, the Polish market saturating?

"I would not be surprised that Romania's percentage growth is bigger," Levernes adds.
Meanwhile, Poland is more developed on the more complex services side, especially on financial industry related services.

"Activities and setting up businesses started in Poland a few years before Romania, so it is widely spread in the country, not only in Warsaw. There are also regional centers contributing to this growth quite significantly - something that we should do in Romania," says Grama.

Romania needs to focus its attention on talent growing, if we want to keep this accelerated growth pace, also says Catalin Iorgulescu, VP, PR & Government Relationships with ABSL Romania.

"We talk a lot about growth, but it is very important to see what fuels that growth. Of course, it's the technology, the availability of space and others, but finally, the most important is the human capital, a finite resource. You can buy computers overnight, everything is in unlimited supply but the human capital. So I think that where the focus should be and that is where the engine of growth and the differentiator for the future years lie," Iorgulescu says.

"So, in order to be ahead of the game, we need to work closely with the educational system in Romania so that we have enough human capital to fuel this growth, to keep it going. Our local industry has had a very good start, we have passed our infancy phase, we try and add value to services and processes served out of Romania, not as much as in Poland, which has five years ahead of us, but again, the trap is not to look at final resources," Iorgulescu adds on.

What will happen when the arbitrage is no longer an issue? Is there a lobby group formation needed to voice a stronger opinion towards the authorities?

"If the value is increasing, I don't think that on short-mid-term we will have an issue here. As long as productivity increases, the value increases," Grama says.
"We would welcome any government support in developing the industry, I would restrict to showing the needs of the industry, not necessarily forming a lobby group," also says Iorgulescu.

"Lobby is a strong word- In Poland we found ways on how to cooperate with the government on national and local level," also adds Levernes.

But looking from a critic's perspective, it seems private investors, including ABSL, is promoting more and far better Romania internationally as the government does.
"We are just helping. We saw the president talking the other day about business and IT. It's all about working together with the government to create jobs in the market," Florin Grama concludes.
B.T.


---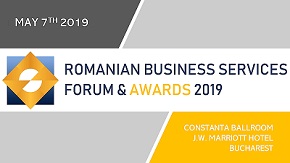 » Raiffeisen Bank Romania outsources onl...
» Horváth & Partners launches Steering ...
» JLL: Total office space in Bucharest t...
» Colliers International takes over the ...
» Oracle results pushed down by a strong...
» Survey: Romanians switch to a lower-pa...
» SSC in Romania. Who takes the lion's s...
» Genpact, Luxoft and Oracle, top lessee...
» Romanian employers report the stronges...
» Eucom: Nine out of ten corporate Roman...

My HR Lab: Research of suitable candidates and giving feedback to rejected ones, the biggest challenge in HR

During June 2019, My HR Lab company run an online (social media platforms) survey "Challenges of the recruitment process" which enrolled over 100 professionals working in HR and recruitment in Romania.
Read Full article »
The local market needs more added-value and complex projects to be developed by the companies

The statement has been uttered within this year's Romanian Outsourcing and Shared Services Summit by Catalina Dodu, Country Manager at Atos, pointing to the local enablers that could enhance the innovation and
Read Full article »
The office market at a glance: The round for tenants is on

Data provided by CBRE show that the office spaces segment will continue to grow rapidly in 2019, and 15 new projects covering 304.000 sqm will be delivered. According to the real estate consultancy agency, curr
Read Full article »
People Empowering Business Forum 2019 to take place on October, 30 at Bucharest

Latest trends like demographic upheaval, globalization, digital technology, and changing social values and worker expectations, are disrupting business models and radically changing the workplace. These are req
Read Full article »
Addressing the mantra of cyber-security: Confidentiality, integrity and availability

The fast advancement of technology in all the aspects of everyday life, either personal or professional, and the emerging of AI (Artificial Intelligence) and ML (Machine Learning), not to mention cloud technolo
Read Full article »