Zeitlberger, Hackett: Fear not, HR and finance costs are going down!

General and Administrative expenses (G&A) of global organizations are dropping, says Werner Zeitlberger, senior manager, The Hackett Group.

"We see that in 2003 companies were spending more than 5% on their G&A functions, while in 2013 it dropped under 4%", Zeitlberger says.

G&A functions, including financial, HR, IT and procurement administrative costs, saw a decrease from 5.20% of revenue in 2003, to 4.42% in 2006, 4.25% in 2009, to grow to 4.48% to 2011 mainly due to financial costs, and then following a descending curve from 2013 to 3.95% of the revenue and in 2014 to 3.77%.

The G&A cost is estimated to further drop to 3.67% of revenue this year and 3.57% during 2016, according to The Hackett group study received by Outsourcing Today.

"We observe that the companies will further decrease their G&A functions. We see the HR cost stayed the same during the years, to roughly 0.6% of revenue in 2003 to 2014, in spite of personnel reductions. We expect HR costs to further drop during the next years," he says.

Also, in 2015, global large companies (defined by Hackett Group as World –Class companies) decreased their finance functions by 40% as percentage of their revenue, as opposed to 2005 levels.
"In finance, in 2015, world class companies are spending 40% less for their finance functions, against their revenue base, and that's impressive".

Also IT costs dropped.
"In 2003-2005 World class companies invested into standardization and harmonization of their systems and now they dropped costs quite significantly, by 22%".

The survey results, expressed in real value USD as percent of revenue or spending, include cost per employee or per user equivalent in two axes, the peer group and the World –Class lines.
The Hackett Group sees a decline in SG&A costs due to investments.

Most companies surveyed within the Global Business Services (GBS) sector consider in a larger ratio (22%) as a top priority initiative reducing SG&A costs, second only to another top priority of optimizing sales and marketing in commercial organizations (27% of respondents considered this a top priority).Third place in top priorities list is optimizing cost structure (17%), while fourth is improving enterprise talent (15%).

---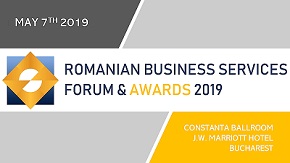 » Huawei opens a centre on cyber securit...
» ROMANIAN OUTSOURCING AWARDS FOR EXCELL...
» Romania ranks above EU average in gend...
» Bucharest, in the top of cities in Eur...
» Berg Software Romania: Reasons to outs...
» Meet the experts who will decide the w...
» Bogdan Pelinescu, president of ABSL: A...
» KPMG launches an application enabling ...
» ABSL GALA AWARDS celebrated its winner...
» Oracle reaches 4,200 employees and pla...

Colin C. Lovering: Meet the speakers at Romanian Business Services Forum & Awards 2019, on May 7

Colin C. Lovering has been living and working in Romania since 2009 when he arrived to offer consultancy and advice to organisations looking for growth and profitability and founded Achieve International.
Read Full article »
Antoniu Panait: Meet the speakers at Romanian Business Services Forum & Awards 2019, on May 7

Managing Director for VASTINT Romania since 2009, Antoniu Panait has an executive experience of more than 10 years, mainly in real estate.
Read Full article »
Andrei Voica: Meet the speakers at Romanian Business Services Forum & Awards 2019, on May 7

Andrei Voica, Director Project Management and Workplace Consultancy, Colliers International. Truly passionate about his work and always eager to add value to each project.
Read Full article »
Romulus Caralicea: Meet the speakers at Romanian Business Services Forum & Awards 2019, on May 7

Romulus is Wipro's Information Security, Risk & Compliance Lead for Europe. In his role he is managing internal audits and compliance activities for all clients and internal functions based on the corporate ISO
Read Full article »
George Didoiu: Meet the moderator of Romanian Business Services Forum 2019 CEO LEADERS DEBATE, on May 7

In his 15 years of real estate, George Didoiu advised on the relocation of top IT&C, finance-banking and consultancy companies, which total over 10,000 employees.
Read Full article »