Zeitlberger, Hackett: Fear not, HR and finance costs are going down!

General and Administrative expenses (G&A) of global organizations are dropping, says Werner Zeitlberger, senior manager, The Hackett Group.

"We see that in 2003 companies were spending more than 5% on their G&A functions, while in 2013 it dropped under 4%", Zeitlberger says.

G&A functions, including financial, HR, IT and procurement administrative costs, saw a decrease from 5.20% of revenue in 2003, to 4.42% in 2006, 4.25% in 2009, to grow to 4.48% to 2011 mainly due to financial costs, and then following a descending curve from 2013 to 3.95% of the revenue and in 2014 to 3.77%.

The G&A cost is estimated to further drop to 3.67% of revenue this year and 3.57% during 2016, according to The Hackett group study received by Outsourcing Today.

"We observe that the companies will further decrease their G&A functions. We see the HR cost stayed the same during the years, to roughly 0.6% of revenue in 2003 to 2014, in spite of personnel reductions. We expect HR costs to further drop during the next years," he says.

Also, in 2015, global large companies (defined by Hackett Group as World –Class companies) decreased their finance functions by 40% as percentage of their revenue, as opposed to 2005 levels.
"In finance, in 2015, world class companies are spending 40% less for their finance functions, against their revenue base, and that's impressive".

Also IT costs dropped.
"In 2003-2005 World class companies invested into standardization and harmonization of their systems and now they dropped costs quite significantly, by 22%".

The survey results, expressed in real value USD as percent of revenue or spending, include cost per employee or per user equivalent in two axes, the peer group and the World –Class lines.
The Hackett Group sees a decline in SG&A costs due to investments.

Most companies surveyed within the Global Business Services (GBS) sector consider in a larger ratio (22%) as a top priority initiative reducing SG&A costs, second only to another top priority of optimizing sales and marketing in commercial organizations (27% of respondents considered this a top priority).Third place in top priorities list is optimizing cost structure (17%), while fourth is improving enterprise talent (15%).

---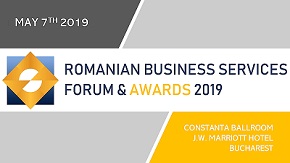 » Raiffeisen Bank Romania outsources onl...
» Horváth & Partners launches Steering ...
» JLL: Total office space in Bucharest t...
» Colliers International takes over the ...
» Oracle results pushed down by a strong...
» Survey: Romanians switch to a lower-pa...
» SSC in Romania. Who takes the lion's s...
» Genpact, Luxoft and Oracle, top lessee...
» Romanian employers report the stronges...
» Eucom: Nine out of ten corporate Roman...

My HR Lab: Research of suitable candidates and giving feedback to rejected ones, the biggest challenge in HR

During June 2019, My HR Lab company run an online (social media platforms) survey "Challenges of the recruitment process" which enrolled over 100 professionals working in HR and recruitment in Romania.
Read Full article »
The local market needs more added-value and complex projects to be developed by the companies

The statement has been uttered within this year's Romanian Outsourcing and Shared Services Summit by Catalina Dodu, Country Manager at Atos, pointing to the local enablers that could enhance the innovation and
Read Full article »
The office market at a glance: The round for tenants is on

Data provided by CBRE show that the office spaces segment will continue to grow rapidly in 2019, and 15 new projects covering 304.000 sqm will be delivered. According to the real estate consultancy agency, curr
Read Full article »
People Empowering Business Forum 2019 to take place on October, 30 at Bucharest

Latest trends like demographic upheaval, globalization, digital technology, and changing social values and worker expectations, are disrupting business models and radically changing the workplace. These are req
Read Full article »
Addressing the mantra of cyber-security: Confidentiality, integrity and availability

The fast advancement of technology in all the aspects of everyday life, either personal or professional, and the emerging of AI (Artificial Intelligence) and ML (Machine Learning), not to mention cloud technolo
Read Full article »