Gartner: Romania moved into the first tier of SSC countries in 2015

Romania is in Tier 1 of the emerging markets locations for service centers placement in 2015, says Oldrich Priklenk, CEO, KPC-Group, Gartner Representative for Czech Republic, Slovakia and Romania.

"With the beginning of 2015, Romania got into the first tier of SSC locations or destinations, together with Poland, Czech Republic and South Africa, based upon 10 different criteria," says Priklenk.

"It is a prestige position amongst 30 countries. We reviewed more than 1,500 questions from clients thinking about where to place their SSCs, all over Europe, which was a bit overheated, but is still the leader and many companies consider coming back to Europe," says he.

"Romania has the strength, is multilingual, has educated labor resources, cost efectiveness, govenrment support-for example for the tax exemption for IT employees- and quite good technical universities. Also it has geopolitical opportunities, as it can take benefit from Ukraine-Russia situation."

Also, in Romania, the salaries are still very competitive. "Romania is still at half price as opposed to Austria, in tech consulting, while in customer development stands at 60%," he added.

Among the most known generations of services, the first generation (SS1) include Services delivering "Run the business "value. Those include basic functions for Finance, IT, Customer management and SCM. The second generation of services (SSO2) includes more complex competencies "Grow the business" value ones. While a third layer SSO3 comprises "Transform the business" values.

While Romania keeps SSCs concentrated on the first and second range of complexity of services, Poland is keeping the trend to outsource mostly the third level of services. So there's room for local development.

In 2014, 80% of the high performance companies were deploying shared services (captive or outsourced).

"Enterprises which deployed shared services achieved within 18 month reductions in the error rates of 54%, within one or more business processes," says Priklenk.

"Also, there is an improvement in customer satisfaction, productivity and quality due to consistency, standardization and multitenancy offered by shared services access," says Priklenk.

But while SSCs have proven a track record for delivering value, "the journey is long and politically charged"


---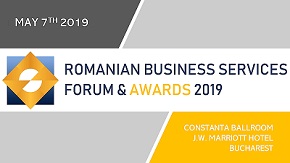 » The most appreciated companies from th...
» Webhelp Romania aiming for EUR 10 mill...
» Tremend joins Mellanox in powering the...
» The Outsourcing industry announces its...
» Manpower: Romania's labor market, more...
» Deloitte's Tech Trends 2019 report: B...
» Bucharest, in the top of cities in Eur...
» Oracle reaches 4,200 employees and pla...
» Genpact's COO: Staying ahead of the cu...
» Ascentis: The top ten HR trends for 20...

Nomination are now open for Romanian Business Services Forum and Awards

Nominations have opened for the prestigious Romanian Business Services Forum & Awards. The 2019 awards will continue to recognize and reinforce the important contribution made by business services professionals
Read Full article »
Study: 89 per cent of finance teams yet to embrace Artificial Intelligence

Report by Association of International Certified Professional Accountants and Oracle shows that almost 90 per cent of finance teams do not have the skills to support digital transformation.
Read Full article »
Bucharest, in the top of cities in Europe with the largest number of experts in high-tech industry

Bucharest is among the top cities boasting the most experts in the high-tech innovative industry, with over 70,000 current employees, next to London, Dublin, Madrid or Budapest, reads a study conducted by CBRE
Read Full article »
CBRE study: Post-millennials, the happiest about their offices
During 2018, real estate consultancy company CBRE conducted the first study dedicated to work environment in office buildings in Bucharest. The respondents have been structured in four age segments, such as Z g
Read Full article »
Deloitte's Tech Trends 2019 report: Beyond the digital frontier

The recently released Deloitte's Tech Trends 2019: Beyond the digital frontier, as each Tech Trends report in the series conducted by the consultancy company, lobbies for embracing the increasing, often mind-b
Read Full article »