Gartner: Romania moved into the first tier of SSC countries in 2015

Romania is in Tier 1 of the emerging markets locations for service centers placement in 2015, says Oldrich Priklenk, CEO, KPC-Group, Gartner Representative for Czech Republic, Slovakia and Romania.

"With the beginning of 2015, Romania got into the first tier of SSC locations or destinations, together with Poland, Czech Republic and South Africa, based upon 10 different criteria," says Priklenk.

"It is a prestige position amongst 30 countries. We reviewed more than 1,500 questions from clients thinking about where to place their SSCs, all over Europe, which was a bit overheated, but is still the leader and many companies consider coming back to Europe," says he.

"Romania has the strength, is multilingual, has educated labor resources, cost efectiveness, govenrment support-for example for the tax exemption for IT employees- and quite good technical universities. Also it has geopolitical opportunities, as it can take benefit from Ukraine-Russia situation."

Also, in Romania, the salaries are still very competitive. "Romania is still at half price as opposed to Austria, in tech consulting, while in customer development stands at 60%," he added.

Among the most known generations of services, the first generation (SS1) include Services delivering "Run the business "value. Those include basic functions for Finance, IT, Customer management and SCM. The second generation of services (SSO2) includes more complex competencies "Grow the business" value ones. While a third layer SSO3 comprises "Transform the business" values.

While Romania keeps SSCs concentrated on the first and second range of complexity of services, Poland is keeping the trend to outsource mostly the third level of services. So there's room for local development.

In 2014, 80% of the high performance companies were deploying shared services (captive or outsourced).

"Enterprises which deployed shared services achieved within 18 month reductions in the error rates of 54%, within one or more business processes," says Priklenk.

"Also, there is an improvement in customer satisfaction, productivity and quality due to consistency, standardization and multitenancy offered by shared services access," says Priklenk.

But while SSCs have proven a track record for delivering value, "the journey is long and politically charged"


---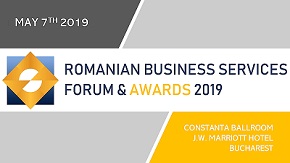 » Huawei opens a centre on cyber securit...
» Romania ranks above EU average in gend...
» ROMANIAN OUTSOURCING AWARDS FOR EXCELL...
» Bucharest, in the top of cities in Eur...
» Meet the experts who will decide the w...
» Bogdan Pelinescu, president of ABSL: A...
» Berg Software Romania: Reasons to outs...
» KPMG launches an application enabling ...
» ABSL GALA AWARDS celebrated its winner...
» George Rotariu, CEO Bitcoin Romania: B...

Meet the speakers at Romanian Business Services Forum 2019 CEO LEADERS DEBATE, on May 7th - Matthieu Pasquier

Matthieu Pasquier is CEO of Societe Generale European Business Services since August 2018 bringing more than 27 years experience in Societe Generale group. During 2014-2018, Matthieu was Head of SG GSC Chennai
Read Full article »
Sorin Mindrutescu among the speakers at Romanian Business Services Forum 2019 CEO LEADERS DEBATE, on May 7th

Sorin Mindrutescu is the Country Leader for Oracle Romania, as of February 2003. In this role, he is responsible for local sales and project delivery. In Romania, Oracle has two major business directions: the l
Read Full article »
Meet the speakers at Romanian Business Services Forum 2019 CEO LEADERS DEBATE, on May 7th - Vivek Bakshi

Vivek Bakshi is the General Manager of Wipro Technologies. He has spent 12 years heading the International Locations / Delivery Centers Europe from the Bucharest office.
Read Full article »
Meet the finalists of the fifth edition of Romanian Business Services Awards 2019

ROMANIAN BUSINESS SERVICES FORUM & AWARDS 2019, in its fifth year, brings on May 7, in Bucharest, a new concept event with engaging keynote sessions by industry leaders, interactive panel discussions, networkin
Read Full article »
Meet the experts who will decide the winners of 2019 at Romanian Business Services Forum & Awards

Each year, Outsourcing Today brings a landmark edition of the Romanian Outsourcing and Shared Services Summit and this year, we are hosting the Fifth of the annual Romanian Outsourcing and Shared Services Award
Read Full article »